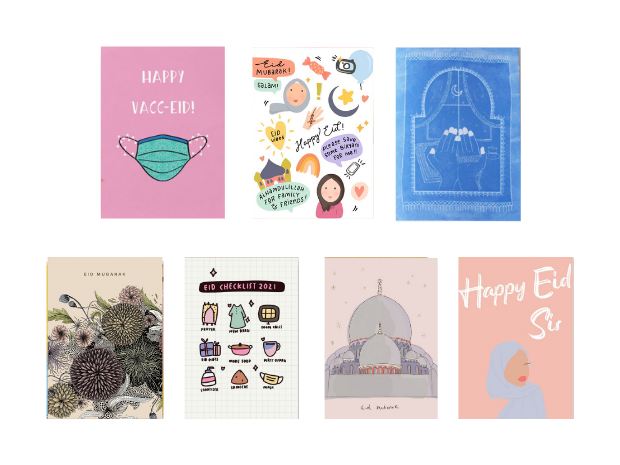 11 Eid Cards You'll Want To Buy This Year
This year, switch out your regular Eid Mubarak whatsapp message or phone call for an actual Eid Mubarak greeting card for your friends and family! We've rounded up some of the best Eid cards out there right now to suit any recipient, from lighthearted covid cards to minimalistic cards to beautiful pop-up cards. Many of these are small Muslim businesses so it would be great to show some support! 
Disclaimer: This post may contain affiliate links and we have denoted these with an asterisk (*)
---
1. I Dot Doodle 
The Eid card collection from I Dot Doodle has a great mix of both humorous and endearing cards that are bound to put a smile on your recipient's face. You can also throw it one of her lovely sticker packs in there if you're giving it to a child or a friend who is into journaling! Better be quick as they are low on stock.
Buy here*
---
2. Designed By Fatima
Based all the way in Singapore, the Designed by Fatima store specializes in modern Islamic decor and stationery that are ideal for a nursery. They have released a humorous 2021 Eid card collection that is quirky and funny and have a good mix of funny covid jokes in there. They also offer free international shipping so you better get ordering in time for Eid.
Buy here* 
---
3. Ellustrate
This year, Ellustrate have designed a new set of Eid cards that would be an absolute delight to receive in the post (hint, hint to any friends of mine out there!). All the designs are done by Elham herself and we are in love with her artwork and creativity. She is also selling her super cool money envelopes that would be great to give to their kids as Eidi!
---
4. Cardology
You asked for a showstopper of a card and we have found it! Check out these awesome Eid Mubarak pop up 3d cards from Cardology on Etsy. They are offering two options: a pop up bouquet of roses card or if you want something even fancier, an entire crescent moon and star with a mosque pop up. They are a little pricey but each one of these cards are handmade and really ramp up on the wow factor.
Buy here*
---
5. Islamic Moments 
Looking for a chic and elegant card? These multi award winning cards are handmade and printed on premium quality FSC approved embossed board so you know it is good. They have a large range available with different colours and textures.
Buy here* 
---
6. Art Of Ramadan by Rooful Ali
You may be familiar with Rooful Ali from Emerald Network and his fantastic photography. He is selling his lovely collection of Ramadan/Eid cards that are based on his travels around Istanbul, Andalusia, Jerusalem, Jordon and Morocco and the images are jaw-dropping good. 50% of the profits will be donated to the Eye Cataract Surgery Appeal in Niger – cards for a cause are always a winner!
Buy here
---
7. Lovelyboy Designs 
Looking to send your girlfriends Eid Mubarak cards this year? Lovelyboy Designs have done a great job with their Eid card collection this year with their light hearted and downright cool Eid cards. They are also selling Eid themed wrapping paper!
Buy here*
---
8. The Lettered Inkling 
If you're looking for a cute and uplifting set of Ramadan cards to send out, look no further than The Lettered Inkling store on Etsy. We suggest opting for the pack of 10 so that you get a good mix of cards.
Buy here*
---
9. Eat The Moon Store 
They may have limited options in terms of Eid cards but we are loving this Mosque-themed Eid Mubarak card that is so lovely to look at, your recipient will probably frame it instead of discarding it! You can even opt to get this in an A4 size if you really want to add some va-va-voom.
Buy here*
---
10. Safar London
Safar London have released their Eid card and we are loving it. These minimalistic cards are printed on smooth white stock and embossed with gold foil and come with recycled envelopes.
Buy here*
---
11. Design by Nadia 
We love these spring themed Eid Mubarak card from Design by Nadia who has designed all of the cards by hand (yes, even those intricate floral patterns!). Opt for a pack of 5 so you can have each of the designs!
Buy here*
Previous Post
Next Post