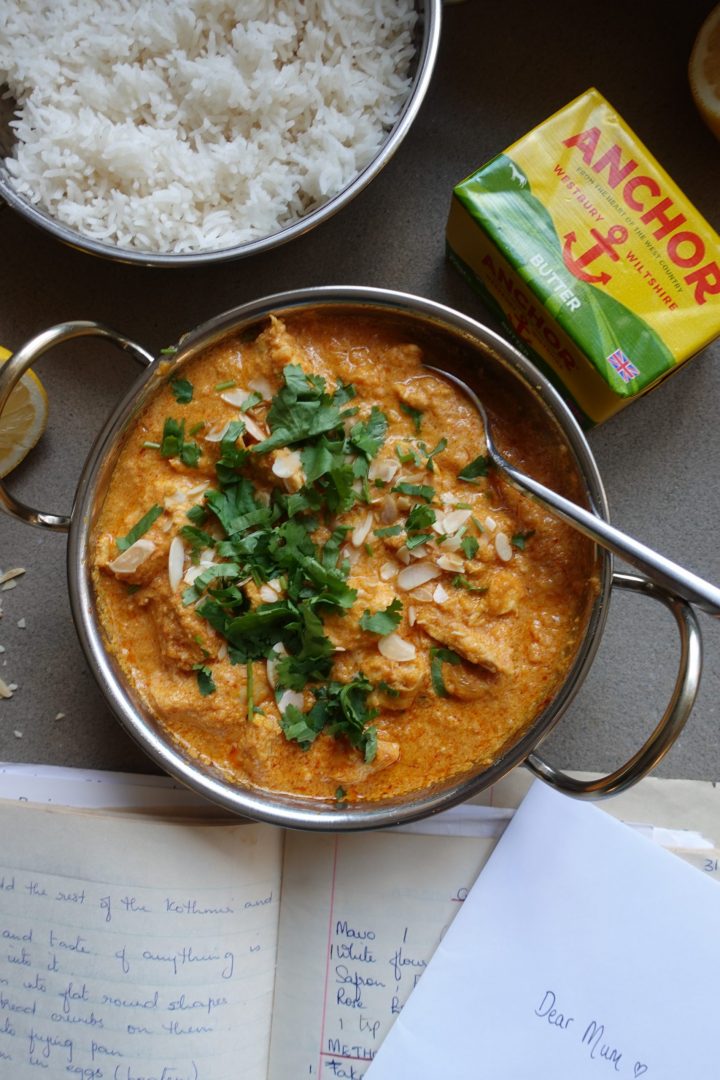 12 Ramadan Recipes to Remind You Of Your Motherland
*This post has been sponsored by Anchor Butter*
Dear Mum, 
As we begin the month of Ramadan, we can't help but think of you right now.
We fondly remember bobbing around the kitchen whilst you cooked up the best iftar spread and secretly nibbling on your freshly fried pakoras when we thought you weren't looking – whoops. We remember when you would wake everyone up for suhoor and treat us all to freshly buttered toast and eggs. And let's not forget that you would make sure we had one last drink of water before it was time for Fajr. All of that on top of fasting yourself and running the household!
We can't thank you enough for all that you have done for us, especially during the month of Ramadan, and we can't wait to do all of that for our children one day. 
Lot of love, 
All of your children 
---
Whether it is your mother, grandmother, sister, mother-in-law, or aunt, we all have at least one mother figure in our life and come Ramadan time, we are just dreaming about what mum has made for iftar (if you're lucky enough to still live with her!) or what she would have made many years ago when you were growing up.
We aren't sure how she did it – fasting, cooking for the whole family, running errands and working – but there would always be iftar on the table ready and waiting for us to break fast with. As we've gotten older and kids have come along, we can only be grateful for how much mums really do for us!
You may not be able to make it to mum's this year for iftar so we decided to round up a list of ramadan recipes that will remind you of your motherland. You can even try your hand at something different and send it mum's way as a treat!
12 Ramadan Recipes to Remind You of Your Motherland
1. Butter Chicken 
What is it about butter chicken that has the words ultimate-comfort-food and my-mum-does-it-best written all over it? It's creamy, it's buttery and simply delicious. The verdict is still out there as to who's mum really makes it best but I have a gut feeling it's mine!
Recipe:  https://www.halalgirlabouttown.com/ramadan-routine-anchor-butter/ 
---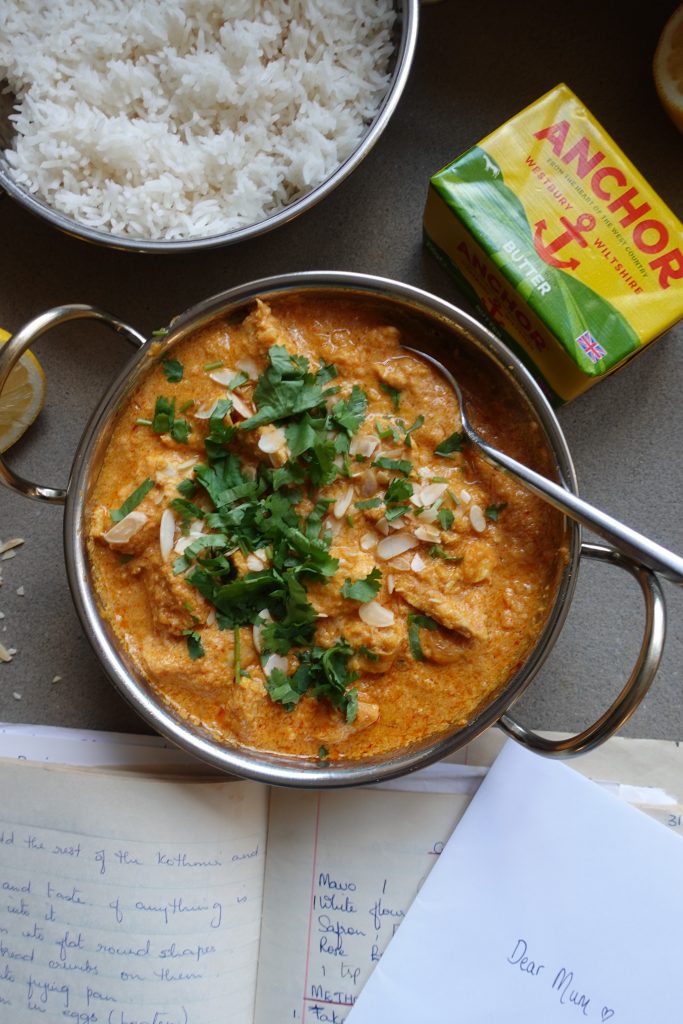 2. Chicken Korma 
Chicken korma is a classic amongst everyone and one of the easiest curries to make for Ramadan. Made with a base using almonds, chilli, cumin, turmeric and of course butter..
A great option if you want something traditional but are also short of time.
You can swap out the chicken for vegetables and tofu or paneer to make this a great vegetarian curry for iftar!
HGAT Recipe for Chicken Korma
Ingredients 
500g chicken, either bone-in or boneless
1 tsp ginger paste
1 tsp garlic paste 
Salt
30g ground almonds 
½ tsp cumin powder 
½ – 1 tsp chilli powder, if you prefer it spicy, add in more chilli powder
¼ tsp turmeric powder 
50g Anchor butter and 1 tbsp oil 
1 small onion, chopped finely 
½ tsp garam masala 
1 tbsp tomato puree 
1 tbsp coconut cream 1 pinch of saffron 
2 tbsp yoghurt 
½ lemon, juiced 
1 small bunch coriander, chopped
Method
Marinate the chicken in ginger, garlic and salt. Leave aside to marinate. 
In a bowl, mix together ground almonds, cumin powder, chilli powder and turmeric. Add in a little water and mix to make a paste. 
Boil the marinated chicken with little water until it is half cooked.
In a pan, add butter and oil and fry the chopped onions until golden. 
Add in the almond paste and fry for 2 minutes. 
Add in the garam masala and cook for a few minutes. 
Add in the tomato puree, stir, and then pour in the chicken stock from the boiled chicken. Cook for 5 minutes. 
Add in the coconut cream and crush the saffron as you sprinkle it into the pan. Cook this for 10 minutes. 
Add the half cooked chicken and yoghurt and stir. Cook this for a further 10 minutes. 
Remove the pan from the heat and squeeze in the fresh lemon. 
Serve with chopped coriander and almond flakes on top.
---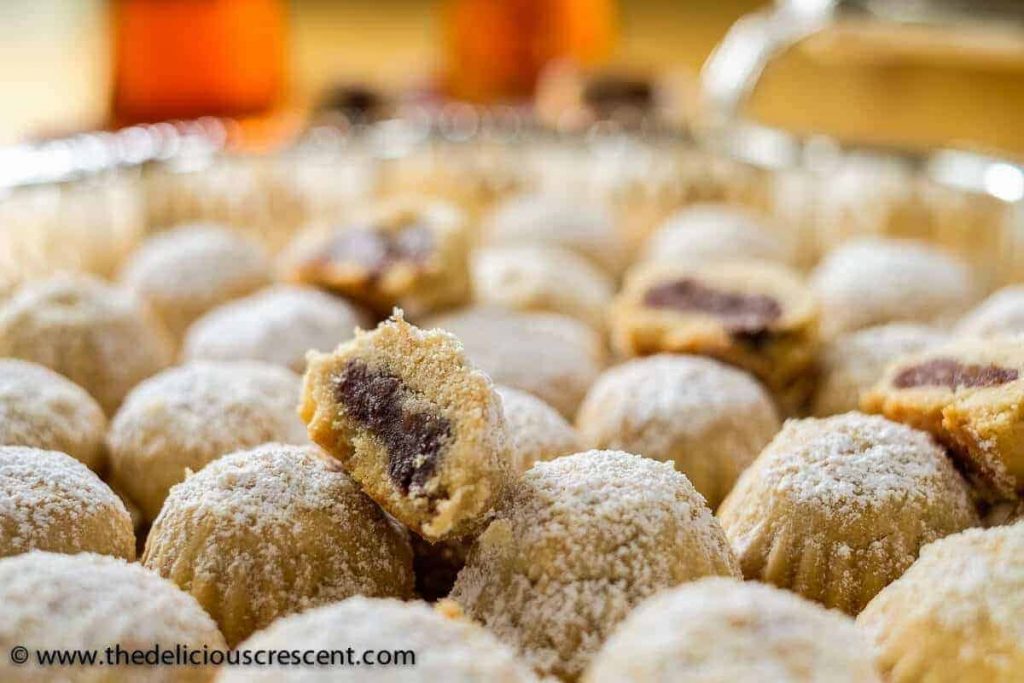 3. Ma'amoul 
Ma'amoul are a staple sweet treat that is just perfect for Ramadan: full of butter, full of dates and full of love. Pair them with a hot cup of chai and you're got a good fast breaker!
Here's an easy recipe for ma'amoul that we love. Just be sure to add in the full amount of butter to get a lovely crumb on the biscuit.
Recipe: https://www.thedeliciouscrescent.com/maamoul-cookies/
---
4. Kisuri 
There is no going wrong with kisuri, a staple Bangladeshi dish, that is made using rice and has perhaps blessed your Ramadan table many, many times in the past. It's also a fantastic strengthening dish that your mum would have made you when you were feeling under the weather. You'll find kisuri is normally served with chana bhuna, a dry chickpea curry, and also some good ol' dali bora which are lentil fritters!
Here's a recipe for kisuri that is easy and quick to make, plus you'll have all the ingredients in your pantry already.
Recipe: https://www.afeliaskitchen.com/kisuri/
---
5. Kalimati 
This traditional East African sweet treat is the perfect treat for Ramadan and just the aroma of them frying hits you in the feels. Kalimati are little fried dumplings that are drenched in a saffron and cardamom infused sugar syrup and eaten immediately. Of course, you can eat them much later but where's the fun in that?
HGAT Recipe for Kalimati 
Ingredients 
200g flour
2 tbsp yoghurt
250ml milk 
7g instant yeast 
1 tbsp sugar 
2 tbsp Anchor butter, melted
Sugar Syrup:
100g caster sugar
120ml water
1 large pinch saffron 
½ tsp cardamom powder or 5-7 cardamom pods crushed
Method 
In a bowl, add flour, yeast and sugar and whisk together. Add in the melted butter and then slowly pour in the milk. You'll want a dough that's sticky and can still be held so you may not need all of the milk or may need more flour. Leave the dough to rest.
Whilst the dough is resting, mix together the sugar and water in a pan over high heat. Keep stirring until the sugar has dissolved and add in the cardamom powder and saffron. Once the mixture starts to boil, remove from the heat and leave to cool.
Add oil to a deep pan and place over medium to high heat. Make small balls with the dough mixture and once the oil is hot enough, add in a few balls. Fry until golden and remove. Repeat this with all of the dough mixture.
Add the fried balls to the sugar syrup mixture immediately
---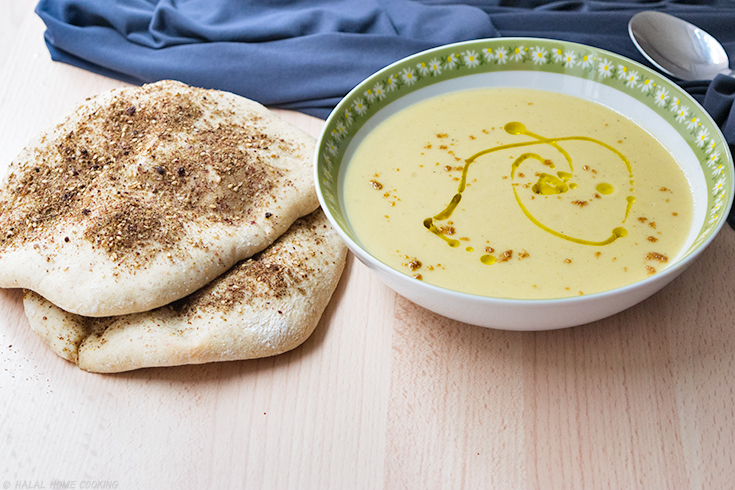 6. Shorbet'Adas 
Shorbet'Adas is a traditional Palestinian lentil soup that is typically eaten to break fast during Ramadan. Not only is it healthy, it packs a serious protein punch with all of the lentils and chicken broth used and gives you a serious replenishment after a long day of fasting. The best part is that it requires less than ten ingredients to make.
We like to add in a knob of butter when frying the onions at the beginning to add a lovely richness to the soup.
Recipe: http://www.halalhomecooking.com/palestinian-lentil-soup-mena/ 
---
7. Haleem 
Haleem is a no brainer when it comes to iftar food and although it is a lengthy process (again, thank you mum!), it produces the most satiating and comforting iftar meal. You can use Anchor butter to make the ghee so that it adds a special richness to the haleem and don't forget to serve it with all the trimmings like fried onions, coriander, chopped chillies, lemon and ghee.
Recipe: https://www.teaforturmeric.com/easy-pakistani-haleem-recipe-instant-pot/ 
---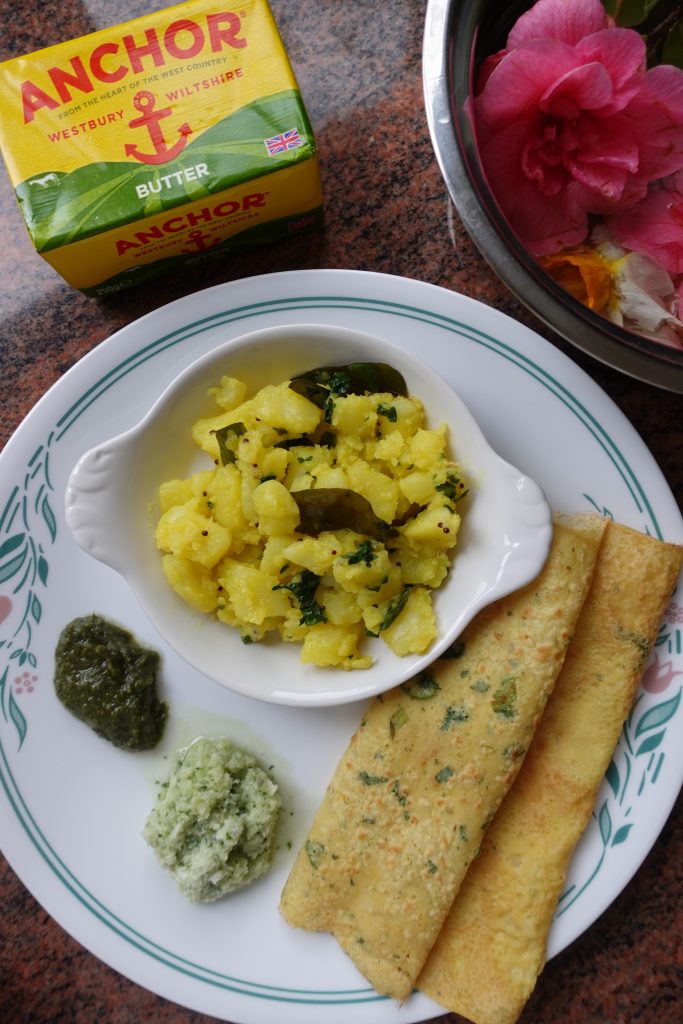 8. Chilla and Dry-Spiced Potatoes
Chilla is a great recipe to have in your books and it's one that mum will enjoy too. This lovely vegetarian recipe requires less than 8 ingredients to make and only takes 5 minutes to make from start to finish! The potato side dish is not essential but a really nice and filling accompaniment to the chilla.
HGAT Recipe for Chilla with Potatoes 
Ingredients
2 cups gram flour 
400ml water
1 tsp garlic paste 
2 green chillies, chopped finely
Large handful of coriander, chopped
Pinch of haldi 
Salt 
Anchor Butter for frying 
Method
Mix all of the ingredients above in a bowl and taste for salt. The mixture should be very runny. 
Over medium-high heat, lightly rub some butter on the hot pan and pour in a ladle of the mixture. Straight away swirl the pan around to ensure the mixture covers the base of the pan.
Once you notice the sides cooking and crisping up, flip the chilla over to cook the other side. 
Both sides should be slightly browned. Repeat the steps for the rest of the chilla mixture.
Serve immediately with green chutney, coconut chutney and dry-spiced potatoes. 
For the Dry-Spiced Potatoes:
Ingredients
1 large potato, peeled and diced 
½ tsp mustard seeds 
1 tsp garlic paste
Pinch of salt
Small handful limbro
Small handful coriander leaves, chopped 
Method
Boil the potato until it has softened. Drain and leave to the side. 
In a pan, add butter and once melted add in mustard seeds, salt, limbro, garlic paste and chopped green chillies. Cook this for a few minutes
Add in the boiled potatoes and stir gently to not break the potatoes up. 
Stir in the chopped coriander. 
Serve with chilla. 
---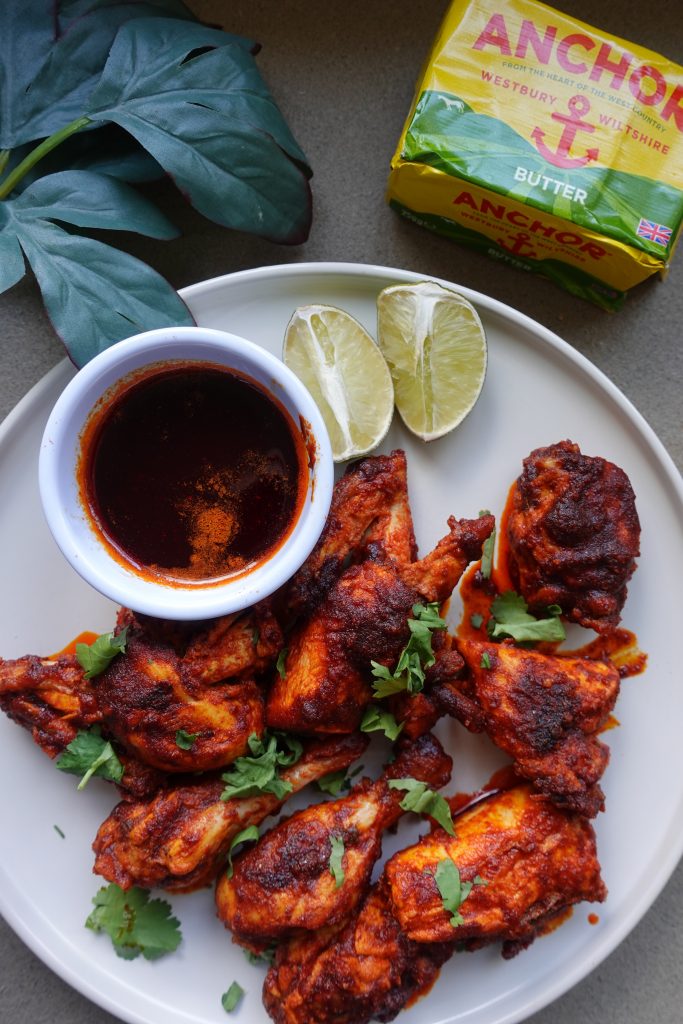 9. Poussin Chicken 
Poussin chicken does everything right: it's fried, spicy, and coated in a vibrant red paprika and chilli infused oil. It's a recipe I didn't have often growing up but when I had the opportunity to – thanks to one aunt! – I really made sure to make the most of it. The Anchor butter in this recipe really makes the dish as it is the base of the rich sauce that will be brushed all over the fried chicken so be sure not to skimp out on it.
If you don't fancy frying, you can bake the chicken. You can also use prawns instead of chicken or serve this with chips.
HGAT Recipe for Poussin Chicken
Ingredients 
500g chicken pieces, with or without skin
1 tsp garlic
1 tsp ginger 
Salt 
1 heaped tsp paprika powder
1 tsp chilli powder 
Squeeze of lemon 
Oil for frying
Poussin Sauce :
3-4 tbsp butter, melted
1 ladle of fry oil from the chicken
2-3 tbsp paprika
1 tbsp chilli powder, add more to your liking
Salt to taste
Squeeze of lemon
Method
Marinate the chicken in ginger, garlic, chilli powder, salt and lemon juice. Leave to marinate for at least two hours. 
Add oil to a deep pan over medium heat and once hot, add in the chicken pieces to fry. 
Once fully cooked, remove the chicken from the pan and leave to drain on a paper towel. 
In the meantime, in a bowl, add melted butter, paprika, chilli, salt and 1 tbsp of the frying oil. Mix until it has all combined. 
Brush or dip the chicken in this mixture and serve any remaining sauce on the side. 
---
10. Gool Goolas 
If you're Indian, there is no doubt you had gool goolas at least once in Ramadan every year whether it was at your mum's or your grandmother's house! Gool goolas are basically fried sweet batter like doughnuts without the yeast!
Recipe: https://marriamsayed.com/2019/06/14/south-african-bollas-aka-goolgoolas/ 
---
11. Malawah 
Malawah is a sweet type of pancake that is a staple in many Somali households come Ramadan. Mainly eaten for suhoor, these crepes are easy to make and can be served with anything and everything like honey, nutella, peanut butter, bananas etc. Just don't forget to brush them with melted Anchor butter once they're cooked
Recipe: http://www.somalikitchen.com/malawah-somali-sweet-pancakes.html/ 
---
12. Boeber 
Boeber is a traditional Cape Malay sweet milk drink that is mainly served during Ramadan as a way to break fast, especially on the 15th day of Ramadan to mark the halfway point. It is made with butter, milk, cinnamon, cardamom, rose water, vermicelli and sago.
The recipe below browns the butter first so that it gives a nutty flavour to the pudding.
Recipe: https://www.tantalisemytastebuds.com/boeber/  
---
What dish reminds you of mum? Let us know in the comment section below!
Previous Post
Next Post