Ali Ocakbasi
Ever since BW has become gluten-free, going out to eat has not been the easiest. Sure, he can eat most things but the delicious goodies like fried chicken, pizzas, and even burgers are off the menu! Surprisingly, many restaurants have started to accommodate for those that are intolerant or allergic, e.g. Bake St's GF fried chicken or Bintang's chicken wings. However, not all variations are good and that brings me to Ali Ocakbasi
Ali Ocakbasi is a fairly new Turkish restaurant located in Leicester Square. You'll find them nestled amongst the other tourist trap restaurants with the staff shouting out to you to try their food! One day, whilst I was walking to BW's work to meet him, I stopped by Ali Ocakbasi to check out their menu and noticed they have gluten free pides a.k.a Turkish pizzas! BW was super excited and we went back there that evening.
Nothing out of the ordinary hummus.
Roasted eggplants that had been mixed with yoghurt and garlic, and a slick of olive oil on top to finish it off. I absolutely loved this and it reminded me a lot of the Persian Naz Khatoon; each bite consisted of creamy yogurt with smoky aubergine and the occasional garlic twang.
BW opted for the classic sujuk (turkish sausage) gluten free pide. They were definitely generous with the amount of sujuk they put on his pide and had flavoured it with an assortment of seasonings. However, I found the pide to be quite lacklustre, especially the gluten free flatbread they had used as a base, which was paper thin and not strong enough to withstand the abundance of toppings. To top it off, the cost of this pide was an astronomical £14.25 – almost double of what it should cost!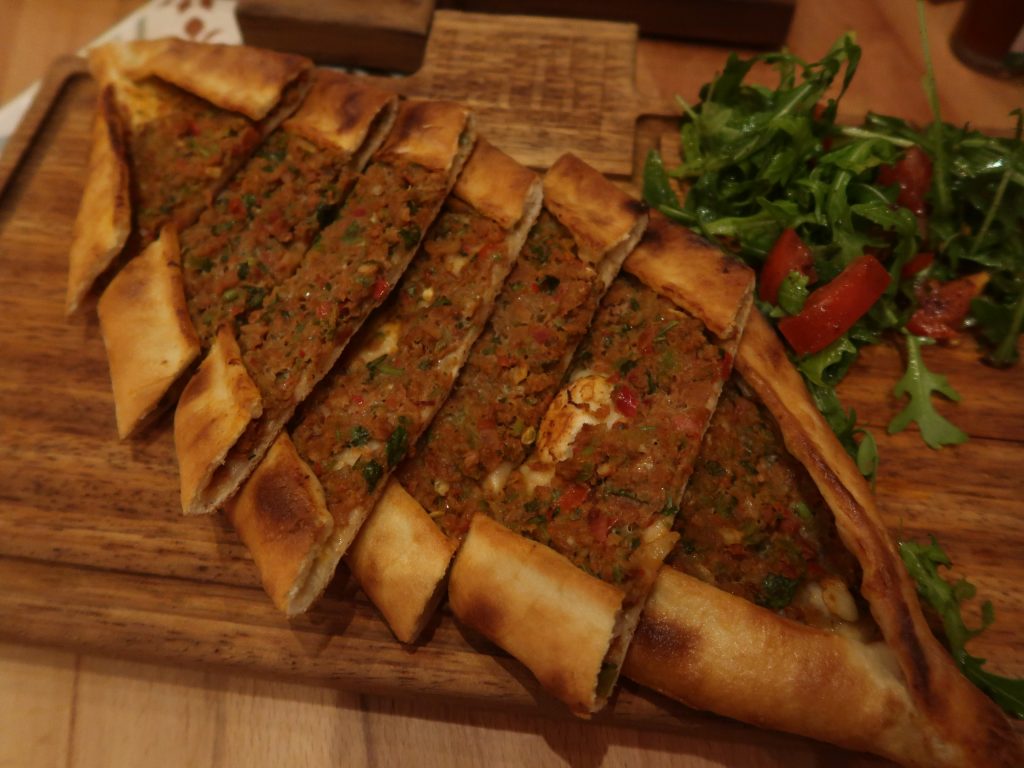 I went for the classic kiyamali on a normal gluten pide. Sadly, this was not much more enjoyable than the sujuk pide as the pide base was stodgy and heavy, and whilst the mince had some flavour, it did not stand out amongst the bread.
The total bill amounted to £44  for two people, including drinks and service, so £22 each. Given the amount we ordered and the quality of the food, I would say that although cheap, this was definitely not worth it and Ali Ocakbasi is indeed a tourist trap after all. It is great that they accommodate for all dietary requirements but when you pay a premium for a sad, paper-thin, gluten-free "pide", well, it isn't that great after all, is it? The service was abysmal and inattentive, and the lack of understanding of a simple menu was frustrating.
For Ali Ocakbasi's website, click here.
If you really fancy a good pide, check out these better and more accurately priced Turkish establishments (that are not gluten free unfortunately 🙁 )
Previous Post
Next Post