Asta Luegos
It seemed like our sliders-filled adventure yesterday was not enough for BW, myself, nor our expanding waistlines. We were craving something new, but above all, something deliciously sinful; an actual sized burger that would have the perfect amount of melted, gooey cheese, and make me feel completely and utterly guilty once I had eaten that dreaded last bite. You know, one of those yummy burgers you see on instagram. But which place to pick amongst the over-saturation of new halal burger joints in London?
Having heard several mixed reviews about other burger establishments, I wasn't quite convinced their burgers would match up to what I was looking for. So, I took a went out on a limb and made my way to Asta Luegos; a fairly new establishment that has made it's home in North Wembley and luckily for us, was fairly quiet when we decided to visit.
Having pondered over their fun menu for a few minutes, we finally settled on our meal and placed our order.
A fresh, homemade lemonade with a sweet strawberry syrup and chopped up cucumbers floating around. The cucumbers added a refreshing element to the slightly sour lemonade which was then balanced out by the strawberry essence.
A good milkshake which was not too milky and had just the right amount of chocolate blitzed in.
A big, juicy burger arrived sandwiched between two buttery slices of a sweet brioche bun, and topped with the usual burger trimmings plus monterey jack cheese. NEWSFLASH: the only burger gourmet bun that I have come across to date that managed to perfectly maintain its' structure without falling to bits – crazy I tell you! Anyways, the thick beef patty was bursting full of flavour and I could not fault any of the accompanying condiments as they were not too overbearing. The cheese had been melted to a nice gooeyness all over the patty and the decision to fry the onions beforehand added a delicate smokey sweetness to the meat. Just one problem was that I had requested the burger to be cooked to as medium as possible but it arrived well done – I can only imagine how much more yummy the burger could have been had it been a little softer and jucier!
The fries were crunchy and well-fried, and I had opted for mine to be topped with the house mix which was a blend of different seasonings. Maybe a little salty, but the contrasting flavours made a nice change to otherwise ordinary fries, and oh boy, when dunked into the sauces, the chips became even tastier. Make sure you opt for the donkey sauce made of jalapeno and garlic mayo, and the peanut butter based sauce (don't judge before trying it – may be worth trying inside your burger!).
BW opted for this burger which was topped with jalapenos and a healthy dollop of garlic mayonnaise. He found the burger to be perfectly cooked; although well done, the burger was succulent and had a good amount of juices oozing out. The garlic mayo added a slight tangyness and the jalapenos added a subtle kick. He polished off the burger and raved about how much he loved how well the bun held together! He had also opted for the smokey bacon [£1.00] on the side which perhaps could have been served crispier but otherwise tasted great inside both the burgers.
BW and I like to add a little green to our meals so we don't feel so bad about ourselves. This salad was really, really good – a good mix of green leaves with feta cheese crumbles, juicy tomatoes, and sweet dates. The dates add a delicious, chewy contrasting texture to the smooth, creamy cheese, and made the salad that extra bit more enjoyable.
The total bill amounted to around £25 for two with the exclusion of the milkshake, which I found great for value considering what most burger joints cost these days.
Overall, I have to give Asta Luegos a massive thumbs up for my meal. The food was fantastic, the burger buns can really hold together and the staff are super friendly and hospitable. Now, I won't completely rave about how great Asta is; they did have a few mistakes that need ironing out. Unfortunately, due to a large party being seated just before us, we had to wait up to 30 minutes for our food arrive when they had told us it would take 10-15 minutes. Another small problem was that we had to remind the staff about our orders such as the lemonade and the smokey bacon, after which we then saw them running to the closest Tesco for supplies. And lastly, they had overcooked my burger to a well-done *sobs*. However, I soon discovered after my meal that they had only been open for five days, so maybe they deserve some slack. If they can tweak the little niggles, then who knows, Asta Luegos may be my new favourite burger joint.
And just a little shoutout to our friends Sam and Kara: SEE what you missed out on !!!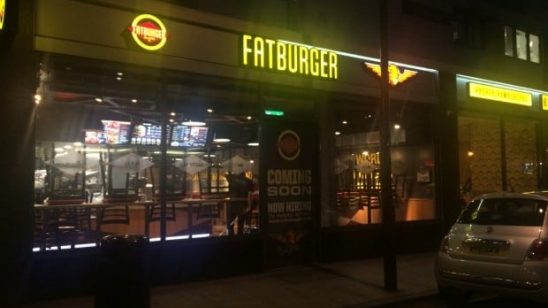 Previous Post
Next Post