Bake Street
When looking at my restaurant hit map, I noticed a big gaping hole with no restaurant reviews right bang in East London. Oopsy, but its just soooo far away. But then I came across Bake Street, and a) it was a cool brunch concept with a tasty looking menu, and b) it was kind of in East London, so I got in my car and headed their way. Of course, going down to that part of town means I got to meet up with one of my favourite blogger friends: HaloodieFoodie. Picking him and HF jr up, and probably giving them both heart attacks with my GTA style driving, we finally found parking.
The first thing I noticed when entering Bake Street is that it is teeny tiny so be prepared to wait on the weekend. The second thing was that they only serve their paus on weekdays, and their other delicious brunch offerings such as eggs royale, pancakes, etc only on weekends – bummer – so I'm afraid this is a mini review. However, having driven so far, I couldn't just up and leave over such a small issue. Anyways, we got ordering.
A nice coffee to wake me up from that long drive!
Both myself and Miss HF Jr ordered the Egg St muffin which consisted of a sausage patty topped with American cheese, and a lovely fried egg, all sandwiched between an English muffin. The egg was perfectly cooked and gooey when sliced up, the cheese was melting quite nicely a top the sausage patty, and the sausage patty was flavourful. It seemed that the homemade sausage patty was a mixture of kosovan sausage, and sourdough breadcrumbs, however it was a little crumbly and perhaps could have held together more. It also needed a little bit of a kick to make it that much more tasty.
Surprisingly my favourite out of the two! A muffin topped with smashed avocado, chillies, smoked salmon, and a lovely dollop of creamy labneh. Everything just worked together really well and a poached egg would have really made it stand out.
A lovely moist slice of freshly baked banana bread with chunks of melted chocolate scattered around. A great cake to have with your morning coffee.
I really liked this! A nice, soft shortcrust base topped with a tart lemon curd, that had been baked and topped with icing sugar.
A fudgy brownie that was super rich and chocolatey and had a subtle layer of salted caramel on the top. A little too much for me but perhaps something for you chocolate lovers out there.
Overall, the bill amounted to approximately £25 for three people so between £8-£9 each. A pretty cheap affair if you ask me. Having only been open a week, things of course are going to be a little shaky and things do need smoothing out such as putting condiments on the tables, or offering more on their menus. However, I love their concept – halal brunch. It's not your usual greasy fry up you find in your local high street cafe, but something a little more cleaner and enjoyable to eat. Next time, I'll revisit on the weekend so that I can try the full brunch menu!
Previous Post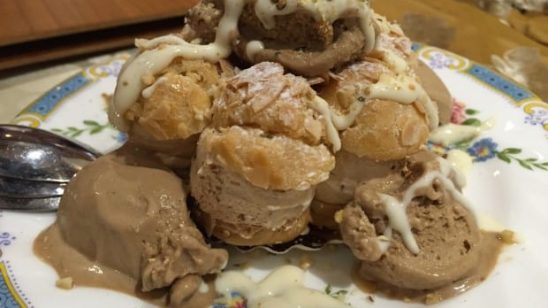 Next Post