Chicken Shawarma
Since Ramadan is over, dinner in my house is returning to a somewhat healthy state. No deep-frying, unless its doughnuts because no one can say no to doughnuts, and no desserts, unless it's ice cream, chocolatey, pastry, or cookie based. Okay, basically it doesn't seem like much has changed but pinky promise, I'm trying to be more careful with what I eat.

Which is why I made this hefty chicken shawarma salad plate. It's the perfect dish for the hot weather coming, doesn't require a litre of oil so relatively low in calories, and is incredibly easy to put together. I made it with salad but you can make it the traditional way with wraps, chips, or rice.
You'll be skewering the chicken and keeping it up right through the cooking process so that all sides of the chicken get evenly cooked – just like a real shawarma! If you don't think your oven can fit this in, just place the chicken on a baking tray and flip it half way through the cook time or cook it in a pan on the stove.
The tahini garlic yoghurt adds a nice cooling and creamy component to the shawarma, which makes a great contrast to the slightly spicy chicken or the tangy pickles, if using. If you fancy making some traditional Lebanese garlic sauce instead of the tahini garlic yoghurt, just blitz together super fresh garlic, olive oil, lemon juice, and salt!
I paired my chicken shawarma with a grain-free quick tabbouleh instead of the typical wraps as I'm keeping my carbs low plus I didn't have any on hand. For the tabbouleh, finely chop parsley and mix with chopped red onions, tomatoes, a drizzle of olive oil, salt and some lemon juice. You can add in boiled bulgur wheat for the real deal.
CHICKEN SHAWARMA RECIPE
INGREDIENTS
Dry marinade ingredients:
1 tbsp cumin powder
1 tbsp coriander powder
2 tsp paprika
1/2 tsp salt
1/2 tsp black or white pepper
½ – 1tsp chilli powder, depending on your spice preference
½ tsp cinnamon powder
½ tsp clove powder
½ tsp nutmeg
½ tsp allspice* (See notes)
½ tsp cardamom powder
60g greek yoghurt
3tbsp olive oil
2 tbsp lemon juice
3-4 cloves of garlic, minced
600g chicken thigh/breast fillets, cut in half and very slightly flattened
Garlic Tahini Yoghurt
40g greek yoghurt
1 heaped tsp garlic, minced
1 tbsp tahini ** see notes
1 tsp lemon juice
Pinch of salt, to season
NOTES
* If you do not have all spice on hand, combine together 1/2tsp cinnamon powder, 1/2tsp nutmeg, and ½ tsp clove powder. Whilst this is not exactly all spices, it is a very close resemblance and easy to put together.
** If you don't have tahini, just skip it out and make a garlic yoghurt instead
METHOD
In a bowl, mix together all the dried marinade ingredients.

In a separate larger bowl, mix together the yoghurt, garlic, lemon juice, and olive oil, and the dry marinade mixture.

Add in the chicken thighs and mix until well combined. Cling film this and leave in the fridge for at least 4 hours. If you are short on time, you can get away with a 30 minute marinade but the longer the better.

Preheat the oven to 200 degrees C fan and foil a baking tray. Chop a potato/orange/onion in half and cover both halves with foil. Poke two holes into each of these halves, place a skewer in each hole, and put these on the baking tray. You can place each of the foiled potato/orange/onion into a smaller ramekin so that it holds up better on the baking tray.

Remove the chicken from the fridge and start skewering them on the sticks. Once you have finished with the chicken, cut an onion in half and skewer them on the sticks.

Place the tray in the oven and cook for 30 minutes. The chicken should be fully cooked at this point. Remove from the oven and leave to rest for 5 minutes.

Whilst the chicken is resting, you can make the tahini garlic yoghurt by mixing together yoghurt, tahini, garlic, lemon juice, and salt.

Serve immediately with pitta bread, tabbouleh salad, or rice.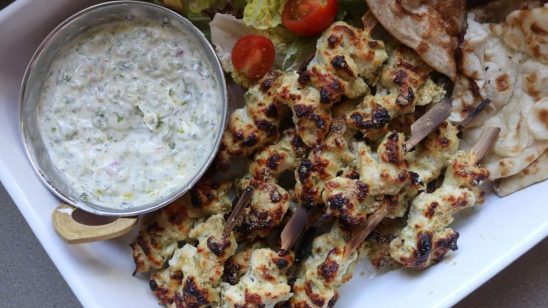 Previous Post
Next Post