Copycat Levain Bakery Chocolate Chip Cookies
How about these BIG FAT CHOCOLATE CHIP COOKIES a la levain bakery style 💁🏽‍♀️ These cookies took inspiration from the famous NYC Levain Bakery; they're gooey inside with plentyyy of chocolate and are basically the size of your hand. What's not to love ?
**This Ramadan, I'm raising money for LIA Relief Trust to help provide children an Eid to remember. A donation as small as £1 can help gift one child in need a special Eid present. Here is the link to donate: Click here. **
You start with creaming together cold unsalted butter cubes and a mixture of brown and white sugars. The creaming process is important because it allows the cookie dough to have proper aeration, leading to a big cookie. Do not skim past this step.
After you add in the eggs one by one, you'll move onto the flours. Cake four isn't available over here but you can simply make your own by taking 125grams of all purpose flour, removing 2 tablespoons of flour, and adding 2 tablespoons of cornflour. Sift this 4-5 times and you have something very similar to cake flour! You can skip this and just replace the cake flour with all purpose flour, but the cake flour adds a certain lightness to the cookie.
Once the dry ingredients have been mixed in, you'll be adding a healthy amount of chocolate chips and walnuts. You may not like the idea of walnuts as you're allergic or just don't fancy walnuts but don't completely remove them from the recipe, as they help to build up the humongous cookie structure. Just replace it with more chocolate, different nuts, or more flour.
Right. Big fat cookies here we come!
Copycat Levain Bakery Chocolate Chop Cookies
INGREDIENTS
227g cold unsalted butter, cut into cubes
115g white sugar
200g light brown sugar
2 eggs, cold
230g cake flour * see notes
180g plain flour
1 tsp cornflour
1 tsp flaky sea salt
¾ tsp baking soda
350g chocolate chips
250g walnuts ** see notes
NOTES
* Can be subbed with all purpose flour or you can make your own by taking 125g of plain flour, removing 2tbsp of flour, and putting in 2 tbsp of cornflour. Sieve it 4-5 times.
** These are essential for the structure of the cookie so do not remove them but simply substitute with similar amount of different nuts, chocolate chips, or more flour.
METHOD
In a bowl, add the unsalted butter cubes, white sugar, and brown sugar. Beat until it has become creamy, about 5 minutes on low speed, making sure to scrape down the sides.

Add one egg and mix well, followed by the second egg. Beat this in until the egg has fully incorporated into the mixture

Add in the flours, baking soda, salt, and cornflour, and combine this until it is just mixed.

Stir in the chocolate chips and walnuts until just combined.

Using your hands, make large 170g (6 oz) cookie balls from the mix and wrap in cling film or place in a box with greaseproof paper in between the layers. Place the cookies in the fridge for a few hours.

Preheat the oven to 180 degrees C and line a tray with parchment paper or a silicone baking mat. Once the oven has reached 180 degrees C, place 2-4 cold cookie mounds on the tray. Place an upside down baking tray on the middle shelf and put the tray with the cookies on top of this.

Bake the cookies until they have slightly browned, around 22 minutes, and remove from the oven.

Leave to rest for about 10-15 minutes before tucking in with a cold glass of milk!
**This Ramadan, I'm raising money for LIA Relief Trust to help provide children an Eid to remember. A donation as small as £1 can help gift one child in need a special Eid present. Here is the link to donate: Click here. **
Previous Post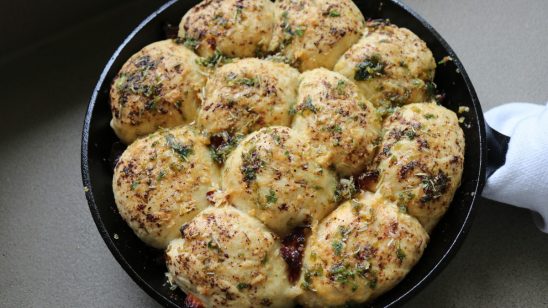 Next Post