Creams
Occasionally, I get in the mood to get a major sugar high or cause a few holes in my teeth, and what better way to satisfy this sweet craving than to pay a visit to a dessert parlour. Not wanting my thighs to experience gluco-heaven alone, I managed to drag JA along with me as we took a drive in search for hot buttery crepes dripping with melted Nutella and fat juicy strawberries. Gosh, enough sweet corrupting thoughts for now.
We pulled up at Creams, a well-known dessert establishment, and ran inside to grab a table for two. The menu was packed with several choices. We were glued to the gelato staring seductively at us through the glass screen, but we kept stealing glances of the several types of cheesecakes waiting to be devoured.
Nutella Spread Waffle

JA opted for this giant waffle smothered with hot Nutella and juicy red strawberries and a delicious serving of vanilla soft serve. Despite the appealing description, the waffle sadly lacked any real flavour with the batter not being sweet enough and it ended up being chewy meaning the mixture could have been an old batch.  A dash of powdered sugar could also go a long way to save the day.
Bubblelicious Sundae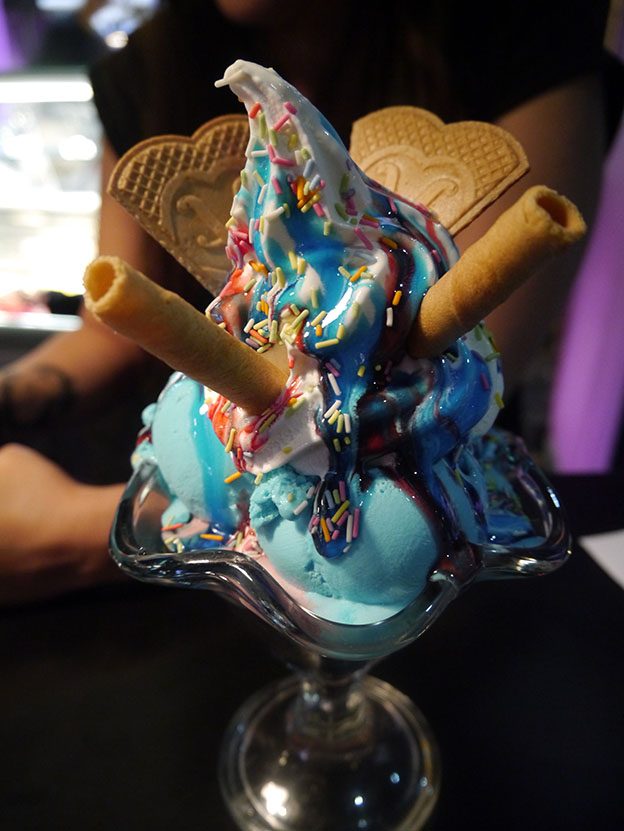 Phwoar. Look at all that delicious sugar. Bubblegum and strawberry flavoured gelato piled on top of each other with vanilla soft serve with a further sugar boost of bubblegum and strawberry syrup.  The ice cream was smooth and creamy with just the right amount of sweetness in each bite, but when smoodging all components together, it all becomes a bit too much.
Either way, Creams has a lot to offer on its menus from soft crepes to dreamy & creamy banana splits being completely spoilt for choice. The gelatos are not over bearing and because of the vast variety of flavours to choose from, there is no chance of ever leaving Creams without something to eat.
Naturally all dessert parlours are the perfect choice, especially in these hot summer days, whether it is to break fast or even for sehri, or simply to end the day with increasing the happy endorphins. Just be aware that the queues tend to be long, so if you have time on your side then be patient as the desserts are worth the wait, but if you are too much of an eager beaver then you will be able to grab a sundae to go.  Either way, no one goes home without the Creams touch.
Get your sweet tooth on by checking out their menu at http://www.creamscafe.com/
Previous Post
Next Post