CUT at 45 Park Lane
For special occasions or big accomplishments in life, I tend to treat myself to something special. Of course, it is food-related, and can range from something as small as a cupcake to the more luxurious £99 Billionaire ice cream (joking, I haven't had this… yet). Well, a couple of days ago, I found I had lost 0.05lb and decided to spoil myself to sliders at Cut at 45 Park Lane! Taking FAB along with me, I strolled over to the hotel and got comfortable in their lounge.
Cut at 45 Park Lane have halal Australian wagyu, meaning we can eat both the steaks and burgers. As my eyes fell upon the menu prices for both the burger [£32.00!!] and the sliders [£21.00!!], I felt guilty being so reckless and almost had a change of heart, until I realised I had BW's credit card in my pocket. Ha, I got ordering!
The Food at Cut at 45 Park Lane
Firstly, little snacks: cheesy and buttery popcorn, and cheese and onion pastry swirls
And an ice-cold Coke [£8.00]
These cute, tiny little sliders arrived in small glossy buns, topped with sweet pickles and gooey melted cheddar. Cut at 45 Park Lane use hunks of Australian wagyu steak mince to make their patties, and you can taste the richness from the melted fat in each bite.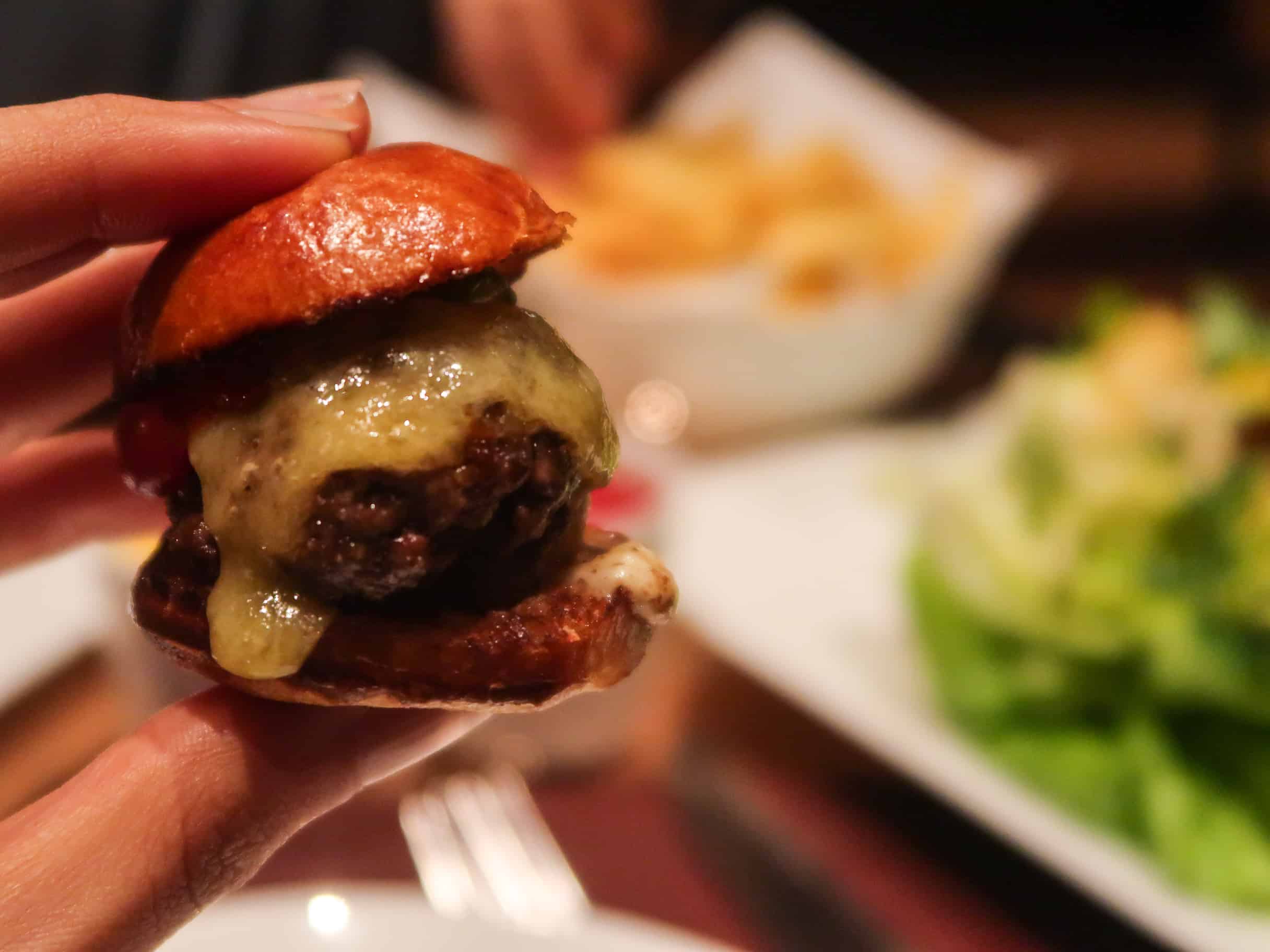 Each mini patty had been cooked spectacularly well to a lovely medium pink, and they had a nice smokiness from the grill. However, a little more seasoning would have made these sliders shoot straight to the top of my list.
Humongous, vibrant green butter lettuce leaves piled high with sliced cherry tomatoes, blue cheese crumbles, and avocado. The accompanying herb vinaigrette added a lovely sweet and zingyness to the salad. The waitress and kitchen assured me that although the vinaigrette has the word champagne in it, the dressing has zero alcohol.
I'm a sucker for onion rings, especially the crunchy, deliciously salty version at Cut. Albeit slightly greasy, I really lapped these onion rings up, and the thick saffron aioli added a great aromatic flavour.
Nothing out of the ordinary fries, that were lovely and crisp.
The total bill for two amounted to £68.63 for two people, including drinks and service, so £34.50 each. Crikey, and that's just lunch. Although, you may balk at the prices, the restaurant is ideal for taking your clients out, or even spoiling that special someone on their birthday! Cut at 45 Park Lane is sleek, chic, and sexy, and the staff is impeccably attentive and helpful.
Not only are their burgers good, but their steaks and killer chocolate souffle are worth the visit; read about it here.  And their Dubai branch review is over here, where I happened to have the best steak of my life.
BW, if you're reading this, I'm apologising in advance for your credit card bill.
Click here for the restaurant website.
Previous Post