Farm Fresh Burgers
Ramadhan, as believed from the perspective of the older crowd, is the best month of the year; they don't complain about their grumbling stomachs, headaches, or how thirsty they are, but simply smile throughout the day and comment on how much they love fasting. Then you have people like me. I'm the type who gets really hangry when I'm without food for a couple of hours, so you can imagine what kind of monster I am during fasting. And when fast breaks, oh goodness, a date followed by about 50 fried bhajias is just the first of my ten course iftar. Terrible, I know. However, as I've grown up, I'm slowly becoming aware as to why the oldies enjoy Ramadhan.
It is perhaps the most beneficial and enjoyable month of the Islamic year. It is a time for families and friends to bond as you all get together to scoff down all the fried goodies at Iftar time. Fasting also helps detox both your mind and body so that by the time Ramadhan is over, you feel more energised and refreshed. And finally, you are taught about  patience throughout the month.
So, keeping in mind that we should be in good spirits for Ramadhan, I thought my first post would be about burgers!! Farm Fresh Burgers had kindly invited me over to review their food so I jumped on a train and made my way over to Kingston. A little far perhaps for some, but considering North and East London have been greedy with their burger joints, it was time the South West had a little share.
Anyways, enough chatter, here we go..
JA and I both agreed that the milkshake was quite milky and whilst enjoyable, could have been improved with more oreos to get a deliciously chocolatey shake.
A juicy, moist chicken breast that had been seasoned and cooked exceptionally well. This was almost perfect but sadly, the bun was a let down as it was quite dry and the additional condiments did not add much to the chicken. With just a slick of dijon mustard mayonnaise and a few lettuce shreds, the burger became a little boring after a while and was in need of an oomph – perhaps, melted gooey cheese would be the answer.
The fries could have done with a little more time in the fryer to get nice and crispy, however they had a lovely touch of rosemary in each bite.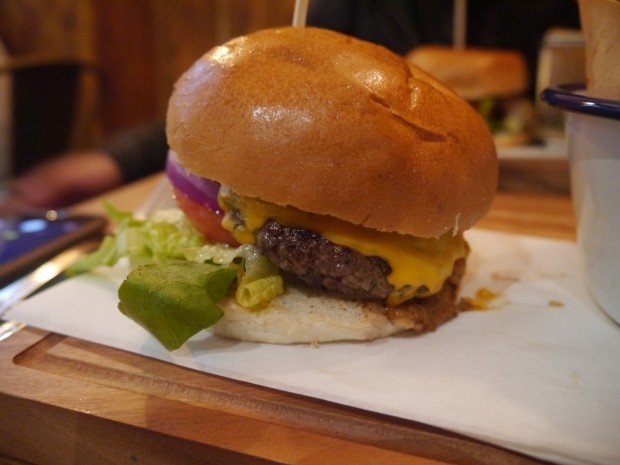 I went for my usual burger and opted for the classic American cheese to be melted all over. The cheeseburger arrived on a wooden slab (apparently, normal plates just aren't what you eat food on anymore!) with a tiny bucket of wings on the side.
Slightly disappointed that my burger had been cooked to a medium-well instead of medium-rare, I proceeded to take a bite only to find that the patty was dry. The flavouring was there but it was not enough to make the burger stand out amongst all the additional condiments inside the burger. Again, like the chicken burger, the burger bun was lightly toasted and had become quite dry, however it managed to hold its' structure throughout the meal!
Served up just like Honest Burger's, the wings looked promising with a generous covering of sweet, sticky bbq sauce. The meat was deliciously succulent, however the sauce could have done with a little more spice as the flavouring was a little bland.
Having had our burgers and sides arrive after quite some time, our hot dog still had not come until I reminded the waitress, who then put in our order for one. Finally, the big hot dog arrived in a toasted bun and smothered in a delicious, tangy green relish, mustard, and melted cheese! The hot dog itself, however, was quite pink and obviously processed which is a shame as it can be quite easy to source good quality and pure beef hotdogs around London. I would have preferred the bun to have been non-toasted and soft instead, but this is just a personal preference as I find the bun can become quite dry after a while. Despite this, I give a massive thumbs up to Farm Fresh for their interesting and sharp condiments they placed on the hot dog.
The total bill amounted to £26.40 so about £13.20 each, excluding service. Not bad at all if you compare their prices to the usual halal gourmet burger restaurants dotted around London! Seeing as I went on the evening before the grand opening night, I did not expect things to be perfect, but was slightly disappointed with the food – which is a shame considering their menu looked promising. The service was a little shaky with us waiting up to 20 minutes for someone to take our order, and forgotten dishes, but asides from that, the staff were really friendly and helpful.
All in all, I like Farm Fresh. I like how the meat that they source is free range (big plus for me!!) and that most of the dishes incorporate fresh ingredients – I didn't feel stodgy or greasy after our meal. They do need to work on their food, especially their burgers, but hey who knows how great they will be after a couple of months so I wish them the best of luck!
Ramadhan Kareem everyone!!
Disclaimer: I was invited to review this restaurant.
No pork or alcohol are served at this restaurant. It is a child friendly establishment but perhaps a little small for a stroller.