Fatburger
As a food blogger I do like to get feedback from my readers, good feedback and even the not so good (when constructive). Amongst the many comments, there are a handful that I tend to hear often and can't help but throw my hands up in the air with exasperation; "You gave it a great review, but I thought it was average" or, "We went to this halal restaurant so you HAVE to go" and the winner, "but you've only been there once so how can you give it a good/bad review?"
With regards to the latter, naturally (!), there are two main reasons for this: seeing as there are still 100s of halal restaurants for me to discover, visiting each one twice before I put up a review will cause a serious lag in the posts, and secondly, ££££££, these meals aren't free! Luckily, for you guys, there was only one place that I was willing to visit twice before I put up my review, and that was Fatburger.
Before I start my review, I have to say it seems a lot of people have visited Fatburger expecting to find your typical halal gourmet burger restaurant. Just remember that Fatburger, at the end of the day, is a fastfood restaurant, so do not go there with expectations of elaborate signature burger concoctions or omg-rosemary-fries; Fatbuger does fast food and does it well.
FIRST VISIT
For those of you who attended the pre-launch organised by "The Best Halal Burger in the World" group, it was great to see so many familiar faces there! The turnout was good, and the crowd were generally friendly, making it a fun evening. Tasters were being dished up and passed out to all us anxious, hungry burger-lovers, and depending on how long you stuck around for, you were able to try almost everything on the menu.
Although looking the part, the burger was a tiny bit dry, and needed that moisture from the green relish served on top. I'll put this down to the burgers being served as halves, meaning they would become dry by the time they reached us. Also, I must say, the problem I've always found with Fatburger, both in Dubai and London, is that they put way too much shredded lettuce into the buns, making the patty have a very irrelevant part in the burger.
They had used a juicy chicken breast for this burger, and simply grilled it. It was nice and not underseasoned, but perhaps could have done with a little kick.
Would it be bad of me to say that I enjoyed this burger? I know, the vegetarian option… shame on me, but the patty was juicy, and tasted very similar to the beef option. When paired with some of their hot sauce, this was a really, really good burger!
The wings were fantastic. Not only were they fresh and hot from the fryer, they were so incredibly juicy that I couldn't stop at just one. Over the course of the evening, I tried both the lemon pepper boneless wings, which had a great peppery crust with a subtle zing from the lemon coming in afterwards, and the hot wings, that were deliciously spicy but not too overwhelming. Their accompanying blue sauce was a bit weak, but was still a good and cooling option for dunking the wings into.
One of the waiters magically dropped these guys on to our table. Deep-fried chicken tenders that had a mouth-watering crunchy skin, and succulent chicken meat on the inside. Make sure you opt for a pot of hot sauce on the side to dip the chicken into.
Considering this was their first pre-launch before the actual opening, I would say that the staff did a good job in keeping up with the demands of the crowd. Of course, a little shaky, but with a week until the official opening, they still had plenty of time to perfect themselves.
SECOND VISIT
Following my first visit, BW and I were then invited to the friends and family pre-launch event on Wednesday. By the time we arrived, the queue at the till was insanely big, and unfortunately, we were all the way at the back. Slowly but surely, the long line died down and it was our turn to order, however, at this point they were only serving single burgers! 🙁 Anyways, we managed to place our order and took a seat, awaiting our yummy goodies.
The burger arrived fresh and piping hot to the table, and was stuffed with the usual trimmings: an abundance of lettuce, green relish, tomato, onion, and melted cheeeese. The bun was, as expected, soft and squidgy, and held the burger together really well. Now, before we get to the patty, I will remind you guys again that Fatburger is a fast food restaurant, so do not expect a chunky, medium cooked, gourmet burger. The meat had been simply seasoned with salt and pepper, and then smooshed on the cooker, allowing the burger to have a nice smoky crust. It was definitely a juicy little guy, and the flavours were brought out more with the accompanying relish and burger trimmings.

However, as I mentioned in my first visit, perhaps the burgers could do without such a big pile of lettuce so that the patty itself does not get overshadowed. Needless to say, I did enjoy my burger to the very last cheesy bite! For those of you watching the waistline, Fatburger offer an option of a skinny burger where lettuce is used instead of bread. If that is not enough for you, they also offer a grilled chicken, or turkey burger – both using lean meats.
The fries were nothing out of the ordinary but were simply nice and crunchy.
Oh boy, the wings. Luckily, we were able to order a selection of wings as we were one of the last orders and I'm so glad we did. Fatburger has joined forces with Buffalo's to add a wide variety of wings and other chicken options on to the menu, and if you see from the photo below, have a scale in terms of the level of hotness.
I was lucky to have been able to try a selection of four wings; the lemon pepper, the bbq,
coconut jerk, and the carolina fire bbq.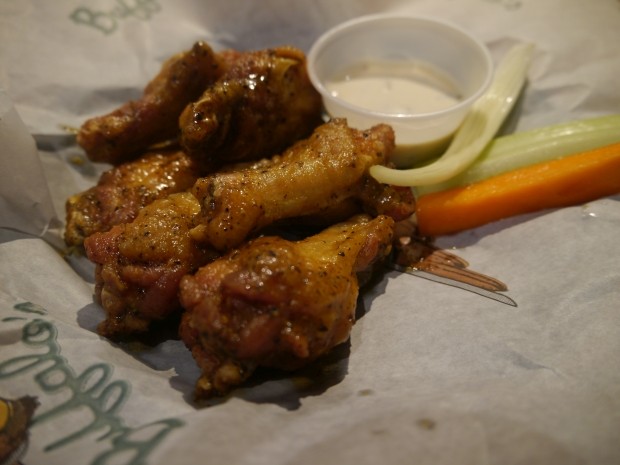 The lemon pepper wings were by far my favourite as I'm sure most of you will agree. Juicy wings with a black peppery marinade to give a little spicy kick, followed by the tang from the lemon – they were incredibly moreish.
The coconut jerk was a combination I had not tried before but definitely appreciated it. The wings had been marinated in a sticky and spicy jerk sauce, and then topped with dessicated coconut which balanced out the sweetness of the jerk. They also had a strong rosemary aftertaste which deemed them to be the marmite of the lot!
As for both the bbq wings, well, these aren't usually what we go for but the sauce was actually really well balanced, and not too sweet. I noticed BW making sure to eat every last one of these!
I was sadly unable to order a milkshake BUT I had a little taster of the vanilla milkshake [£4.00] and it was deliciously creamy.
The prices are shockingly extortionate with a single fatburger meal costing up to £10 but you have to remember that Fatburger is an example of well established fastfood that carries a brand premium such as other international chains like Five Guys and Shakeshack. Secondly, their burger are not processed and use fresh, lean meat.
Of course, the restaurant may be a little small, the queues may be a little long, and the prices may be a little high, but the team behind Fatburger London have worked hard to bring us a halal version of one of the most famous burger chains in the US. Not only are the burgers good, but the addition of the wings and tenders make Fatburger that much better. In order to get a good Fatburger experience, I suggest either ordering a double mushroom Fatburger, a single with bacon and a fried egg (the egg is a must!), or trying your luck at the huge triple (unbelievable burger coma!).
Disclaimer: I received both meals for free
Halal status has been verified by the Muslim owners and certificates are available. They do not serve HMC.
Pork/Alcohol: N/N
Child Friendly: Y
Previous Post
Next Post