Grounded Coffee Company
Breakfast has to be, hands down, the best meal of the day. You can't beat a stack of fluffy pancakes with heaps of maple syrup, nor can you go wrong with a good ol' pair of boiled eggs with hot buttery strips of toast. Ugh, just the thought of breakfast foods is making my mouth salivate. But when you're not in the mood to whip some of these up yourself, where can you go to get a good quality halal breakfast that isn't in a dingy little greasy spoon cafe?
Well my friends, I may have found a decent alternative. Grounded Coffee Company is situated in Whitechapel. Upon walking in, you are greeted with tables full with students tapping furiously away at their laptops, casual business meetings, and young families having a quick lunch. Squeezing into a table and double checking that everything was halal (which it was), I got ordering…
My huge breakfast appeared before me causing my eyes to pop right open. There was just soooo much. It wasn't really much of an issue because did you see that mountain of beans? I freaking love baked beans. This was a more refined and cleaner version of a usual halal fry-up, so I happily tucked in, and ended my meal mopping up the bright orange yolk with the buttery, crunchy sourdough toast – yum! It wasn't perfect; the turkey bacon was unimpressive plus the egg was a little over fried with the crunchy sides, but it was one of the better ones I've had in London. This dish was the perfect pick me up for the morning and oozed with comfort.
The chocolate brownie was deliciously gooey with a nice crunchy top layer.
Of course, I visited again the next day.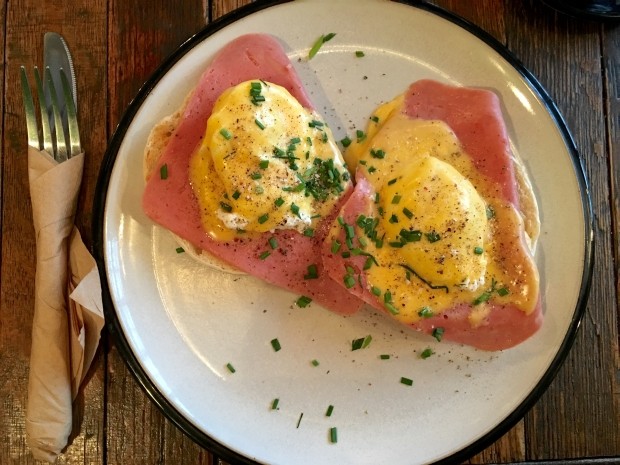 Maybe Grounded like their big portions, who knows, but the poached eggs arrived with humongous, bright pink slices of turkey ham that were the size of my head! Sheesh. They had then been topped with two poached eggs, creamy hollandaise sauce, and a scattering of chives. Oh, and there was a muffin underneath it all by the way.
The poached eggs burst open with gooey yolk when cut into, and paired perfectly with the rich and velvety hollandaise sauce with garlicky chives. However my main issue was with the quality of the turkey ham being used; perhaps a smaller and less processed meat should have been used instead to really round this dish off nicely.
I'm not a coffee advocate so I can't really say much other than the latte looked pretty!
On both visits, the bill amounted to approx £10-12 which I find is an affordable way to start the day, plus the staff are quick and attentive. Grounded do not only provide an extensive food menu with the likes of pancakes, quiches, and lasagne, but their till is hidden on a huge counter stuffed with freshly baked goodies, plus everything is halal which is a major plus in my books.
Previous Post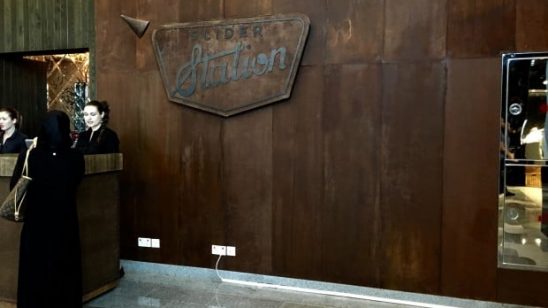 Next Post