Guanabana
The majority of you probably already know about Guanabana; whether you have heard about it, read about it, or visited it, the majority of the UK Muslim population probably already know about it, so why am I blogging it?  Well, everyone has different tastes, different ratings, and different interpretations.  Some of you may agree with my reviews, while others will not.  I have been hearing so many people praising the Guanabana that I felt there was no need for me to really go and experience the yumminess that so many people have bragged about.  But, last week I thought long and hard, why should I miss out on this so called "yumminess" and after all, this will give you all an idea on how my taste buds fair in compared to all of yours.  It was time that I made the journey into Camden to see if it really lived up to its hype.
Being the excellent driver that I am, I drove past about 5 parking spaces right outside the restaurant and in fact ended up parking somewhere so far away, that it required a five minute walk just to get to the place. My best friends, E & L, instantly regretted making me the driver for the night, but all I kept telling them was that it was all part of my plan to eat as much as possible and then digest it on our walk back to the car; I don't think I fooled them though.
The exterior was a bit shabby with construction work surrounding it, but the interior really made up for this.  It was cool and hip and just the place to be on any night of the week with friends or family.  I was excited and waiting in anticipation for the host to sit us at our table.  After a short while the waiter showed us to our table, we sat down and began chattering away, slowly realising that the restaurant was pretty quiet – a bit too quiet for our liking, so feeling a little conscious or eavesdroppers, we lowered our tone a few notches.
With our stomachs grumbling away, we went straight for the menu and after ten whole minutes of looking through the extensive list of hopeful deliciousness and debating what would be tasty, we were ready to order.
Strawberry Mojito (Virgin)
This was absolutely delicious. I don't have anything else to say about it. It was sweet, minty, ice cold, and refreshing…yum!
Chicken Chicharrones
Anyone who's eaten halal KFC with me has refused to ever eat with me again. Why? Because my bad table habit is to take the skin off the chicken and leave it to munch on last. I can't help it, it's a guilty pleasure of mine that sickens people to watch, but I know I'm not the only one! So when I saw fried chicken skins on the menu, I was jumping in excitement (in my mind of course).

I took a bite into it expecting fried chicken skin euphoria, but it never happened. By all means this was a great dish; slight crisp exterior with a soft interior, but it was a little too soft thus becoming chewy and seeming less fresh.  Some may enjoy the combination of soft and crispy, but I was hoping for a crunchier bite.  Perhaps next time I can ask for them to cook the skins a little longer.
Prawn Avocado Tomato Cheviche
Again, this was okay. The prawns were colder than normal and a little too bland.  Naturally this must have been because it was to be mixed with the delicious tomato and avocado salsa, but it still did not provide the punch it needed. Despite this, with generous lashings of fresh lime juice and the crispy tortilla base, the dish turned out to be decent, but certainly not amazingly delicious.
Messy Mexican Burger
One thing I will never understand is why restaurants like Guanabana do not include sides with their main dishes. Why have burgers with no chips? So E's lonely burger stood with toppings such as guacamole, sour cream, and the Mexican works, but, no chips.  It was a good non-processed meat patty and would have been even better cooked to medium instead of well-done.  E had no problems finishing this, licking her fingers and proclaiming it was delicious!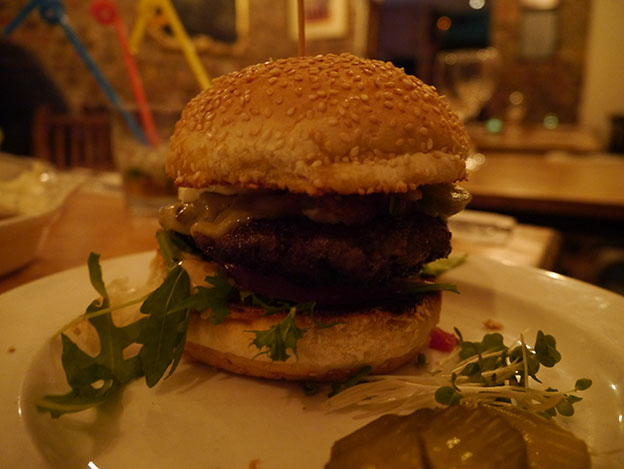 Ackee & Saltfish
L opted for the fish dish that turned out to be the best dish of the night from our main courses.  Both E and I could not stop staring at her food in pure jealousy. Being the great friend that she is, we were allowed one bite each. The fish was tender, the plantains were sweet, and the rice was fluffy. When eaten altogether, it was a mixture of sweet and salty, A.K.A. the perfect combination!
Sticky Licky Beef Ribs
On the menu, the description is as follows, "fall off the bone beef short bbq ribs". I've had a rocky relationship with ribs, some have been absolutely beautiful and others, just downright awful. Guanabana's "Sticky Licky Beef Ribs" weren't in fact sticky nor were they licky. They didn't fall off the bone as some pieces of meat were burnt to the crisp.  Quite frankly the description should be changed to "Overly Flooded Sweet BBQ Sauce Beef Ribs."  I was disappointed in this £16 dish and having paid that much I knew I had no choice but to continue eating.  I finished it ever so quietly whilst mourning the burning hole in my debit card and also shooting jealous stares at my friends enjoying their food.
Feta Cheese Mash & Sweet Potato Fries
The feta cheese mash was hot buttery mashed potatoes with small pieces of feta swirled in between.  Rich and creamy, I found this to be a delicious side. The sweet potatoes were soft, sweet and not over seasoned.  It tasted good hot, but quickly lost its appeal once it cooled and became soggy.
Poor Service
I've heard about their infamous service, but gave the restaurant the benefit of the doubt that night. Well it didn't last long and what really did it for me was that as we were finishing our starters, the unfriendly waiter came and picked up all the plates before L could finish eating. The restaurant was not busy at all, so what was the rush?
Overall, we paid £22 each for an exciting, but pricey menu, decent food, and poor service. Maybe I had chosen the wrong dishes, but for the price I was paying and from all the reviews I had read, I was expecting a lot more especially from the service. I guess I'm not as bananas about Guanabana as others are.
I know I sound picky and difficult to please from my above review, but a number of factors play into my decisions.  Service, ambience, location, and the delicacy of the foods I order.  Naturally the restaurant can have a bad night, or I simply could choose the wrong foods, but it at least gives you all an idea of what may perhaps be worth ordering from such an extensive menu and what to steer away from.  So for those who truly love the restaurant, please let me know what dishes you ate and what you would recommend for people planning to visit the Guanabana, as I was very disappointed.
Halal status: All meats served are halal. BYOB policy.
Website: guanabanarestaurant.com/
Address: 85 Kentish Town Rd, London NW1 8NY
Previous Post
Next Post