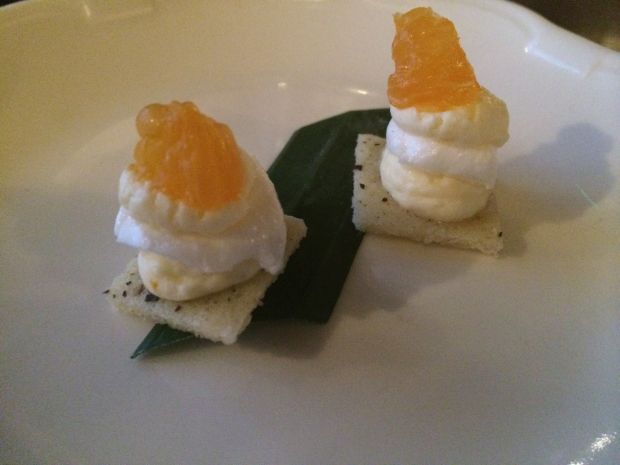 Gymkhana
Once we had settled into our new married life and routine, it was about time BW took me on a date. Considering it was our first date as a married couple, I felt a treat was in order, so BW booked us a table at Gymkhana – one of London's hottest restaurants. Nestled in Mayfair, the restaurant reflects the glitz and glamour of a very old-school India around the time of the British Raj.
When you enter, you walk into a dark wooded restaurant with sleek furniture and a suave vibe about it. A completely different look from the mirrored cloths or bright coloured interior you are usually accustomed to at a typical London curry house.
The menu is simple and straightforward, so you are bound to find some familiar dishes such as seekh kebab or a warm, comforting bowl of creamy butter chicken. A lot of game features on this menu as well, however, and unfortunately for us, it isn't halal. The halal options include chicken, lamb, and goat.
Kid Goat Methi Keema, Pao, Salli & Behja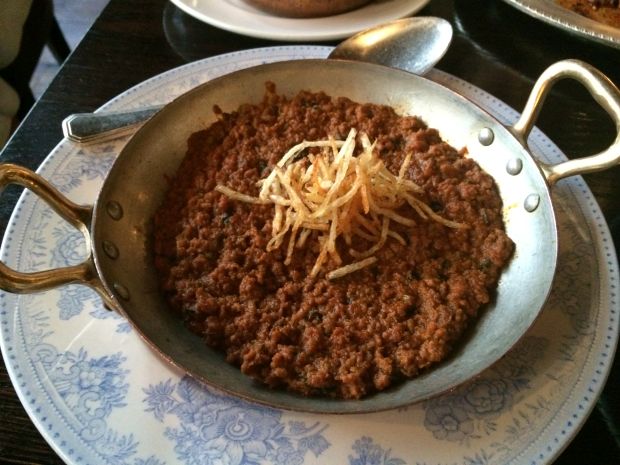 Gymkhana successfully puts a twist on their offering of keema with kid goat being used instead of lamb. As if eating a baby goat wasn't barbaric enough, BW stared at me in horror as I licked my lips and opted to order their nice jelly brains on the side which added a nice slippery texture to the keema. Having laid eyes on the soft and buttery pao (buns) sitting on the side, I scooped up the brain-keema concoction and smooshed it into a bun to make it a mouth-watering keema slider! The keema itself wasn't jampacked with flavour like the ones served in your hole-in-the-wall curry houses but it was good, and you could taste the quality of the meat. It was also quite light on the oil which I'm always happy about.
Potato Chat, Chickpeas, Tamarind & Sev

A big bowl of chickpeas, crispy fried potatoes, sweet tamarind, crunchy sev, and a creamy yoghurt sauce drizzled on top. Each spoonful of the chaat had strong and spicy flavours which were then cooled down with the sweet yoghurt – so far my favourite dish out of the bunch.
Kasoori Chicken Tikka & Sprouting Moong Kachumber

3 chunks of moist, succulent chicken that had been in tandoor and then brushed with a light, spicy marinade that had a bit of a tang. The kachumber added a nice refreshing crunch.
Lamb Nalli Barra, Picked Onion, Tumeric & Ginger

Ah yes, expertly cooked chops that had that oh-so-yummy char on the bones from the tandoor and served with two bones filled with fatty and lip-licking bone marrow. The chops were big, thick, and oozing with plenty of flavourful juciness, and at £28, they definitely come with a hefty price tag, but they were one of the best quality cuts of lamb I have eaten to date.
Lasooni Wild Tiger Prawns, Red Pepper Chutney

Three fat and juicy prawns, again, straight from the tandoor as you could see the slight charring on the prawns' meat. I found this to be the spiciest dish on the whole as it induced that attractive nose-dribbling effect, but it was not too overbearing. The smooth red pepper chutney was the perfect accompaniment for dunking the prawns into.
Goan Cafreal Bream

Two meaty fillets of sea bream covered in an eye-catching green paste – also known as cafreal. This magical green paste consists of mainly coriander (lots of it), green chilli, garlic and ginger, and packed a punch in every bite of the tender white fish. [Just a quick note, it doesn't seem to appear on the online menu, but definitely worth an order if still available]
Gymkhana's portions vary in size, from three small pieces of chicken tikka to a huge bowl of potato chaat, but don't be fooled, even the smallest of portions can easily fill you up. BW and I were absolutely stuffed that we only managed a small portion of masala chai before admitting defeat and declining the dessert menu.
The total bill came to £88.50 for two people excluding service. A slightly expensive affair especially with the inclusion of £28 lamb chops, but the restaurant is located in one of London's most expensive postcodes – W1 – the service is welcoming, and the food is one of the most raved about Indian restaurants in the whole of London. Not only has Gymkhana excelled in providing us with classic dishes such as gol guppa and butter chicken, but also puts a twist on well known dishes such as quail seekh kebab. Gymkhana is the perfect place to take that someone special for delicious food and a lively atmosphere but be sure to book well in advance!
Lamb, chicken and goat are halal. Halal status verified by restaurant. 
Address: 42 Albermale Street, London, W1S 4JH
Telephone: 0203 901 1590
Website: http://www.gymkhanalondon.com/
Closest Station: Green Park
Previous Post
Next Post