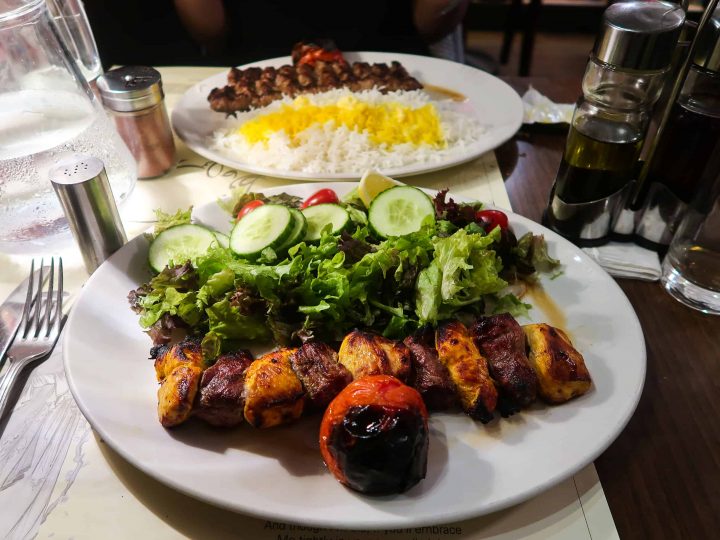 Hafez
Over the last couple of months, I've come to realise that I have a dangerous obsession. A delicious, calorific obsession, that is. All my friends and family have stopped trusting me to choose restaurants when we go out, even BW has voiced concern over this unhealthy fixation of mine, but I just can't help it when it comes to Persian food. And as much as I've tried to resist it, the buttery rice, juicy koobideh, and the waft of freshly baked naans gets me every single time. Thankfully, I've found an equally addicted friend, JL, to accompany me to Persian restaurants and this time, we visited Hafez in Bayswater. Hafez has been around forever, since 1983 to be precise, and was one of the first Persian establishments to open in London. The place was absolutely packed by the time we arrived and we only managed to snag a table when a couple cancelled at the last minute  – phew. Clearly, they must be doing something right even after 33 years in the business.
Hungry, we got ordering.
A classic aubergine appetiser and a must order at any Persian restaurant. The combination of the tangy garlic, creamy whey, and deliciously smoky aubergine was spot on. Hafez's was not too oily either which was a bonus.
The hummus was decent, but nothing out of the ordinary.
I'm probably in the minority, but I enjoy my naan to be soft and squidgy as opposed to crispy. Hafez served their bread nice and squishy, which was perfect for scooping the dips.
To have a little taster of everything, I opted for the Bakhteari – chicken breast and lamb tenderloin – with a fresh and crisp salad on the side. The chicken pieces were humongous and had a good zingy flavour from the lemon, but became dry after a short while. I wasn't too keen on the lamb tenderloin pieces either as they were quite lamby and tough, and paled in flavour in comparison to the chicken. Perhaps, I will try the chenjeh (lamb fillet) next time.
Fat, juicy lamb koobidehs with a generous amount of rice and the classic roasted tomato. The meat to fat ratio was good, with the kebab being incredibly tender and the fat added a good rich flavour to the meat. However, it was a little too salty and soft for my liking. 
The total bill for two amounted to approximately £40, including drinks and service, which works out to be £20 each. Considering this is one of the nicer Persians in London, I was surprised that it was not thrice the price! The food at Hafez was decent, maybe not the best Persian I've had, but they are constantly busy and were fully booked even on a Wednesday evening, so maybe I had ordered the wrong dishes.
I kick myself for not having tried some of their more interesting drink options like the sherbet or the various Persian teas (rose petal, cardamon etc), so let me know how they taste when you visit next.
For Hafez website, click here.
For more Persian options:
Previous Post
Next Post