Six Places for a Halal Brunch in London
They say breakfast is the most important meal of the day, but on weekends, we brunch. Halal brunch, to be precise. So where exactly can you go to fulfil your halal breakfast dreams of poached eggs, buttermilk pancakes, and chilli cheese dosas? We've got you covered! Here are six places for halal brunch in London that are worth waking up for on the weekend. So grab your friends and your Amex, and lets get brunching!
HALAL BRUNCH IN LONDON
BOMBAY BUSTLE, MAYFAIR
If you love a fun brunch with the girls or want to organise a birthday breakfast in town, glam up and head to Bombay Bustle. The brunch at Bombay Bustle specialises in typical Parsi dishes, but add their own Mayfair twist. Think truffle akuri naan – masala scrambled eggs on truffle naan – and Gothala, lamb keema with brain and liver on a slice of sourdough toast, all washed down with a cool glass of lassi. A spot shopping afterwards will help burn off those delectable calories. Just don't forget to book!
When: Every Sunday from 11am to 3pm.
Address: 29 Maddox St, Mayfair, London W1S 2PA | Cuisine: Indian | Halal Status: All meats are halal. Pork and alcohol served.
Website: bombaybustle.com/
CUT, PARK LANE
You can't go wrong at London's best and most expensive halal steak restaurant, especially with their American brunch menu. With the likes of fluffy pancakes with a good drizzle of maple syrup, a refreshing acai bowl, avocado toast, and of course, juicy burgers, you wouldn't want to miss out on this. The burger here is not your basic run-of-the-mill cheeseburger, but more along the lines of Australian wagyu beef patty, shallot-jalapeno marmalade, garlic aioli, and creamy Ogelshiled cheese. Now, this is the kind of halal brunch in London you want to wake up for!
Address: 45 Park Ln, Mayfair, London W1K 1PN | Cuisine: American | Halal Status: Australian wagyu is halal and chicken can be requested 24 hours in advance. Pork and alcohol served.
When: Every Saturday from 12-3pm and Sunday from 11-3pm.
Website: dorchestercollection.com/
AL ENAM, ACTON
Aside from running a great catering company, Al Enam serve up a hearty and traditional Iraqi breakfast to their hungry customers daily. Their menu is a little hard to find online but consists of classics like kahi and geymar (oven baked pastry served with clotted cream and syrup) and shakshuka. If you're feeling hungry, their Bagila Bil Dihin is a must-order – a soaked tanoor bread topped with warm broad beans and a layer of fried eggs. Breakfast at Al Enam is hearty, homely, and certainly heavy!
When: Everyday until 12pm.
Address: Acton Business Centre, School Rd, Park Royal, London NW10 6TD | Cuisine: Iraqi | Halal Status: All meats served here are halal.
Website: https://www.alenam.co.uk/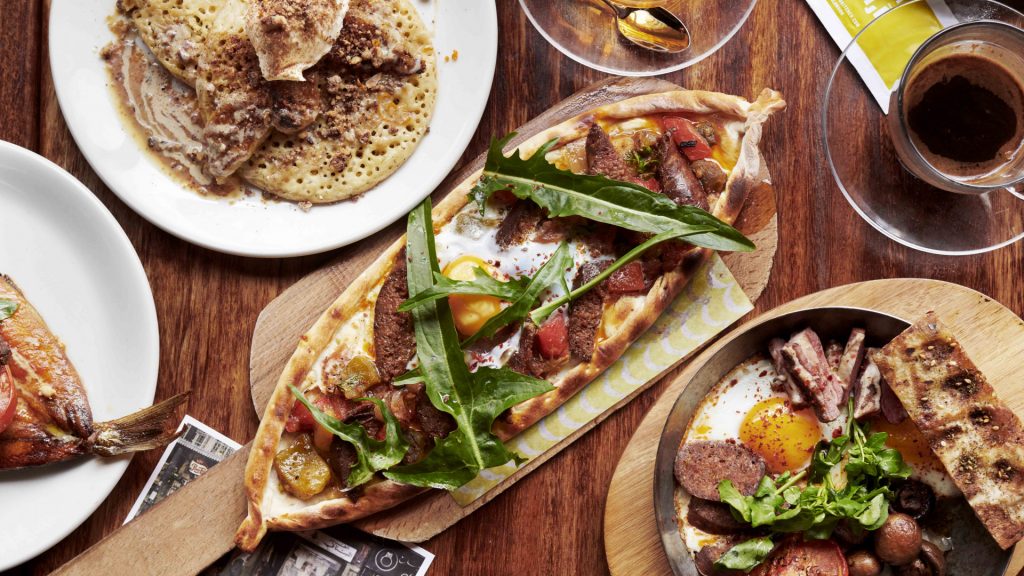 ARABICA, KINGS CROSS
It may be a little premature of me to put Arabica KX on the list considering they haven't even started serving brunch yet, but having had their a la carte menu, I'm confident in saying that their brunch will be fantastic.
Arabica KX is the ideal place for a halal brunch in London; a great central location, dishes that are ideal for sharing, and of course, very delicious food. Think Middle Eastern fry up with house cured lamb bacon, beef sujuk, and all the other yummy trimmings. Or keep it sweet with their buckwheat pancakes that come with bananas, salted date honey caramel, orange blossom cream, and a crunchy pecan crumble.
When: Saturdays from 9am-12pm and Sundays from 10am-12pm. Brunch will start being served from 11th October in the KX branch.
Address: Arabica KX (next to Aga Khan centre), Lewis Cubitt Walk, Kings Cross, London N1C 4DT | Cuisine: Middle Eastern | Halal Status: All meats, except the chicken (at the moment), are halal. No pork but alcohol is present.
PIDE OVEN, FITZROVIA AND HAMMERSMITH
Pide Oven has always been a great and quick halal lunch option; there's no going wrong with a cheesy pide (pizza) in the afternoon. But, lucky for us, these cheesy pides are now available in the mornings every weekend!
If you fancy something more brunch-y, you can opt for their 3 organic fried eggs cooked with thick succulent slices of beef sujuk, poached eggs in yoghurt and a healthy drizzle of chilli butter, or go large and get the sharing breakfast – serpme kahvlati – for £9.90. This spread comes with plenty of cheese, honey and kaymak, gozleme, and more traditional goodies.
When: Every weekend from 9am-1pm
Address: Fitzrovia – 45 Charlotte St, Fitzrovia, London W1T 1RS | Hammersmith – UNIT D, 77 Fulham Palace Rd, Hammersmith, London W6 8JA | Cuisine: Turkish | Halal Status: All meats are halal. No pork but alcohol is present.
Website: https://www.pideoven.com/
HOPPERS, MARYLEBONE
When Hoppers first opened, there were queues for up to 3 hours at their Soho branch. Thankfully, they mixed things up at their second home in Marylebone and introduced reservations for guests of 3 and more, as well as serving Sunday brunch! Hoppers fans will be happy to know that egg hoppers, chilli cheese dosa, and omelette karis are just a small part of the Sunday brunch menu. Come with a group of hungry friends (or even hungry date) so you can mix and match dishes from the great value for money £26 per head brunch menu. There's not an avocado toast in sight here at this invigorating Sri Lankan restaurant.
When : Every Sunday
Address: 77 Wigmore St, Marylebone, London W1U 1QE | Cuisine: Sri Lankan | Halal Status: Chicken, lamb, and mutton are halal. Pork and alcohol is present.
Website: hopperslondon.com/
---
Disclaimer: Please do check the halal status of all the restaurants in this post before you visit as they may have changed suppliers since this was published.
For more breakfast places in London, see below:
Previous Post
Next Post