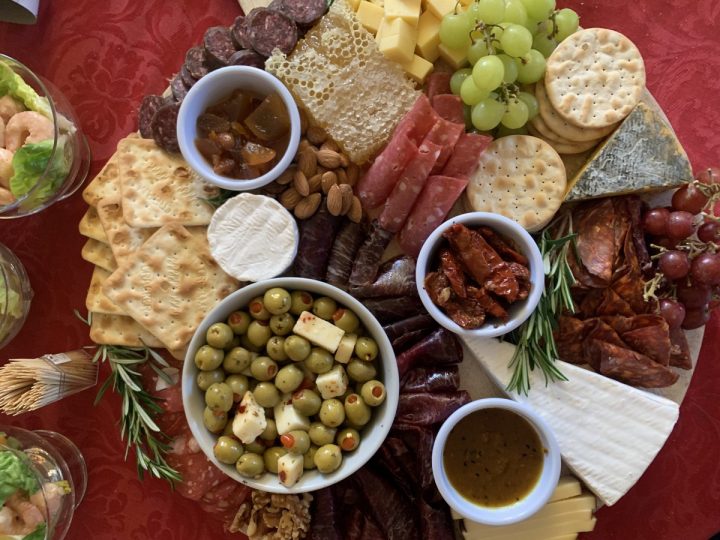 How to Make the Ultimate Halal Charcuterie Board that Your Guests will Love
Have guests coming over and want to organise an appetiser that really stands out? Why not make your own halal charcuterie board piled with delightful goodies. Your guests will love the choose-your-own-culinary-adventure aspect to it, plus you can mix and match the ingredients to please everyone!
I had my first halal charcuterie board at Cona back in 2016. I was mesmerised by the delicious and good quality cured meats and the combination of the meats with the olives and sweet peppers were outstanding. Unfortunately none of the halal restaurants in London serve a halal charcuterie board!
So I took the tasty sorry, I mean, troublesome task upon myself and decided to make one. I've made a handful so far for a few dinner parties and after a little fine-tuning and research, I have compiled a guide on how to make the perfect halal charcuterie board. 
For 10% off your next halal cold cuts order from Ojos Foods, use the code HGAT10 upon checkout. Code valid until October.
Read ahead for a quick summary and further for an in-depth guide.
To summarise:
Use an appropriate sized board

or tray as a base and arrange all the

bowls

you want to use on the board.

Good quality cured meats

. A variety of cured meats allow the board to have a range of flavours from smoky to spicy to sweet, so go for 4 or 5 different cured meats. 2oz per person if there are more courses and 4oz per person if this is the main dish.

A selection of cheeses.

Aim for 3-5 cheeses that vary from soft to hard, including 1 blue. 2 oz per person if there is more food but 3-4 oz per person if this is the main dish.

Crackers and bread.

Stick to neutral flavours so it doesn't steal the highlight from the meat and cheese.

Antipasti vegetables

. A choice of 2-3 antipasto add a good variation of flavours.

Fruits.

Dried or fresh fruit both work here and act as a palate cleanser.

Nuts.

These are great for filling up any small gaps on the board and pair well with the cheeses.

Jams, spreads, and chutneys

. 2-3 of these are good and help to cut through all the fats on the board.

Garnish.

Fresh herbs like rosemary and thyme add vibrancy to the board.
This post contains affiliate links and I have marked them with an asterisk (*)
WHAT IS A HALAL CHARCUTERIE BOARD
Charcuterie (pronounced shar-koo-teh-ree) is a French word used to describe an assortment of cold-cooked or cured meats. It is usually served alongside fruits, cheese, bread and other accents on a large sharing board.
It is perhaps one of the easiest appetisers you can put together on such short notice and is a complete crowd pleaser. Be prepared for your guests to whip their phones out to gram your dish!
THE BASE
Any large surface works here; whether it is a round wooden or marble chopping board, a lazy susan, or even a rectangular baking tray. I've even seen some people use their kitchen countertops as their charcuterie board – just be sure to put parchment paper down first. Here is one similar to mine. *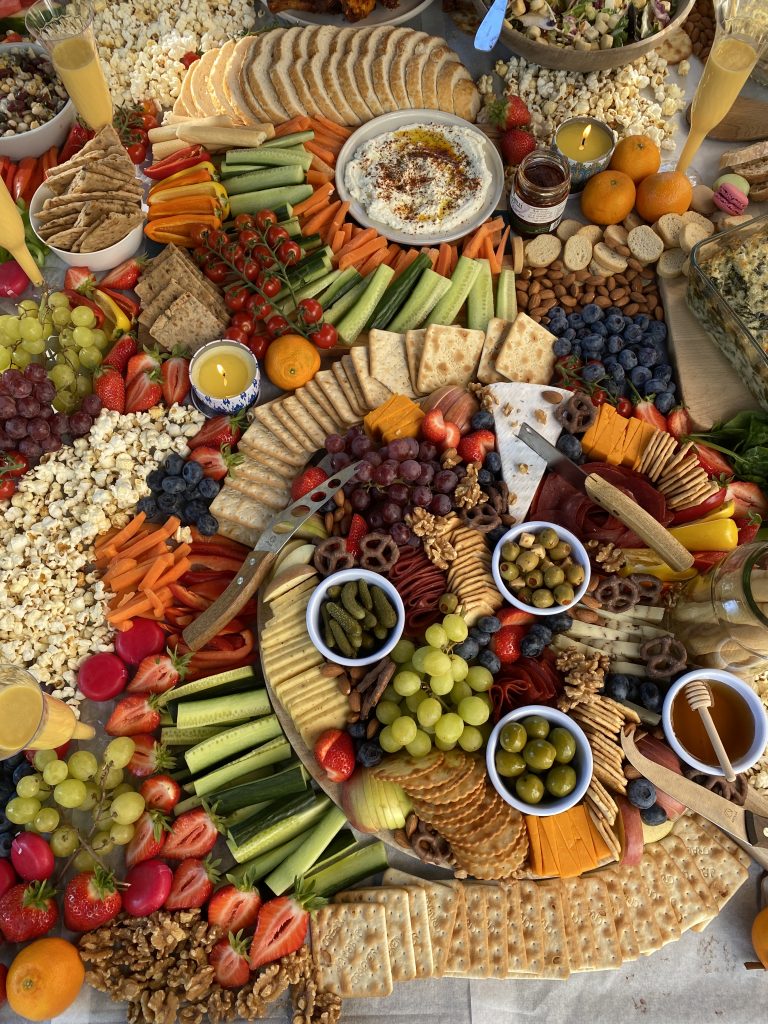 Cheese knives aren't necessary as normal knives or spoons do the job, but if you really want to go the extra mile, you can get a nice set from here.*
Go for different sized bowls* to add some contrast to your board and fill them with some of your antipasti items or jams/spreads. The bowls also help to act as an anchor so you can lean the crackers/meats/cheeses against them without them toppling over. Arrange the bowls on the board first so you get an idea on how you want to place the other items like meats, cheeses, fruits, etc.
MEATS
Now you've got the base done, let's move on to the most important aspect of the board: the meat. It is a charcuterie board after all!
Using high quality cured meats makes a big difference here and I would avoid using some of the popular brands that you find in the halal section of your local supermarket. The independent Spanish and Italian brands are far more superior in terms of quality and taste, and there is only a small difference in the price.
Here are some of the halal cured meat brands I use:
OJOS FOODS
This Spanish brand have won several great taste awards for numerous of their halal products and you can really tell when you tuck in. Be sure to order from their halal range on their website as they also sell non-halal products and at least a week beforehand as they are exported directly from Spain. Their products are fantastic and are on repeat order in my household.
I use a combination of their products: the sweet and smoky beef salchicon (my absolute favourite), el buey (cured beef), and the el bueto margeto (18 month cured beef). All of these products have won stars from the Great Taste awards so you know they're good. 
For 10% off your next order from Ojos Foods, use the code HGAT10 upon checkout.
You can order this via their website: https://www.theojosfoods.com/
20 WAYS
20 Ways source their high-quality ingredients from 20 different regions across Italy hence the name 20 Ways! You'll be able to get your hands on some of the finest halal cured meats Italy has to offer, from the mild mountain-sourced salami to the meaty beef bresaola. The cured halal beef bacon is also worth a try with its deliciously deep, meaty flavour. Pair the meats with some creamy burrata or mozzarella for the perfect Italian charcuterie board.
You can purchase the cold meats from the MyJam grocery website over here: https://myjam.co.uk/collections/20-ways
It is best to dedicate each area of the board to a different type of halal cured meat and play around with the arrangement. You can fold, fan or roll the pre-sliced meats, and slice up the salchicon and leave the other half on the board; whatever you fancy.
CHEESES
Although the meat is crucial to your board, my favourite part is all the cheese that is piled on there. I mean, lets face it, cheese is simply unbeatable and can be healthy-ish as extra dopamine is released in every bite.
I would aim to have 3-5 different cheeses on the board, with varying levels of firmness to complement all the different elements. From the strong mature cheddar to the creamy soft brie to the tangy stilton, the possibilities are endless.
Whole hunks of cheeses can be tedious to serve so mix and match how you put them on the board. Cubing, slicing, and cutting the cheese into triangles works a treat for the firm ones, whilst leaving the softer cheeses like the goat, brie, and blues as they are lets the board have some variety.
Don't forget to take the cheese out at least half an hour before serving so that it comes to room temperature.
Choose a cheese from at least three of the categories below to get started and then build up from there:
Soft: Mozzarella, burrata, brie, camembert, goat cheese
Semi-soft: Gruyere, Port-Salut, havarti
Semi-hard: Gouda, cheddar, provolone
Hard: Parmesan, pecorino, parmigiano-reggiano (depending on your school of faith)
Blue: Gorgonzola, roquefort, stilton
CRACKERS AND BREAD
Like the cheeses, avoid heavily seasoned crackers and stick to ones with more neutral flavours instead. This is so that your guests can appreciate the taste of the cheeses and meats. Breads like baguettes and ciabatta slices can also be added to the board, but this can become quite heavy so keep this is mind if you have a lot of food prepared.
For any gluten allergies, the crackers and bread can be swapped out for a variety of gluten-free options.
Examples of crackers and bread to include:
Cream crackers

Water crackers

Melba thins

Breadsticks

Crostini
FRUIT
Fruit and cheese is a combination made in Jannat and I am totally living for it. Grapes and cheddar? Yes please. Fig and blue? In. Love. The fruits also help to act as a palate cleanser.
If you can, seasonal fruits will make the board that little bit better and don't be afraid to include dried fruits too.
Examples of fresh or dried fruits that you could use:
Figs

Apricots

Pear

Apples

Grapes

Berries (raspberries, blackberries, strawberries)

Oranges

Dates

Cherries
ANTIPASTO VEGETABLES
I like the antipasto vegetable addition to the board as they are colourful and vibrant so help to steer away from all the pinks and yellows of the meats and cheeses you are serving. It is also a great way to clear out all the odds and ends in the fridge and pantry.
Examples of antipasti that would go great on your halal charcuterie board:
Pitted olives (stuffed olives work too!)

Marinated artichoke hearts

Sun dried tomatoes

Pickles/gherkins are good at adding a lovely tang
JAMS, SPREADS, AND CHUTNEYS
The jam, spreads, and chutney element can help to add a sweetness to all the salty components on the board. Plum, fig, and apricot based jams work especially well with the cheese, but you can even use berry jams too like strawberry or raspberry.
I love, love, love the addition of honeycomb to the board. Not only is it aesthetically pleasing, honey with blue or goat cheese is a sweet and salty dream come true. I buy mine from here*.
It doesn't have to be all sweet though, a good olive tapenade or pesto can be fun to pile up on the bread alongside the cheese and meat. The savoury spreads can also work to please any vegetarians that you're entertaining.
Examples of jams, spreads, and chutneys, you can use:
Pineapple chilli jam

Honeycomb

Fig or apricot jam

Quince paste

Olive tapenade

Pesto

Wholegrain mustard
NUTS
The nuts will help to fill up any small gaps on the board and an assortment works well with the different cheeses you're serving. If someone is allergic to nuts, this step can be skipped completely or you can place the nuts in a separate bowl on the side.
OTHER BITS AND PIECES
Fresh herbs like rosemary, basil, and thyme add a lovely pop of colour to the board and complete it nicely. Again, this is not a necessary addition to the board so you can skip this part too.
---
Once you've gathered all the ingredients that you'll be using, you can start to build your halal charcuterie board! If you are hosting any vegetarians or vegans, be sure to keep the meat in a separate plate.
Start with the bowls of spreads and antipasti, then the meats, and cheeses, and finally fill in the gaps with all the accents like fruits, herbs, and nuts.
Keep the cheese-knives handy (or even regular knives and spoons work) and small plates will be appreciated too. Don't forget a small bowl of toothpicks on the side.
The board takes no longer than 15 minutes to put together and can be adjusted for any occasion. Organising a family camping trip? Give each person their own mini charcuterie box (a halal lunchables!). Have a large gathering for Eid or Iftar? Place parchment paper down on your counter or table surface and go to town with everything. You can even make it a fun potluck and have each guest bring a component to place on the board – this can help to cut down the costs.
I hope you guys give this halal charcuterie board a go and if you do, let me know how you get on in the comments below!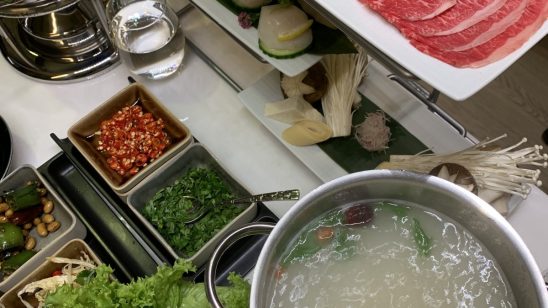 Previous Post
Next Post