Halal Crunchwrap Supreme
Yes, I went there. The recipe you've been seeing on TikTok and Instagram explore – the Crunchwrap Supreme. This dish originates from TacoBell and due to lockdown, everyone took it upon themselves to make their own Crunchwrap Supreme – just better!
**This Ramadan, I'm raising money for LIA Relief Trust to help feed iftar to those in need. A donation as small as £1 can help one person have iftar tonight and £5 can feed an entire family iftar. Here is the link to donate: Click here. **
It is a concoction of beef, nacho cheese sauce, crispy taco, salad, tomatoes, more cheese, and sour cream all wrapped up inside a large tortilla. This is then toasted to ensure the cheese melts wonderfully and served up warm.
Most of the items we'll be making from scratch like the gooey nacho cheese, the quesadilla dipping sauce, and the taco seasoning so you know this will be good. It also takes less than 30 minutes to put together and uses ingredients you'll have in the fridge
For the taco seasoning, I mixed together cumin, coriander, oregano, garlic granules, onion granules, smoked paprika and red chilli flakes, and marinated the beef mince in it. You can sub the beef for chicken, Quorn, or even black beans. If you prefer to use ready made taco seasoning, one whole packet of seasoning will be enough.
The cheese sauce was straightforward and I was inspired by The Food Lab's nacho cheese sauce. Instead of making a bechamel and adding cheese to it – which is completely fine by the way – you'll be mixing the grated cheese with evaporated milk and either hot sauce or jalapeno brine.
You first toss the freshly grated cheese with cornflour – this lets the cheese sauce maintain it's liquid viscosity even when reheated. The evaporated milk helps to make it smooth and silky as it stops the cheese from separating. And the hot sauce/jalapeno brine gives the sauce that little twang to break up the richness from the cheese.
You can play around with the cheese sauce as much as you like. You can make it spicier, use a different mix of cheeses (red Leicester would be good here), and make it as thick or thin as you like!
Finally, the quesadilla sauce is perfect for dunking the wrap into or you can even smother a little inside.
HALAL CRUNCHWRAP SUPREME
INGREDIENTS
500g beef mince (or chicken/turkey/quorn/black beans)
3-4 tbsp of taco seasoning * see below
Vegetable oil, for cooking
Cornstarch slurry (1 tsp cornstarch dissolved in 1tsp water)
500g freshly grated cheddar cheese (or cheese of your choice)
250ml evaporated milk
2-4 tsp of hot sauce or jalapeno brine, depending on your spice level
4-6 large tortillas
4-6 small tortillas or large tortillas cut into quarters
Tortilla crisps (doritos work here – flaming cheetos would be amazing too!)
200g sour cream or quesadilla sauce * (See below)
Shredded lettuce
1 tomato, chopped
200g shredded cheese (cheddar, mozzarella etc)
*Quesadilla sauce:
125g mayonnaise
125g sour cream
4-6 tsp of jalapeno brine
2 tsp jalapenos, chopped
1 tsp sugar
1 tsp paprika
2 tsp ground cumin
½ – 1 tsp cayenne or red chilli flakes, depending on your spice preference ** (see notes)
½ tsp garlic
Pinch of salt, to taste

Taco Seasoning:
1 tbsp ground cumin
½ tbsp ground coriander
1 tsp red chilli flakes or ½ tsp cayenne pepper ** (see notes)
1.5 tsp paprika (smoked paprika is also good here)
1tsp oregano
½ tsp onion powder *** (see notes)
2tsp garlic powder *** (see notes)
1.5tsp salt
1.5tsp black pepper
NOTES
** If you don't want spice, you can omit the chillies or if you fancy it more hot, add in more. I suggest starting with ½ tsp and building up from there.
*** If you don't have onion or garlic powder on hand, just add real onion and garlic directly to the pan.
METHOD
Mix together all the ingredients for the taco seasoning and add 3-4 tbsp of this seasoning to the beef mince.

Heat up some oil in a pan over medium heat and add the beef mince mixture. Let this fry until the meat has browned and then add in some cornstarch slurry to the pan. Keep stirring until the slurry has been absorbed. Leave the meat to cool.

In a bowl, toss the freshly grated cheese with the cornstarch. Transfer this to a pan over low to medium heat.

In the same pan, pour in the evaporated milk and hot sauce/jalapeno brine. Keep stirring the mixture until the cheese has fully melted. It will be quite runny and grainy to start with but keep on stirring until it thickens. Do not let this mixture boil! If you prefer a runnier cheese sauce, pour in some more evaporated milk when cooking.

For the quesadilla sauce, mix together all the ingredients in a bowl and leave aside.

To assemble:

Place the large tortilla down first

Add the beef mince in the middle, making sure to leave a large border around it.

Followed by the cheese sauce

Put the tortilla crisps on top of this

Top with sour cream or quesadilla sauce

Lettuce

Tomatoes

Grated cheese

A smaller tortilla or a quarter of a large one

Start folding in the larger tortilla into the middle, pleating as you go along, and quickly turn this over so that the pleats are facing downwards.

Heat up some oil in a non-stick pan over low-medium heat and carefully place the Crunchwrap in the pan with the pleats still facing downwards. Cook for 3-4 minutes on each side, until the wrap has become golden.

Serve immediately with Quesadilla sauce.
If you find your nacho cheese has set, you can reheat it in the microwave, stopping to stir it every 30 seconds until the desired consistency is reached.
**This Ramadan, I'm raising money for LIA Relief Trust to help feed iftar to those in need. A donation as small as £1 can help one person have iftar tonight and £5 can feed an entire family iftar. Here is the link to donate: Click here. **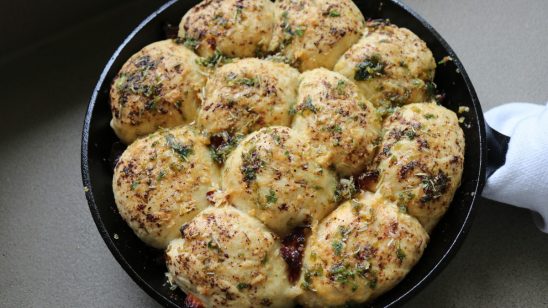 Previous Post
Next Post