Halal Festive Menus in London and at Home
The festive period has arrived and although we may not celebrate Christmas, perhaps its an annual tradition for your family to come together during the holidays or maybe, just maybe, you want to have a try of all the special festive food offerings that only show up around this time of the year! We're not judging you. Either way, it's an overall happy period where no one is working,  everyone is in a happier mood, and it's usually filled with tasty food, games, and festive movies. 
Given Covid-19, things may not be the same as previous years with regards to getting together but if you're in London, you're still able to form a 3 house bubble for the duration of Christmas. Please abide by the rules that have been imposed in your area and stay safe!
We've saved you the hassle from all of the cooking, stressing, and burning, and have compiled a list of all the places that are offering halal festive menus at their restaurants this year. There are also a few special festive home kits to indulge in and a turkey dinner ice cream sundae too.
HALAL FESTIVE MENUS IN LONDON RESTAURANTS
View this post on Instagram
3-course Festive Menu, The Great Chase
For the duration of December only, The Great Chase are offering a 3 course festive menu for their hungry diners. Some difficult decisions will have to be made that day especially when you have a choice between the chicken liver parfait vol au vents or the pan fried scallops with confit garlic for starters, followed by the Lancashire rack of lamb or the 35 dry-aged rib eye steak, and finally a vanilla and hazelnut mille-feuille or chocolate and miso mousse. We suggest going with someone who doesn't mind sharing! 
They are open from Wednesdays-Saturday, 5:30-10:30pm and Sundays 12-5pm. 
Halal Status: All meats served are halal. No pork or alcohol served.
Address: 316 St John St, Clerkenwell, London EC1V 4NT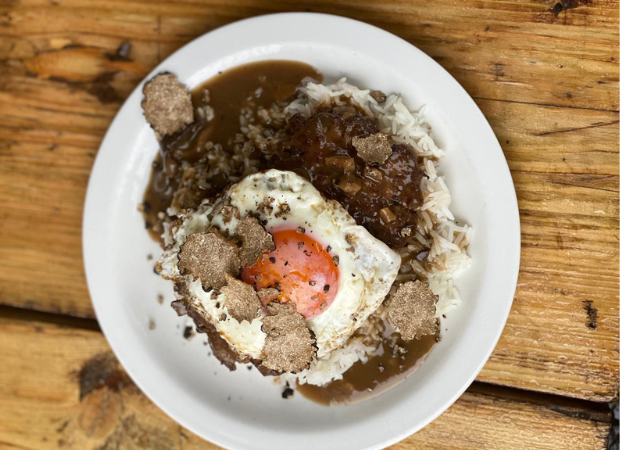 Loco Moco with Truffle and Porcini Gravy, Bintang 
Bintang will be recreating their take on the Hawaiian special, Loco Moco, as part of their Christmas specials. A Loco Moco is a hamburger patty served with sticky white rice and topped with a delicious meaty gravy and a runny fried egg. Bintang's festive version will include a mound of rice topped with two hamburgers and doused in a truffle and porcini gravy, before being finished off with a crisp fried egg. 
Halal Status: All meats served are halal. No pork but BYOB policy in place.
Address: 93 Kentish Town Rd, London NW1 8NY
Jerk Roast with Trimmings, Guanabana 
Guanabana will be serving their special festive jerk chicken roast with all the trimmings every single day throughout this month so make sure you head down before the New Years to get your fix. The plate will be fully loaded with a roasted half jerk chicken, Yorkshire pudding, plantain, roasted vegetables, cabbage, and a jerk gravy to pour all over. 
Halal Status: All meats served are halal. No pork but BYOB policy in place.
Address: 85 Kentish Town Rd, London NW1 8NY
Black Truffle Chick'n, Shakeshack
Shakeshack are shuffling their way into London's festive scene by offering a black truffle menu. Available exclusively until January, you'll be able to get one of their Black Truffle Chick'N which is their classic fried chicken burger topped with plenty of truffle mayonnaise, pickled shallots, and rocket. Why not add even more truffle to your boujie life with the Black Truffle Fries that are their famous crinkle-cut fries loaded with black truffle mayonnaise, crispy shallots, and spring onions. 
Halal Status: Only their chicken is halal. Pork and alcohol served.
Address: Available at their various restaurant locations. Not available via delivery.

Nutcracker Burger, Mooshies
Are you vegan or vegetarian and want to join in on all the festive fun? Mooshies have come out with a Nutcracker burger. The patty is made with lentils, mushroom, sage, and onion, served with peanut butter and cranberry sauce, vegan mayonnaise, mixed salad, and of course, a bun. If you can't make a visit to the restaurant, you can order this as part of a DIY kit that is delivered nationwide.
Halal Status: No meat but alcohol present.
Address: 104 Brick Lane, Spitalfields, London E1 6RL
HALAL FESTIVE MENUS AT HOME

Turkey and Brisket Nacos, Cue Point 
Cue Point's turkey nacos are probably our favourite way of eating a traditional turkey roast dinner now. If you aren't familiar with the concept, nacos are a naan and taco hybrid and are sold with an array of smoked meats or vegetables, sauces, chutneys, and salad to pile on top.
Cue Point's festive box contains 9 nacos (3 per person), 24 hour brined and 6 hour smoked turkey, 14 hour smoked brisket, classic onion gravy, cranberry and saffron dip, sage, onion & rosemary stuffing, and more. Phew. What a list. The turkey nacos are rare and only make an appearance across the festive period so be sure to make an order! 
Don't forget to order their cookie dough that is ready to be baked – it is divine.
Click here for Cue Point's Website
Halal status: All meats served are halal
Delivery radius: Nationwide
Cost: The Cue Point Festive Naco Kit is £45 for 3 people
Whole Cantonese Duck Roast, The Rice Guys
Fancy shaking things up for your festive menu this year? Why not check out The Rice Guys' whole cantonese duck roast as part of your showstopper meal. You'll be leaving it to dry for a few hours, before roasting and carving it up. Serve it up with soy sauce and chilli oil and your dinner guests will be wishing you were hosting every year. 
Click here for Pezu website where The Rice Guys are selling their products
Halal Status: Duck and chicken is halal.
Delivery Radius: Nationwide
Cost: £15 for one portion of cantonese duck with rice or you can go for the big mama option of a whole cantonese duck roast with soy sauce, chilli oil, and rice for £28 which feeds 4-6 people. 
Whole Christmas Turkey with Trimmings, Smoke and Bones
Always wanted a traditional festive dinner but don't fancy the preparation that goes into it? Smoke and Bones turkey Christmas box is exactly what you need right now. Asides from just a turkey (yes, an entire turkey people!), they'll have sausages wrapped in bacon rashers, potatoes for roasting, and gravy too. 
Click here for Smoke and Bones Website
Halal Status: All meats served are halal.
Delivery Radius: Nationwide
Cost: The turkey Christmas box starts from £45 for 2 people. 
View this post on Instagram
Akbari Lamb Roast, Sapnas
If you're in the mood for something more traditional for dinner this year, how about the Sapna festive roast. The one-off Christmas special includes a slow roasted Akbari leg of lamb (1 whole kg worth) served with Afghani pilao rice with raisins, almonds, and carrots, plus a samosa chaat, poppadoms, and mediterranean salad and dips too. Now that's a Christmas to remember! 
Click here for Sapna's social media page where you can place an order. 
Halal Status: All meats served are halal.
Delivery Radius: Across Greater London
Cost: The Akbari lamb roast is suitable for a couple or small family and starts from £50.
Beef Wellington for 2, Cona 
Have a special occasion coming up with your other half in the next few weeks? Skip the pricey restaurant set menus and make your own luxury dining experience at home for the two of you. Cona is selling their fantastic beef wellington boxes complete with pomme puree, vegetables, and bone marrow gravy too. You'll just have to cook the wellington and figure out dessert – chocolate covered strawberries anyone?
Click here for the Cona restaurant website.
Halal Status: All meats served are halal.
Delivery: Nationwide
Cost: £100 for the beef wellington box for 2 and £50 for the steak box. 
Smoked Turkey Breast, By Charred
Wow, this list is certainly spoilt for choice when it comes to smoked goods. If you haven't had By Charred before and fancy a taster, why not try out their festive menu box. You can order an entire smoked turkey breast with a turkey roulade stuffed with cornbread for £80. And for a few quid extra, you can add on trimmings like roast potato with a garlic herb butter, glazed carrots, gravy, cranberry chutney, and red cabbage. 
If you need a dessert too, they have you covered with their sticky toffee pudding served with a banana clotted cream or a spiced apple crumble with a vanilla and cardamom custard. 
Click here for By Charred's Website  
Halal Status: All meats served are halal.
Order Deadline: You must place your orders by Tuesday 15th December for delivery on 22nd December.
Delivery Radius: Nationwide
Cost: ¼ smoked turkey breast starts from £20 for 2 people.
HALAL FESTIVE DESSERTS
Chin Chin Ice Cream Turkey Dinner Sundae
Yes, you read that right. Turkey. Dinner. Sundae. The ice cream is made with a turkey gravy caramel base with a ripple of nut roasted crumble and sweet cranberry sauce, before being dusted with Brussels sprouts. It is only available as a takeaway tub for the time being but crikey, are we excited to get our hands on this. If turkey ice cream isn't your jam, they have their traditional flavours too like Tonka Bean or coffee and olive oil.
Halal Status: The turkey ice cream is halal. No pork or alcohol are served in their kiosks.
Address: Soho – 54 Greek Street, London, W1D 3DS and Camden – 49-50 Camden Lock Place, London, NW1 8AF
Previous Post
Next Post