Nusr-Et, Dubai
Having finally managed to squeeze in one date night on our most recent trip to Dubai, I forcibly encouraged BW to choose somewhere nice. I wanted to be (halal) wined and dined; not just taken somewhere last minute to put an end to my nagging! I was pleasantly surprised to find that he had booked a dinner at Nusr-Et, somewhere that I had been dying to visit ever since I learned of their delicious meat offerings.
Arriving at Nusr-Et a little later than our reservation, we were made to wait at the packed bar where the bartenders were showing off their skills. We opted for the berry mojito and the apple mojito, and eagerly waited to be taken to our table.
An enjoyable and light way to start the meal ahead of us. Packed with goat cheese, pomegranate, raisins, sultanas, onions, tomatoes, and cucumber slices, there was plenty of flavour in every bite. However, as much as I enjoyed the creamy goat cheese with the sweet, crunchy, pomegranate seeds, I spent majority of the time picking out the raisins and sultanas (not my favourite).
It took just a couple of bites before BW declared it was the best steak he had had in his life. Requesting it to be cooked to a medium-well (and avoiding my major side eye at this preference), he remarked at how effortlessly his knife just glided through the meat. He even sent it back to be a cooked a little more (the horror), and it arrived back still so incredibly tender and flavourful.
Recommended by just about everybody, I ordered the Lokum steak and requested it to be cooked rare. The waiter was a little confused at my request, so I changed it to a medium-rare (or cooked as little as possible). Not knowing what to expect, I was a little dismayed when the food arrived; BW had a lovely thick cut of fillet, whilst I had been given about 5-6 slices of beef.

Well I got stuck in, and wow, really, big wow. The meat was unbelievably tender, and the only thing I can compare it to, is eating a stick of room-temperature butter – super, super soft. The only downside of this beauty was that I felt it needed some sort of crust or more time on the grill to really get that smoky flavouring. Was it the best steak I have had? No, I'm afraid Cut still lies firmly at number one, but Nusr-et offers something different therefore a close second in my books.
Not everyone's cup of tea, but how could I say no to sprouts that were lying in a pool of melted butter, and topped with fatty streaks of veal bacon. An amazingly calorific way to enjoy your greens.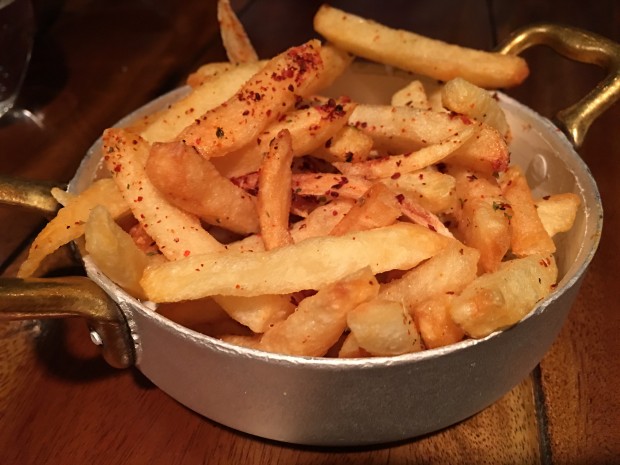 I will point out that a small hair appeared on our fries, thankfully before we tucked in, and the staff handled it very professionally, instantly replacing the side with a fresh new batch (hair-free!). Ordinary, crunchy fries that tasted great when dunked in the buttery brussel sprouts.
Now this is how I like to eat my dessert. A huge platter of baklava arrived at our table, fresh from the oven, with a big bowl of ice cream scoops. A dedicated dessert-waiter then arrived and proceeded to grab a slice of baklava, halve it, scoop in the ice cream, and whack it about until it held. He then sliced it up and handed the plate to me!
The ice cream was a little different to the norm; using goats milk and replacing the eggs with salep, it had a lovely, slightly chewy texture to it, yet still remained creamy. Every time I would slice in with my fork, the melted ice cream and sweet sugar syrup would ooze deliciously out. This is a dessert not to miss!
The interior was a lovely, dark-chocolate, and seemed to be quite casual and relaxed. From young families to groups of friends to couple, there was just about anyone and everyone dining there that evening. The staff can be a little difficult especially if you arrive a few minutes late (do not be late!) and can be quite tough to flag down, but asides from that, I have to say they were very helpful, even hurrying over to serve me my food rather than letting let me serve myself anything!
If you are planning to visit, I would suggest visiting with a group just so that you can sample a variety of things on the menu. As it was just the two of us, we couldn't manage anything more than what we ordered, but I did see mouth watering burgers, steak spaghetti, beef carpaccio, lamb racks, and a variety of salads being dished out to the tables surrounding us, and I did become a little jealous.
The final bill amounted to 965.80 AED, including drinks but no service, so approximately £180 for two. I know, I know, Nusr-Et is definitely a far cry from a cheap affair and often scrutinized for being overpriced, but their food was exceptionally good.. A restaurant to save for that very special occasion or when you're in a large group so you can also share the cost.
Rumour has it, one might be opening on Park Lane soon !
For more Dubai restaurants, please click here to see my international directory or here to see my international map!
Previous Post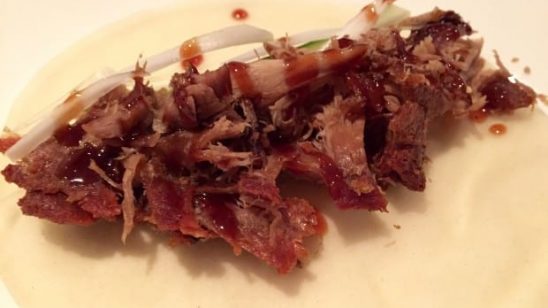 Next Post