Five Guys, Dubai
This year, London was a little funny, weather wise. The snow decided to be a no-show, the summer was scorching hot (only during Ramadhan though – lucky us), and I swear autumn only lasted a day. Suddenly, winter appeared along with it's bitter cold temperature and this crazy wind that is blowing everyone away! Lucky for me, BW and I had a trip planned to Dubai for the last week of November, and I waved goodbye to the gloomy U.K… only to be greeted by the rain a day into our trip! Ugh.
Abandoning our trip to the beach, we decided to go to the mall. First stop, burgers, and of course, Five Guys to see what the hype was all about. We finally managed to find the iconic establishment situated on the lower ground, and got ordering!
A slightly (emphasis, on the word slightly) smaller burger than the original cheeseburger. Upon taking a bite, it really reminded me of how much I missed a normal classic cheeseburger without all the fanciness attached. A meaty patty topped with gooey, melted cheese, with "all the way" toppings (lettuce, tomatoes, grilled onions, grilled mushrooms, pickles, and sauce), and sandwiched between a sesame seeded bun.
It was pretty good but, personally, I found the patty to be a little sloppy, and underseasoned. Perhaps it needed a little more time on the grill to get a nice char flavouring on the meat. Besides that, the cheese did a good job of being all nice and melted, and the condiments added that much needed kick. And as squished as the bun looked, it did a good job of holding everything together.
Ripping open the brown paper bag, I was happy to see an abundance of piping hot fries that had been generously dusted in cajun spices. They weren't too oily or claggy, and were really mouthwatering. Easily my favourite part of the meal.
Man, I just cannot get enough of peanut butter. A deliciously rich and thick milkshake with a healthy amount of peanut butter blended in – yum. Maybe next time I'll ask for a blend of two flavours.  
BW did not see the little version and opted for the normal cheeseburger size. Although looking the same as mine, the meat was almost double in quantity with melty cheese running in between. Needless to say, his burger started to fall apart instantly, and he ended up only eating half. It was a little too meaty and lacked flavouring for him to really enjoy it.
BW's friend opted for a hot dog  [AED21 ≈ £3.80] on the side, but before I could take a snap, BW and his friend had gobbled it up. A beef hot dog smothered in ketchup and placed in a soft bun. It was decent, and as tasty as processed hot dogs go.
In total, the bill amounted to approximately AED200 [ ≈ £36] for three people so around £12 each – absurdly expensive considering this was just fast food! Would I revisit Five Guys? Maybe if I was in the mall and really craving some fast food, plus I can't fault them on their delicious fries and shakes. It was decent, and I did finish my entire burger, however with the likes of Shakeshack and Fatburger floating around the same mall, I think I know where I would head to for a better meal. A shame considering the insane amount of hype around their chain!
For more Dubai restaurants, please click here to see my international directory or here to see my international map!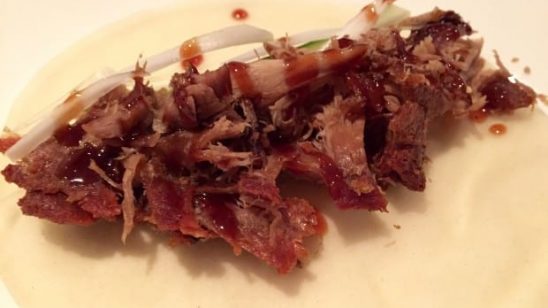 Previous Post
Next Post