Pantry Café, Dubai
In between the fancypants dinners and lunchtime burgers, I was dying for a something a little more normal, you know? Specifically along the lines of poached eggs, fluffy pancakes, syrupy french toast, that kind of thing. So when my lovely and dearest aunt asked to meet for breakfast, I jumped at the offer, and got googling. I was taken aback! There were just so many delicious-looking breakfast joints to choose from, I became a little frazzled and ended up choosing somewhere convenient for both parties.
Hidden inside Business Bay (it took my driver forever to find it!), you'll come across Pantry Café – huge top to bottom glass windows enclosing a big room filled with industrial pipes and wooden tables. With a promising menu, which was also kid-friendly, it was the perfect place to meet for a quick morning meal before starting the day. Not as cozy as one would hope, it was sufficient enough for an intimate breakfast with my aunt and cousin.

A cute little coffee to start the day!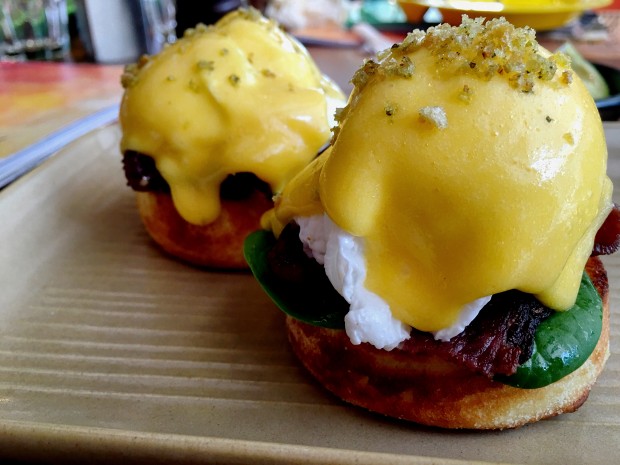 Making the most of the fact that everything was halal, I opted for the Eggs Benedict with beef bacon. Arriving atop an English muffin, two poached eggs arrived lying on crispy bacon, and smothered in a tangy lemon hollandaise sauce. The eggs were perfectly cooked and burst open with bright orange, runny yolk – just the way I like it. The lemon cut through the richness of the creamy hollandaise sauce, and added a great flavour to the beef bacon. Ordered with a side of avocado, this was the perfect pick me up for the afternoon ahead.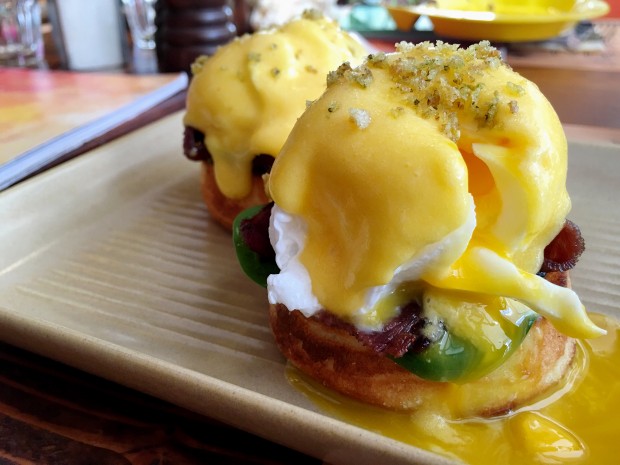 A huge slice of sourdough bread that had been topped with smashed avocados, an abundance of tomatoes (red and green), and a huge hunk of goat cheese. Avo toast is pretty difficult to get wrong, so my only niggle with Pantry Café's version was that they had used so many tomatoes that it overpowered the taste of the avocado. Having said that, the charred goat cheese (omgoodness) really finished the dish off, and added a intense creaminess with a subtle smokey undertone to every bite.
This savoury waffle came topped with cute, teeny button mushrooms (that had been doused in a cream sauce), feta cheese crumbles, sun dried tomatoes, and a pile of peppery rocket leaves – sounds really fancy, doesn't it? Perhaps there was a little too much going on, but hey I really enjoyed it and it made a change to the usual sweet waffles you're used to. The balsamic vinegar added a nice touch too.
Between the three of us plus a toddler, the bill amounted to 220 AED ~ £41.50 so approximately £14 each – a nice, cheap and cheerful way to start our morning. Their breakfast menu is huge with offerings such as a full English breakfast, shakshouka, pancakes, so it was really difficult to choose what to eat, but I guess that means I'll be back for round two. If you don't make it in time for breakfast, they do also offer a casual lunch and dinner menu.
For more Dubai restaurants, please click here to see my international directory or here to see my international map!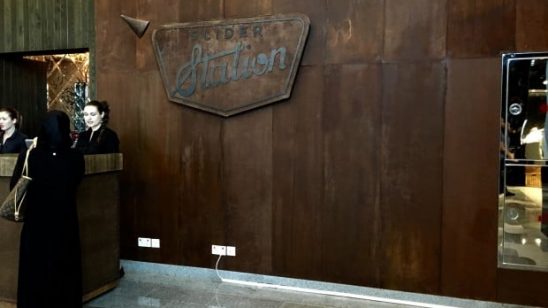 Previous Post
Next Post