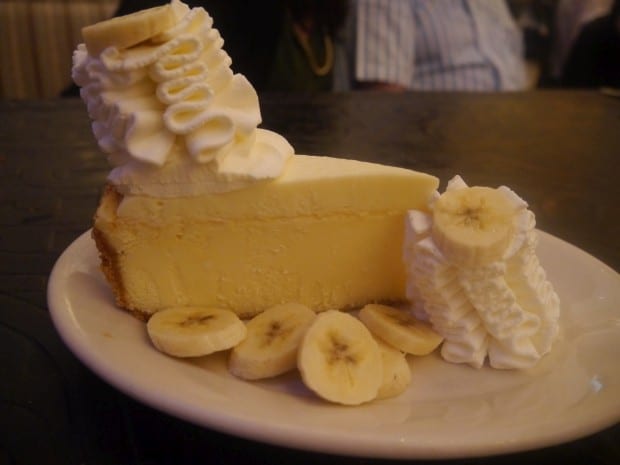 Cheesecake Factory, Dubai
Feeling a little sad that I wouldn't be celebrating my birthday with the family this year (the first time in 23 years!), my parents made a grand masterplan to surprise me whilst I was in Dubai. Together with BW and my whole immediate family, they made a careful plan to come to Dubai over New Years to spend my birthday together; all my aunties and cousins were sworn to secrecy. I had absolutely no clue for at least a month UNTIL something slipped (my fault) and I found out. I was way over the moon! So much for secret planning ey?
As a warm up to the main event we decided to take my Dad, whose birthday happens to be just days before mine, out for a lunch treat. Dad is arguably the most down-to-earth and fuss-free person to exist (yes I know, a huge comparison to his daughter) and his idea of celebrating his 65th birthday was to be surrounded by his kids and grandkids – looks like he got his birthday wish too – we were just missing two :(. So where do you take someone who likes to wear polo shirts to family weddings and enjoys surfing at the ripe age of 63? Well, the answer to that is the Cheesecake Factory!
Crunchy fillets of chicken that have been flattened, smothered in a tangy and slightly spicy buffalo sauce, and then deep fried to perfection.
A different take on the usual macaroni and cheese you see in restaurants – this time they had been rolled up into balls, covered in breadcrumbs, and then fried (I know!). When you slice into one of these monsters, the cheesy pasta delicately oozes out yet still maintains its shape, but after a couple of bites, these became a little too rich so we all just shared half of one each. The accompanying marinara sauce tones down the cheesyness of the mac.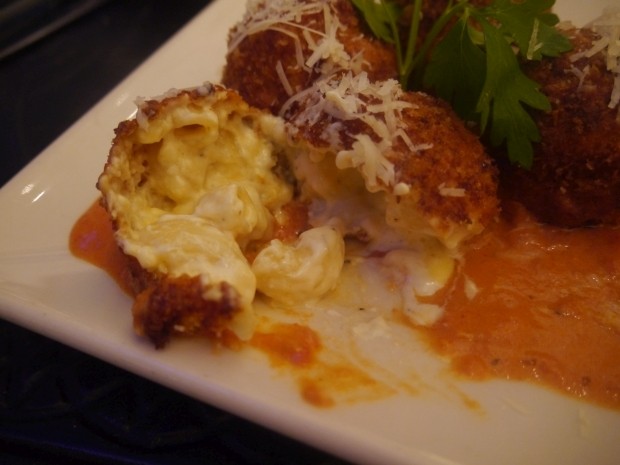 Mini beef cheese burgers that were sandwiched between two squidgy buns and had the addition of pickles that gave the sliders the extra zing. The beef itself was well flavoured and was topped with american cheese (woo!!!) that was melted all over. A great sharing option instead of ordering a huge burger to yourself.
A huge platter of crispy tortilla chips that had been smothered in yummy melted cheese and tangy jalapenos, and then further topped with three dollops of salsa, guacamole, and sour cream. Every mouthful was a euphoria of cheesy, crunchy and oh-so-naughty goodness.
So at this point, we couldn't even finish our appetisers because we were so stuffed BUT obviously, Halal Girl got her genes from her family so as a joint fat family decision, we ordered even more food. Plus you can't go to Cheesecake Factory and not order mains.
Having watched the movie Chef (I highly suggest you guys watch this for ultimate food porn!), I straight away picked out the cuban sandwich from the menu. We ordered two of these between 6 of us and that was more than enough – we didn't even end up finishing it! Between a roll was layers of beef, turkey ham, gooey melted swiss cheese, sharp pickles, and tangy mustard. The roll was unfortunately quite dry but the fillings made up for it as the mustard and pickles cut through the rich meatyness of the sandwich and the cheese added a creamy and nutty element.
This time, inspired by Man vs Food, I couldn't help but salivate over the idea of this famous Baltimore dish. The sandwich consisted of sliced roast beef with velvety fontina cheese, caramelised onions, horseradish sauce, and a cup of au jus to dunk the sandwich into. The sandwich by itself was decent with the slightly spicy horseradish sauce giving the meaty combination a big kick, and the caramelised onions adding a subtle sweetness to the roll. But then you dunk this baby into the au jus and *ta-da* a brand new concept! The gravy adds a great salty, meaty undertone to the pit beef sandwich.
Oh gosh, food coma! BUT we were at the Cheesecake Factory, and an order of cheesecake is necessary, right? Well we got three cheesecakes, but we got them take away so don't judge us fatsos!
The monster of all chesecakes. It's our favourite cupcake converted into a bigger, creamier, cheesier slice of cheesecake. The slice consisted of layers of moist red velvet cake and the sweetest cream cheese, and as if that isn't enough, it was finished off with some delectable white chocolate. It was insanely rich but utterly incredible at the same time.
A huge contrast from the above cheesecake, this slice consists of a vanilla cheesecake filling, that had been spiked with lots of vanilla pods set upon a crumbly graham cracker! A subtle change from the original flavoured cheesecake.
For those of you who fancy something a little less rich, and a little less heavy, I suggest going for the banana cream cheesecake. A banana infused cheesecake mixture that had also been set upon the usual sweet graham cracker, and topped with a mini tower of whipped cream and sliced bananas.
The final bill amounted to AED635 with drinks which is approximately £114 therefore about £16 each (there were 7 of us). This, in my opinion, was super reasonable considering the monster-sized portions that they serve up here. Seeing as it was Dad's birthday, we saved him from the tiny dent in his credit card and brother A decided to foot the bill this time round.
Needless to say, we had a great evening – the food was good (but maybe a little over the top), the company was fun, and the restaurant was simple and chilled out which is exactly the kind of birthday dinner my Dad likes.The Cheesecake Factory can be described simply as a full-on family friendly atmosphere so if you're planning on having a romantic date with that special one then think elsewhere. However, this isn't a bad thing; this restaurant is the perfect place for catching up with friends, a break after shopping, or even if you're having a particular fat day!
For more Dubai restaurants, please click here to see my international directory or here to see my international map!
Previous Post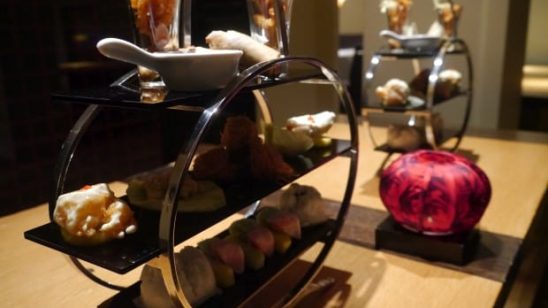 Next Post