Shakeshack, Dubai
As much as I enjoyed writing about my honeymoon, I know why you're all reallllly here. You saw that I mentioned Shakeshack in a previous post and were eagerly waiting for this! Well, I don't like to disappoint, so here we go.
On our way back from the omg-so-amazing honeymoon, I had the blues. I would miss the pretty water villa, the pancakes, the creamy blue cheese pizza (yes THAT pizza) etc. I could go on forever but there was something cheesy, meaty, and yummy waiting for me at Dubai International airport during our brief stopover. Shakeshack! Dun dun dunnnn.
Now I know I've already done a post that mentioned Shakeshack and their magnificent burgers but I couldn't help but do one post entirely dedicated to them! So lets get to it…
Shake Burger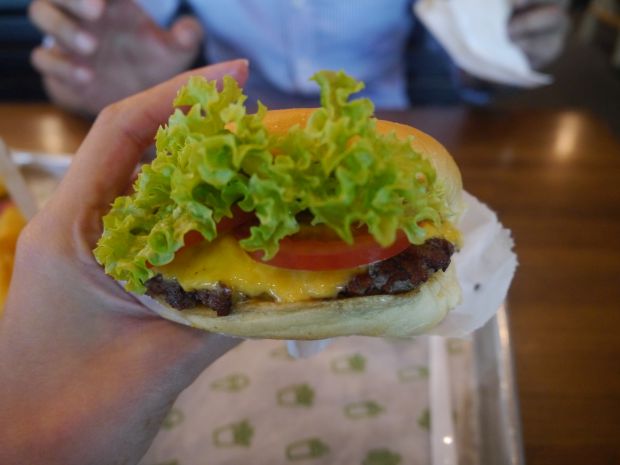 Shakeshack's classic burger consisting of a thin and meaty patty, topped with melty American cheese, a juicy tomato, crisp lettuce, and some of that delicious shack sauce. And of course, their staple squidgy potato based bun.
SmokeShack Burger

Now this is the reason why I wanted to dedicate a whole entire post to Shakeshack. This burger is one of Shakeshack's more interesting offerings and wow, is it good – I can't believe I haven't had it before!  Dressed like the classic Shake burger, but minus the salad options, and instead, topped with hickory smoked veal bacon and chopped up cherry peppers. The bacon was so smoky and contrasted well with the sweetness from the slightly spicy cherry pepper. It all blended well together to make one awesome and delicious burger!
Cheesy Fries and Non-cheesy Fries

Large crinkle-cut fries topped with a dollop of delicious, hot, melted cheese belonged to me and the normal fries were BW's. The fries were thick with a crunchy outer layer and a soft centre.
Apple Pie Concrete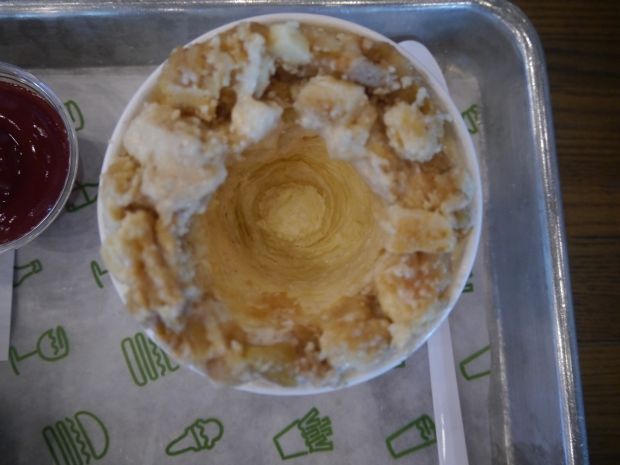 A limited edition item on the menu along with other choices such as rhubarb pie and blueberry pie. For those who don't know, a concrete is an ice-cream based concoction with different flavours blended into it. This one in particular had cinnamon mixed into the vanilla ice cream, and topped with a crunchy crumble and soft apple chunks. Very yummy indeed but after a while the crumble became soft and the concrete was a little too sweet.
Its felt like ages since I've had a burger due to the wedding so I couldn't wait to get stuck in and, *sigh* I consumed not only my burger, but half of BW's burger, the cheesy fries, half of the normal fries, annnnndd the concrete. The concept of sharing had flown right out the window but hey, its Shakeshack plus BW knew what he was getting into 🙂
Quite soon after my fat session, and catching us both totally by surprise, our flight was being announced as final call and we had to rush to all the way to another terminal to our gate. BW gracefully made it to the gate with me, struggling and panting, behind him – not a good look for a newly-wed! We settled into our seats, strapped in, and now it was really time for us to go home back to London 🙁 But with some new burger joints and yummy-sounding restaurants opening up, I was really excited to get home and back to the blawg!
Address: Dubai International Airport
Previous Post
Next Post