The Table, Mumbai
In the midst of our December Dubai trip, BW and I had booked a two night stay in Mumbai – BW's home! As I've probably mentioned about 500 times before, I absolutely love Mumbai. There is so much to do in this huge city that is packed with approximately 18.4 million people.  Anyways super early (5am!) on Saturday morning, I grudgingly got in the car and we headed off to the airport. Four hours later, we had landed in one of my favourite places!
BW's friend, excited that we were visiting, had booked us a table at one of Mumbai's hottest restaurants for that evening – The Table. After settling in, it was almost evening, and suddenly two hours before dinner, BW's friend called to inform us he was engaged, wouldn't be able to make it tonight, and insisted that we attend his engagement party the next day. Taking this opportunity to make it into a date, we headed off to the restaurant!
The Table has been influenced by a chef from San Francisco and he has brought a contemporary concept to Mumbai. The menu had a huge variety of options and was split into starters, small and large plates but beware, the small plates aren't that much smaller than the large. Seeing as BW's friend couldn't make it anymore, we had this huge menu between the two of us. Well, when has that ever been a problem? We decided to go for a good mix of food so here we go:
Delicious thin chips that had been fried to a nice crisp, sprinkled in a garlic salt, and truffle oil. I straight away picked up on the pungent truffle smell as soon as I took a bite, and I loved it! It was even better dunked into the "tomato jam" a.k.a ketchup, and the cajun infused mayo.
A great salad that I have tried to replicate at home since and have failed every time! The beetroot was soft and sweet, and mixed in well with the creamy goat cheese, the slightly sour orange, and the pine nuts. Sadly, I didn't get much of the mint in each bite, but it did not compromise the taste of the dish in any way!
Cute little dumplings arrived in a bowl with hot ginger broth on the bottom. The dumplings contained minced shrimps with onions, coriander, and chopped ginger, and tasted a bit bland on their own . However, one dunk into the aromatic broth, and this dish is transformed into something very, very good.
The Table did an amazing job at these deconstructed chicken wings. The "wings" arrived as 1 inch chunks that had been deep fried, smothered in a ginger glaze, and lay on a bed of sweet honey. The outer layer had a mouth watering crisp whilst the inside was made of soft, minced chicken, and the flavour was enhanced by the sweetness from the honey and the subtle spicyness from the ginger glaze.
Juicy lamb sliders that had been placed in the softest and buttery brioche buns with a crispy onion ring on top. I didn't care much for the onion ring as they were a tiny bit claggy BUT the rest of the dish, oh boy did I enjoy those sliders. The lamb had been cooked to a delicious, soft medium and was incredibly flavoured with several spices. The tzatziki then acted as a creamy, cooling sauce to balance out the lamb.
A bowl of long ribbon like pappardelle arrived in a stew-like sauce with small chunks of lamb scattered throughout. The sauce was deliciously creamy but the lamb. Oh, the lamb. The lamb was incredibly moreish – full of flavour and just melted in your mouth with every bite. The meat was slow cooked so well that it just flaked away and was super tender.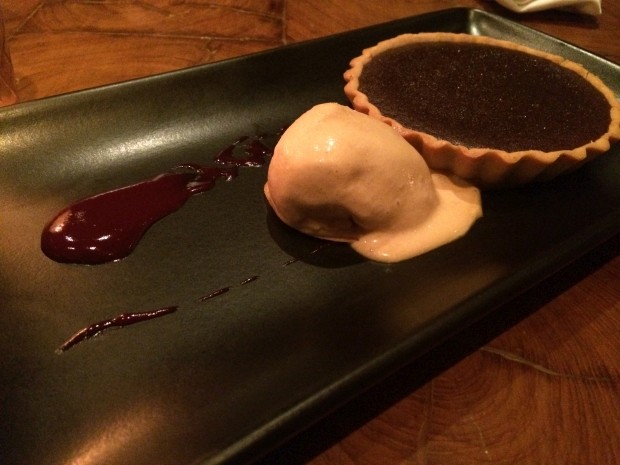 They had run out of vanilla ice cream but it wasn't the end of the world so we just opted for chocolate ice cream instead. The tart arrived with a crisp pastry edge and soft cake on the top. The cake was fluffy and sweet, but when you cut in, delectable liquid chocolate just kept on oozing out. It was definitely rich but not too overbearing for me to polish off!
The total bill amounted to 5010RS, including drinks and service, which is approximately £50 so £25 each. Repeatedly known as one of Mumbai's best restaurants and the most recommended establishment since it's opening, The Table serves exceptionally delicious food that was so different to any standard halal restaurant in Mumbai, London, or even Dubai. If you compare what we ordered in this restaurant to an establishment based in London, you would expect to pay almost triple the price for the same quality, presentation, and taste. And for that reason, I don't mind that we (well BW) paid £50 for two because I wouldn't expect any less.
The service was most of the time attentive and helpful, however as the restaurant became busier, it seemed to take a while to catch a waiter's attention. Despite this, our waiter gave us great dish recommendations, and made sure to tell us when we had over ordered. The general crowd here was a mix between groups of tourists, locals on a date, or even just groups of friends meeting up! The atmosphere was lively yet intimate so that you could enjoy your dinner without being disturbed.
For those of you who are going for holiday, wedding shopping (you can sacrifice your wedding diet for one day!), or even just a quick stopover in Mumbai, please promise me you'll visit The Table. The food is extremely good, the atmosphere is welcoming, and the staff are really helpful. I highly recommend the deconstructed chicken wings, the lamb sliders, the lamb pappardelle and basically everything I ate haha!  After dinner, we headed home and passed out, keeping in mind the busy day ahead of us!
For more international restaurants, please click here to see my international directory or here to see my international map!