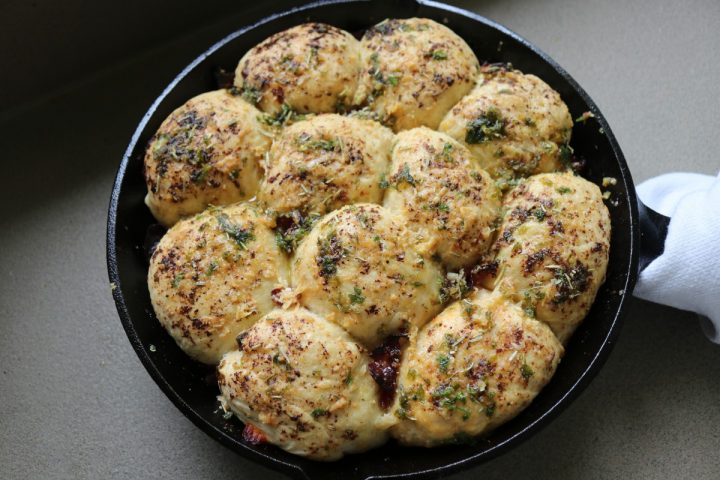 Halal Pizza Bombs
Why call them pizza dough balls when you could call them PIZZA BOMB! What exactly is a halal pizza bomb? Pizza dough stuffed with halal salami, cheeeese, and marinara sauce before being smothered in a garlic butter and baked until golden. The end result is preposterously delicious and it beats committing to an entire pizza any day.
So before we get stuck right into this gooey cheesy goodness, I wanted to tell you about The Ojos Foods company who are in fact sponsoring this post. I have bought and used their products numerous times in the past, from making salads to halal charcuterie boards for parties, so I can 1000% vouch for how good their stuff is, sponsored post or not.
I absolutely LOVE their products, especially the halal cured meat selection, and I haven't found anything better in terms of taste and quality. So I am very, very happy to be working with them. You can see their website here and they are offering a discount code for Ramadan, just use RAMADAN20 upon checkout. Just be sure to order the products that state that they are halal – there are plenty.
Secondly, I wanted to point out that you do NOT have to make the pizza dough. I couldn't get a hold of ready made pizza dough in my supermarket delivery and so I decided to make the dough from scratch. It worked out so I'm happy with the product, but you are completely free to buy ready made pizza dough and use that in this recipe. It saves you the time and also using ingredients that you may not have on hand.
Just keep note that the amount of pizza dough I made in this recipe was enough for 15-18 pizza bombs. The amount you make using ready made pizza dough may vary.
Finally, I could have bought the pizza dipping sauce but I had forgotten to add it to the delivery – this week's shop was chaotic. So I just whipped up a quick one using passata, a few herbs, and garlic. It isn't the real deal but it tasted great in these bombs.
Right, let's get to the pizza bombs!
HALAL PIZZA BOMBS
INGREDIENTS
PIZZA DOUGH: * (see notes)
500g all purpose flour
1tsp salt
300ml warm water
2tsp instant yeast
½ tsp of sugar
2tbsp olive oil
1 pack of Omeya Halal Salami (purchased via The Ojos Foods), cut into halves
250ml pizza sauce, plus more for dipping
300-400g shredded or cubed mozzarella ** (See notes)
Additional items (olives, chillies, jalapenos, mushrooms)
100g parmesan, grated (optional)
Garlic butter:
100g unsalted butter
Handful of fresh parsley, chopped
1 heaped tsp garlic paste
Additional herbs like rosemary, basil, oregano, Italian seasoning
NOTES
* You can skip the pizza dough part if you have ready made pizza dough. If you are in America, biscuit dough works really well too.
** Mozzarella cheese gives you that super cheesy pull. You can use cheddar or any cheese you like here. If you are using shredded mozzarella, just be sure to squish it together before you put it on the pizza dough so that you get a good amount of cheese inside each bomb.
METHOD
Add yeast, olive oil and ½ tsp of sugar to lukewarm water. Mix well so that the yeast dissolves.

In a large mixing bowl, add flour and salt. Pour in the yeast mixture and mix until it comes together as a rough ball.

Knead the dough on a floured surface until the dough is smooth and elastic. Rub the dough lightly in olive oil and form into a ball. Oil the mixing bowl well and place the dough ball in there. Cover and leave to rise for an hour or until the dough doubles in size.

Punch down the dough and form 15-18 balls out of this.

Press down and flatten a ball using a rolling pin (your fingers could work too) and place a little marinara sauce, half a halal salami, good amount of mozzarella cheese, olives (optional and can be replaced with whatever you like), and another half salami.

Bring the sides into the middle and pinch to seal it shut ensuring no gaps show. Form into a ball shape and place in your non-stick pan. Repeat for the others.

Cover in an oiled cling film and leave to rise for 30 minutes to an hour until the balls have expanded.

In the meantime, preheat the oven to 200 degrees C (fan assisted). Melt the butter in a pan and add in garlic, parsley, and dried herbs of your choice (rosemary, basil, Italian seasoning). Remove from the heat.

Brush the bombs with ¾ of the garlic butter mixture, sprinkle with grated parmesan, and fill any gaps between the bombs with leftover halal salami.

Place this in the oven for 20 minutes until the tops have become slightly golden.

Remove from the heat and brush in the remaining garlic butter. Serve immediately with marinara sauce, pesto, more melted garlic butter, or

nacho cheese sauce

. Just be sure to let this cool slightly before eating as it can get super molten hot!
Previous Post
Next Post