Halal Restaurants in Queensway & Bayswater
About the Author: Eutonne runs one of our favourite halal instagram pages: @etfoodvoyage. She's always creating the most mouth-watering dishes, finding the best desserts and rounding up secret halal gems around the city. You can visit her website here: https://www.etfoodvoyage.com/
---
One of the reasons we like Queensway is the food! Next to Notting Hill, the Queensway & Bayswater area offers plenty of halal food options of different cuisines and is home to one of our favourite restaurants in London too. Here are some of our favourites in the area, featuring a good variety of options for you to try out!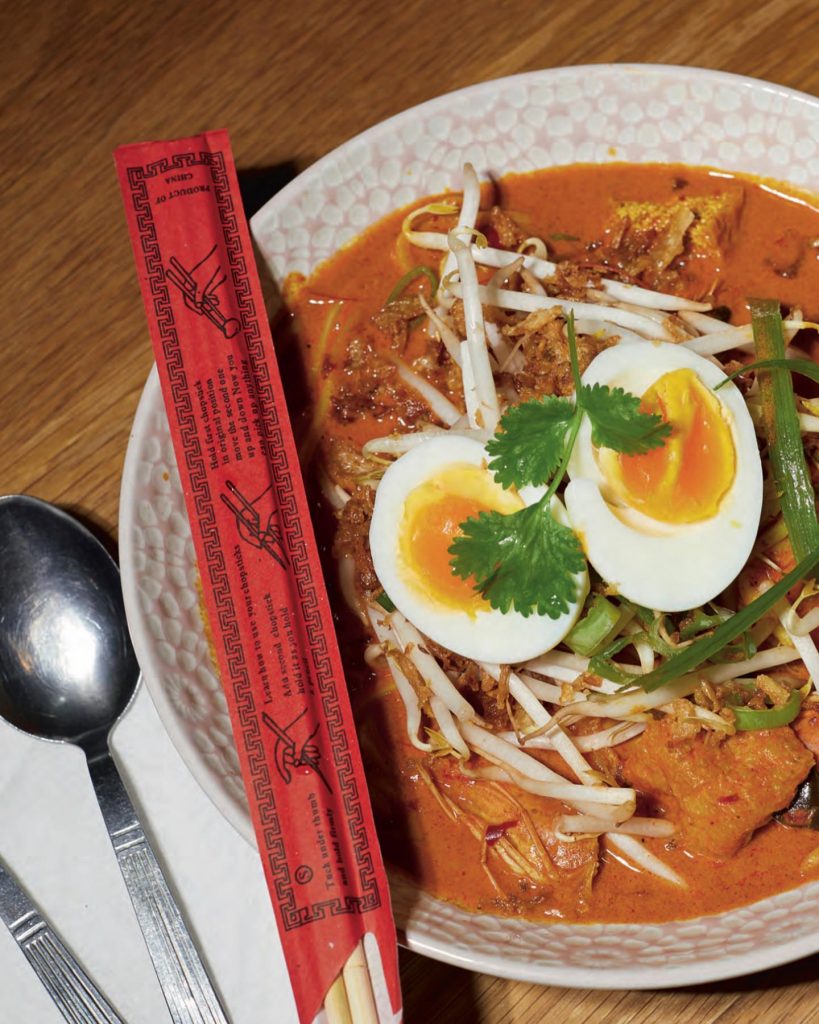 Normah's
For the best homely Malaysian food, you must visit Normah's. Unassumingly tucked away in Queensway Market, Normah's is a true hidden food gem. Every dish is cooked with love and everything is just amazing. An absolute must-order is Normah's super flaky and buttery roti, whether it's with their rich & spicy beef rendang, homely daal, or as an extra to pair with their curry laksa! Don't just stop there because Normah's also makes the crispiest chicken wings/bites and a lipsmackingly fiery sambal if you're already nasi lemak or sambal sea bass. Basically, everything is good.
Halal status: All meats served are halal.
Address: Normah's 23-25 inside Queensway Market, London W2 4QJ
Website: normahs.co.uk/
Ceru
The South Kensington Levantine restaurant has opened another branch in Queensway. Running a small-plate sharing concept means you get to try out a variety of dishes from their extensive menu. The lamb shoulder is a must-try and there are plenty of alluring seafood options as well. Its intimate and relaxing interior makes it a lovely spot for a date night or friends get-together. On the weekends, there is a special brunch menu available till 5pm too.
Halal status: All meats served are halal.
Address: 11 Queensway, London W2 4QJ
Website: cerurestaurants.com/
Mandarin Kitchen
Queensway is home to quite a few highly-rated Chinese restaurants. The Mandarin Kitchen is one of them, well-known for its signature Lobster Noodles and seafood offerings, that attracts a very busy crowd every day. They do halal chicken and can cater to halal beef & duck as well if you pre-order beforehand.
Halal status: Chicken is halal. Beef & duck can be pre-ordered 24 hours in advance and are stored and cooked separately.
Address: 14-16 Queensway, London W2 3RX
Website: http://mandarin.kitchen/
Ojak
Ojak is a modern Anatolian Turkish restaurant with probably an aestheticly chic pink interior. It's not just the typical modern Turkish cuisine but their menu offers some fairly unique concept such as Med-style Poke Bowls. They also have Turkish breakfast dishes served all day long and it's definitely a cute spot to pop by.
Halal status: All meats served are halal.
Address: 94 Queensway, London W2 3RR
Website: theojak.com/
Putera Puteri
Here's another halal Malaysian restaurant in the area that has only started just before the pandemic but has been winning hearts and bellies from locals very quickly. Putera Puteri offers a huge menu of classic Malaysian dishes, including roti canai, massive curry laksa, sambal balacan, nasi lemak, etc. The food is homely and delicious – no wonder it's such a popular pick in the area!
Halal status: All meats served are halal.
Address: 179 Queensway, London W2 5HL
Website: puteraputeri.co.uk/
Duck & Noodle
Before more halal Cantonese roast duck places crop up, Duck & Noodle was definitely a go-to for cheap and halal roast duck noodles. They may not quite be the top spots in town anymore but a solid humble little restaurant for an easy no-fuss halal Chinese meal. A small selection of dim sum is also available.
Halal status: All meats served are halal.
Address: 106 Queensway, London W2 3RR
Website: duckandnoodle.com/
Meatliquor Queensway
Looking for a fun day out? Meatliquor got you sorted. The Queensway branch houses an ice rink, bowling lanes and an arcade all under one roof. All their chicken is halal so you can enjoy the likes of buffalo wings, fried chicken strips and chicken burgers after plenty of fun.
Halal status: Chicken is halal. Pork & alcohol present.
Address: 17a Queensway, London W2 4QP
Website: meatliquor.com/
Preto Queensway
Preto is not just a regular buffet spot but one that does Rodizio, i.e. Brazilian barbecue. For the Queensway branch only, halal options are available where you can enjoy a range of Brazilian-style spit roasted meats. Choose and order as you like from a range of traditional Brazilian side dishes and an all-you-can-eat salad bar, then simply turn your table card to green so that the staff will come to you with various meat options and carve them onto your plate. When you feel like you've had enough, simply turn the table card to red to let the staff know not to serve more meat.
Halal status: Chicken & beef are halal. Pork & alcohol present.
Address: 117 Queensway, London W2 4SJ
Website: https://www.preto.co.uk/restaurant/queensway
Uzbek Corner
Another hidden place in Queensway Market is Uzbek Corner, a small little café serving you a slice of Uzbekistan. Enjoy the likes of dumplings, manti, and samosas, as well as Uzbek soups, lamb kebab, pilau, etc. It's going to be something a little different but worth a try.
Halal status: All meats served are halal.
Address: 23-25 Queensway (inside the Queensway Market), London W2 4QJ
Website: facebook.com/uzbekcornerlondon/
Other halal places:
Banana Tree
Masala Zone
Horapha Thai
OPA Souvlaki (halal chicken)
Taza Kebab House
Khan's Restaurant
Alounak
Al Waha
Previous Post
Next Post