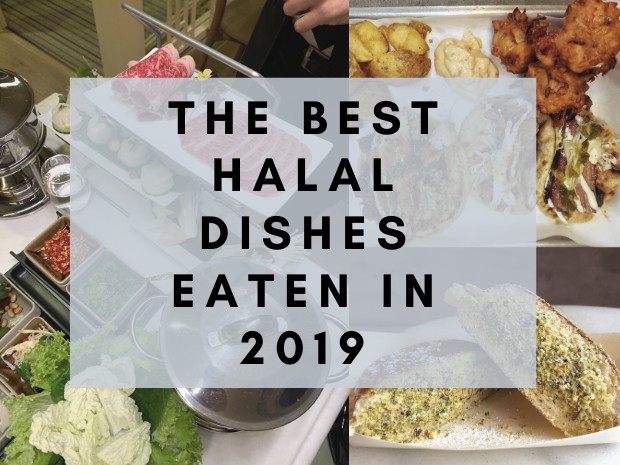 Happy 2020!
A few days ago, I turned 28. It also happened to be the beginning of a new decade – crazy! So before I begin, a happy belated new year to you all!
I am so ready for the new year and to bring you all an awesome list of the best places to eat in London and around the world! There are also three projects that I have been working on for a while now and will be released in the next few months, so watch this space.
As of tradition, I always give you a recap of my favourite restaurants or dishes of the year that has just passed. This year, the list is a big reminder to me of what HGAT used to be about and I absolutely love it.
Without further ado, here are the best things I ate in 2019. These are the dishes that have either made me feel all warm and gooey inside, nostalgic, or even just simply wowed me. These are the ones I want to share with you all!
Whilst some of the items on the list may not be available at this very moment, do keep checking back as they may release them as a special.
---

AFGHAN NACOS, CUEPOINT LONDON
All you need to know is: naan + tacos = nacos, i.e. the best darn halal nacos you'll ever eat. Using a naco base, Cuepoint pile on the toppings with the likes of juicy beef brisket, smoked chicken, or turkey with stuffing and cranberry sauce. I was so impressed by what I had just eaten, I vowed to return the following two Tuesdays (these are only served on Tuesdays) to find that they were completely sold out.
Address: W12 Studios,195 Wood Ln, White City, London W12 7TA
Halal status: All meats served here are halal. No pork but alcohol is present.
Website: www.cue-point.co.uk/

7 HOUR MASALA LAMB ROAST, MZURIKHANA
Whilst Mzurikhana isn't strictly a restaurant (yet), she does run a fantastic supperclub so there may be a chance you'll get to have a taste of this superb 7 hour slow cooked masala lamb roast. The meat effortlessly slid off the bone and was so tender and flavoursome that I couldn't wait to have seconds.
Website: www.facebook.com/mzurikhana
For Mzurikhana review, click here.


FALAFEL, BALADY
Sure, falafel may not sound exciting but wait till you try Balady's, it will change your life. Crunchy coating with the most fluffy, bright green interior; it is a falafel lover's dream. These delicious falafel are fried fresh to order and served with a dollop of velvety smooth hummus and hot pitta. Don't miss out on the superb sabich too – a pitta stuffed with fried aubergine, eggs, and hummus.
Address: 750 Finchley Rd, London, NW11 7TH
Halal status: No meat served here. No pork or alcohol present.
Website: Balady

BAKLAVA BILOG, MAMASONS
Earlier in the year, I teamed up with the guys behind Mamasons to create a limited edition baklava ice cream for Eid. Yes, a creamy vanilla base with actual pieces of oh-so-sweet baklava churned in. Either served on its own or in a piping hot bilog, this was the ideal dessert after a long hot day. Fingers crossed they bring it back in the new year!
Address: 91 Kentish Town Rd, London NW1 8NY
Website: www.dirtyicecream.co.uk/
QORUMA CHOP, KARVON
Unfortunately, the family-run Karvon closed their doors early December – the second branch of Etles has now opened there instead – but their qoruma chop was fantastic. Thick spaghetti-like noodles, each possessing a lovely bite, are stir fried with chillies, sesame seeds, and sautéed vegetables. Thankfully, they are looking to relocate to Hackney so watch this space.
This restaurant is now closed.
For Karvon's review, click here.
DA PAN JI, ETLES UYGHUR
Etles Uyghur was the first Uyghur restaurant to hit London and boy did they take it by storm. From their cumin spiced lamb skewers to their tugur to tripe, their menu was made to please everyone. The da pan ji (which translates to big pan chicken) though, is what stole the show. A huge steaming bowl of spiced chicken broth filled to the brim with hand pulled belt noodles, chopped chicken pieces, chillies, peppers, and potatoes too. If this isn't the ultimate bowl of comfort, then I don't know what is.
Address: 235 Hoe St, Walthamstow, London E17 9PP
Halal status: All meats served here are halal. No pork but BYOB policy.
For Etles review, click here.

LAMB TIKKA AND QABULI PALOW, BABA WALI
A hidden gem located in West Hendon, Baba Wali is an Afghan restaurant serving up karahis, whole entire lambs, and lots of pulao to their hungry returning customers. Whilst these are all recommended items, the lamb tikka was particularly noteworthy, so soft and mouth melting with a delicious smokiness from the grill. The qabuli palow was also a hit and arrived with a delectably tender lamb shank hidden under a mountain of sweet rice with raisins and carrots. The accompanying garlic and chilli sauces are fantastic too.
Address: 141 W Hendon Broadway, Hendon, London NW9 7DY
Halal Status: All meats served here are halal. No pork or alcohol present.
Website: baba-wali-restaurant
CURRY LAKSA AND ASSAM PEDAS, NORMAHS
Having gone on about Normah's for probably most of 2019, it would be a crime not to feature this little Malaysian gem. Run by aunty and nephew duo, Normah's can be found tucked away behind Queensway market.
Their curry laksa is exactly what you want in the winter – spicy, creamy, and warming (you can read about the best halal curry laksas here). If you're looking for something with some more pizazz, the assam pedas is excellent; poached seabass lying in a tangy, fiery tamarind broth with sweet pineapple chunks and okra.
Address: Normah's 23-25 Queensway Market, London W2 4QJ
Halal status: All meat served here is halal. No pork or alcohol present.
Website: www.normahs.co.uk/
For Normah's review, click here.

HOT POT, HOT MAY HOT POT
Although I haven't had many halal hot pots to compare this to, I was pleasantly surprised by Hot May's hotpot. Perhaps it was the whole experience, perhaps it was the fatty wagyu slices, or even the creamy, rich chicken bone broth; whatever it was, it got Hot May added to this list. The soup is poured into your own individual pan, and whilst it starts to bubble away, you work your way down the trays of meat, fish, vegetables, and noodles. Ideal for a special occasion given the hefty price tag!
Address: 30 Beauchamp Pl, Knightsbridge, London SW3 1NJ
Halal Status: Wagyu beef and chicken is halal here. No pork but alcohol is present.
Website: www.hotmay.co.uk/
CHEESE VADA PAV, SHREE KRISHNA VADA PAV
Shree Krishna Vada Pav is an Indian vegetarian shop that has come from India and found a home in numerous spots around greater London, and whilst the whole menu consists of goodies like chana samosa, sev puri, and deep-fried paneer aka paneer bomb, the vada pav is what I love here. The cheese vada pav to be precise.
The fiery, chunky potato ball is dipped in gram flour before being deep fried to a delectable crisp. It is then topped with gooey melted cheddar cheese and sandwiched in a soft bun. The additional 3 chutneys add a spicy, sweet, and tangy flavour explosion and finish off this vada pav nicely.
Halal Status: This is a vegetarian restaurant. No pork or alcohol present.
Website: shreekrishnavadapav.co.uk/index.php/
GARLIC CHICKEN WINGS, WARISAN CAFE
Warisan cafe, another Malaysian hole-in-the-wall which is also family run, can be found down a stairwell on Sussex Gardens in Paddington. In fact, BW only spotted it when he took a quick breather on his way to the park with Aadam.
The menu is limited to just chicken and seafood, but they excel in each of these dishes. Their chicken and rice is popular amongst all the Malays in London and their sweet and sour seabass is a bestseller. The dishes are really great and homely here, but the chicken wings here are beyond good – plump, crisp, and super garlicky!
Address: Basement, 190 Sussex Gardens, W2 1TU
Halal Status: All meat served here is halal. No pork or alcohol present.
Website: www.facebook.com/WarisanCafeLondon/
For HGAT review, click here.

PHILLY CHEESE STEAK, PASSYUNK AVENUE
What the halal scene in London is really missing is a good ol' philly cheesesteak. Sure, some burger joints offer their take on one but these tend to consist of overcooked or over-seasoned steak with the wrong cheese in the wrong bread. Passyunk Avenue in Fitzrovia do things right.
It is a classic philly. Squishy bread that has a good crust, thinly sliced ribeye cooked the perfect amount with the right seasoning, and whilst they do offer the traditional provolone, I get a good amount of cheese whiz. Because there is no such thing as too much cheese whiz, right?
Address: 80 Cleveland St, Fitzrovia, London W1T 6NE
Halal Status: Beef, chicken, and turkey halal. Pork and alcohol present.
Website: www.passyunk.co.uk/
And there we have it, the list of the best halal dishes I ate in 2019. What was the best thing you ate in 2019? Let me know in the comments below.
I hope this year is a fabulous one!
I am currently in the search of contributors to write for HGAT travel (travel guides, halal restaurant guides, places to see etc) and HGAT lifestyle (Islamic art exhibitions, child friendly activities etc). If you fancy submitting a piece, do pop an email over to info [@] halalgirlabouttown.com and we can discuss further.