HGAT Guide to Costa Rica
I know, I know, it has taken me forever to write about Costa Rica. However, I was thiiiis close to not publishing as it was a really special trip for BW and I. It was one of those holidays that bring back such warm and fuzzy memories, and although we've enjoyed all our travels, this was our favourite! I guess it would be selfish of me not to share, right? Well, here we are guys, my HGAT guide to Costa Rica.
GETTING THERE
Unfortunately, there were no direct flights to San Jose being offered at the time, which is usually 11 hours long, so we had a stopover in Texas instead. The total journey time to San Jose from London was 17 hours which was quite exhausting, so try catch a direct flight if possible.
We had finally made it to Central America! 17 hours and one lost baggage later, we were on our way to our hotel, the Marriott in San Jose, to sleep off our long journey before starting our adventure.
After breakfast and a few rounds of golf, we were informed that BW's lost suitcase was ready to collect and we could finally start our road trip down south – woohoo! Our first stop was Manuel Antonio, a 3 hour journey full of beautiful beaches and national parks.

DAYS 1-4: MANUEL ANTONIO
WHERE TO STAY: We booked ourselves into the glorious Hotel Parador, an eco-hotel that is surrounded by acres of lush green rainforest, and we loved it! Each room has a view of the jungle and you'll awaken to monkeys jumping between branches as well as spotting a few sloths hanging around.
WHAT TO EAT: Oh. My. Goodness. I have to tell you guys about gallo pinto. On our first morning here, I pointed to BW's breakfast and asked WHY he would get rice and beans (a.k.a gallo pinto) with his eggs; he just gave me a spoonful without saying anything. Upon tasting it, I went and heaped a pile onto my plate – it was life-changing!
As nice as Hotel Parador was, the same could not be said about the food unfortunately, it was a resort after all. So we started to venture out of the hotel to find local cafes and restaurants for dinner, where you can find a variety of cuisines from pizzerias to Mexican, and a bonus halal restaurant called Falafel!
WHAT TO DO:
→ HIKING
Every morning, BW and I would do the short 20 minute hike around the resort to see the monkeys and sloths scattered around, before heading to breakfast to indulge in their vast breakfast buffets.
→ MANUEL ANTONIO NATIONAL PARK
Something that was essential to do and recommended by everyone was the Manuel Antonio National Park. After a good hour of hiking, we could see why. The national park was home to some of CR's most beautiful beaches; white sand with crystal clear waters.
→ BEACHES
The beaches here become busy but they are incredibly beautiful and surrounded by lush and vibrant rainforests. Bring your beach towels, buy a couple of coconuts and relax.
I was sad to leave MA after having such a fun time here with the hikes, animals, and stunning beaches, but it was time for our next journey so we got in our car and headed up north to Bajos Del Toro. The drive was a little intense with all the rain, cliff edges, and dangerous driving on my behalf (almost killing us three times). However, we drove high up into the mountains and rainforests to find our new home: El Silencio Lodge & Spa!
DAYS 5-7: BAJOS DEL TORO
WHERE TO STAY: El Silencio is an eco-luxury lodge right bang in the middle of the rainforest. It was the perfect place to unwind. Each couple were appointed their own little cabin high up on the hills, and they came equipped with a powerful heater plus a hot tub (hubba hubba)! The staff were mostly helpful in making you feel right at home, e.g. sending hot cocoa to your room at 3 P.M, providing you with hot water bottles at bedtime etc.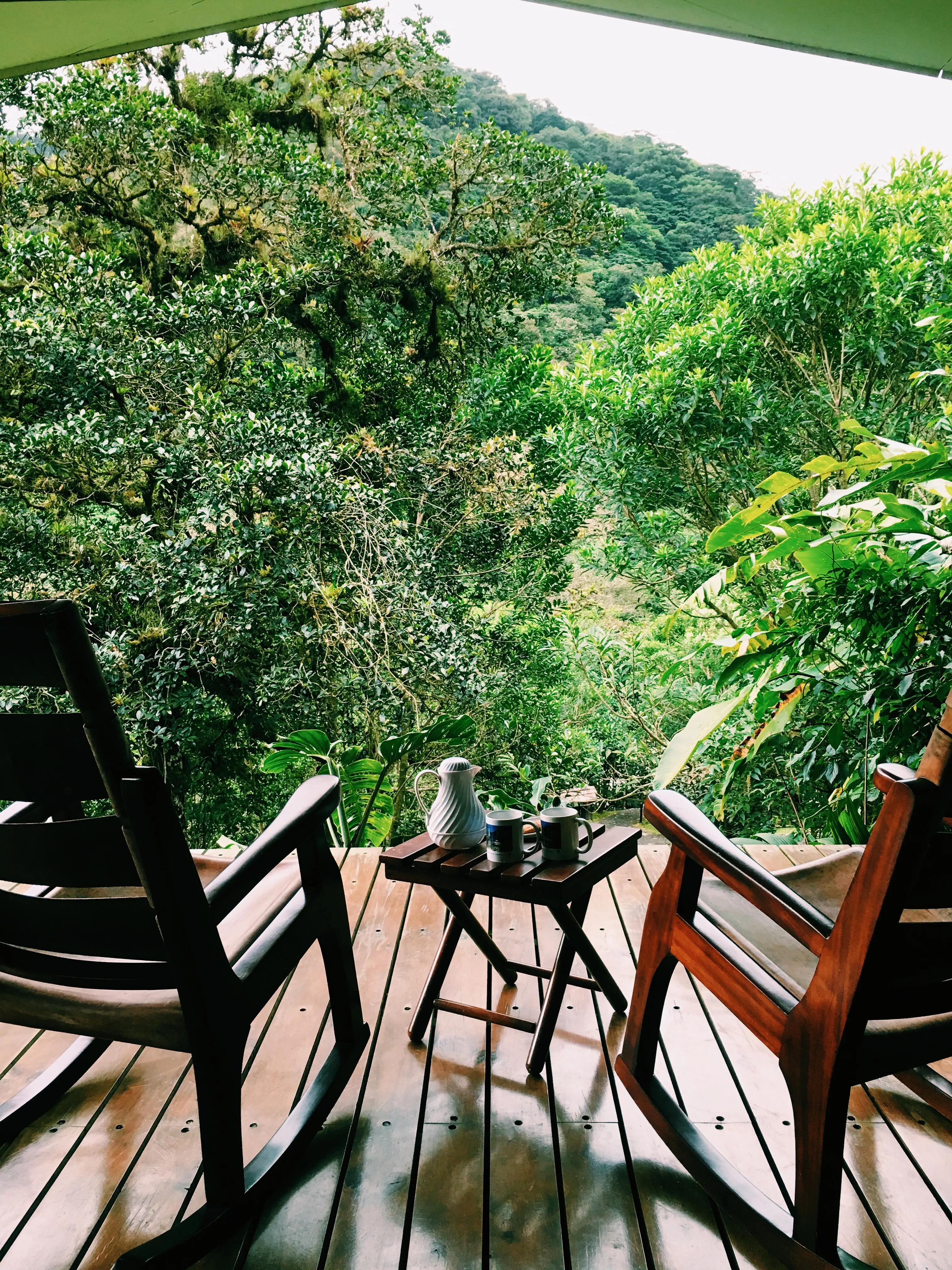 WHAT TO EAT: Silencio grow the majority of their ingredients onsite as seen when we undertook a personal tour of the grounds where we saw a trout farm, plus where they grow berries and fresh herbs (of course, I chased some chickens around their pen). Unfortunately, there are no halal options here!
WHAT TO DO:
→ SPA
El Silencio is the kind of place where you want to go to unravel and relax, so I made the most of this and booked us a couple's massage to revitalise after all that walking. I also couldn't help eating the coconut vanilla sugar scrub they had used on us – mmmm.
→ CHOCOLATE TOUR
Making the most of our time at the lodge, we decided to do a chocolate tour, because how could we not? Chocolate is basically my life. We were shown around a cocoa plantation and given a demonstration as to how the cacao bean is grown, harvested, and consumed. A pure and raw cocoa drink was made for us as a treat at the end.
El Silencio was stunning and one of the most serene places we have ever visited. The eco-lodge was the ultimate romantic getaway and I can't recommend it enough as a getaway for two. We hopped into the car and headed to the volcano and hot springs of Arenal.
DAYS 8-10: ARENAL
WHERE TO STAY: Supposedly a 5-star hotel, the Royal Corin hotel was quite dated, however the staff were really helpful plus the pool amenities were enjoyable.
WHAT TO EAT: Foodwise, Arenal is generally quite touristy and it is difficult to escape a trap once you've been seated and ordered! However, we did have some good pizza out there as well as a few local fish dishes (I opted for prawns in butter sauce with fried cassava and a sweet berry sauce!). Sadly, there are no halal options in Arenal!
WHAT TO DO:
→ HORSEBACK RIDING
We decided to braveheart the weather and take a horseback ride up Arenal Volcano; an idea of BW's that I first laughed at but was pleasantly surprised at the end. With it just being the two of us, we had our own personal guide who gave us a thorough tour over the hills plus pointed out locations where several movies have been filmed (Congo, After Earth). Beware of the jelly legs you'll experience after.
→ HOT SPRINGS
Arenal is known for their hot springs, and there is something quite relaxing about sitting in one whilst it's raining!
We were a little disappointed by Arenal. The weather just seemed a little too miserable and wet, and coming from a Londoner, that means something! But we still made the most of it and explored the small town for the two days that we were there. Alas, our journey was slowly and sadly coming to an end. We said our goodbyes to Arenal, and started to drive down to San Jose where we would spend one last night before making our journey back to London.
DAY 11: SAN JOSE
WHERE TO STAY: The smart and chic Intercontinental hotel was our home for the night. It was located right next to the multiplaza mall – where we spent most of our day, and even ended up going to the cinema!
WHAT TO EAT: And then after all the moaning and groaning about the lack of food in CR, BW came across a piece of heaven Sahara – a halal Persian restaurant! Oh my goodness! Perhaps it was the meat shakes coming through, but even though we had just had lunch a couple of hours earlier, we hastily made our way into Sahara and ordered a meat platter to share.
The platter came with three skewers: beef, lamb, and chicken, plus some hummus and tabbouleh, and it was actually pretty good! The chicken chunks were deliciously moist, succulent, and had the right amount of saffron and lemon, but became a little dry after a while. The beef pieces had a lovely char and smokiness, and were quite tender, but some more flavouring would have really helped to make this stand out. The lamb mince kebab was surprisingly aromatic with little spikes of coriander inside. The tabbouleh was crisp, refreshing, and had that familiar lemony tang. The hummus was creamy and rich, with a healthy drizzle of olive oil.
Sufficiently full, we paid 13,000 colones, so £16.00, which is an appropriate price. The service was disappointingly slow with BW and I waiting a full half hour for our one dish, even when the restaurant was empty! However, the waiter was useful in explaining the menu to us, plus the food was tasty.
Sahara came to us as a blessing in disguise on our final night. Having walked past wafts of freshly fried chicken, seeing juicy steaks on the table next to us, and even being told that the McDonalds do not serve fish or vegetarian, pushed us BOTH past the point of frustration come the final day. Don't worry, we still stuck to the rules, but I guess it brings up the question of whether you would visit a familiar country where halal food is readily available, or could you manage with fish and vegetarian for a few weeks whilst exploring somewhere completely different?
Of course, do not put CR on the no-go list just because of food, but plan your trip accordingly. I would spend a couple of nights in the capital, where there is an abundance of halal restaurants, at the beginning or end of the trip whilst seeing everywhere else in between. The local food is really quite simple with rice, beans, and meat, but check out some of their restaurants as the fish offerings are decent. Costa Rica really is a beautiful country, with stunning beaches, lush rainforests, and plenty of adventure; it is definitely a once in a lifetime experience.
TIPS FOR COSTA RICA:
Plan and book everything (hotels, flights, activities) in advance! I'm talking at least 3 months beforehand!
CR is busy and pricey in peak time so perhaps check out the off-peak season
However, be sure to check the weather beforehand so you don't get stuck in constant rain.
Do not just stay in one place as CR is huge and worth discovering!
Definitely hire a car if you are planning on moving around, especially to the stunning beaches.
Do NOT forget your adaptor because we did, and we suffered terribly without one (no laptop, no phone chargers, no hair straighteners)
Pack your mosquito repellant!
HOTELS IN COSTA RICA:
HALAL RESTAURANTS IN COSTA RICA:
[table "16" not found /]
Previous Post
Next Post