HGAT Guide to Bangkok
GETTING THERE
Getting to Bangkok entails a 11.5 hour direct flight from Heathrow via British Airways and Thai Airways. As we were stopping over in Dubai for a few days on the way back, it made sense for us to fly by Emirates which involved a 2 hour stopover on the way there, so altogether a 14-hour journey from LHR to BKK.
WHERE TO STAY
Landing in Suvarnabhumi International Airport (BKK), it took us 35 minutes and a 500BH uber ride to get to the St Regis located on Ratchadamri Road. Thankfully, the check-in was swift and within no time at all, our butler showed to our room where she had organised a birthday surprise for me: balloons, flowers, cakes, the works! Oh, I loved this place already.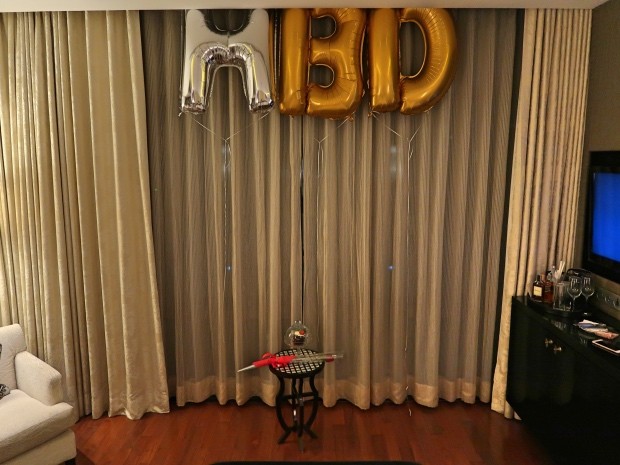 We had booked the Grand Deluxe room where they had a view over the city skyline and the Royal Sports Club.
The breakfast buffet was vast, halal (woo!), and even better was the beautiful view. The buffet was well-equipped with fresh juices, pastries, fruits, and hot foods.
The St. Regis was a lovely hotel and we really enjoyed our stay there. The staff were very accommodating and were happy to lend a helping hand regarding directions, tourist stops, and restaurant bookings. The only caveat was that it was located quite far away from some of the main attractions, but the direct hotel access to the BTS made it easier for us to get around.
WHAT TO SEE
One of the must-dos in Bangkok (well, Thailand generally), is to visit their outstanding temples that are dotted around the city. Every temple is unique and so beautifully detailed that you'll most certainly be in awe. 
Our first stop was the Grand Palace in which the Temple of the Emerald Buddha is also located. I suggest making this your first stop as it closes at 2:30pm. We paid a fee of 500BH each and were given access to the temple, palace, and the small museums inside the complex.
The Grand Palace is the most popular attraction in Bangkok, and where the King, royal government, and his court resided until 1925.
Wat Phra Kaew is known to be the most important and sacred temple in Thailand, and is home to the Emerald Buddha statue.
We then did a short walk over to Wat Pho which is home to the glorious reclining (and largest) Buddha in Bangkok – a whopping 46m long and 15m high. The entrance fee is 100Bh per person.
On the second day,  we decided to visit the famous floating market of Bangkok known as Damnoen Sadauak. The market is located about an hour from the city so we hired a taxi driver for the day to take us there and back.
Unfortunately for us, the taxi driver did not have our best interests at heart, and took us to a boat company which charged us a whopping 2500BH per person for a tour around the floating market. Unsure what the usual price was, yet relieved to have found a place that didn't have the longest wait, we hesitantly paid up and got on the boat. Turns out that it actually costs 2000BH PER BOAT; we had been ripped off by more than double the amount!
Despite BW being conned, the floating market was an amazing experience! Your rower will take you down a body of water where you are surrounded by numerous stalls lined up alongside the water edge, and also cute little old ladies selling you goods from their boats. Well, they're cute until they grab a metal pole and drag you towards them, but there is such a vast array of ornaments, magnets, rugs, etc, you won't leave empty handed!
Other things to check out if you have enough time is the Wat Arun Temple, Wat Traimit Temple, a sunset cruise down Chaopraya river, a Thai cooking class, try catch a Muay Thai fight, and definitely look into getting a Thai massage!
WHAT TO EAT
The first thing everyone says to you when you ask about food in Bangkok is "street food". It's cheap, delicious, and there is so much variety that you'll never have the same thing twice. What they don't tell you is that the hunt for halal street food is beyond tedious, and what we thought would be an easy task became frustrating very quickly.
Nevertheless, we made the most of the being in Bangkok and headed down to Chinatown , locally known as Yaorawat, where they are notorious for their outstanding seafood street food stalls.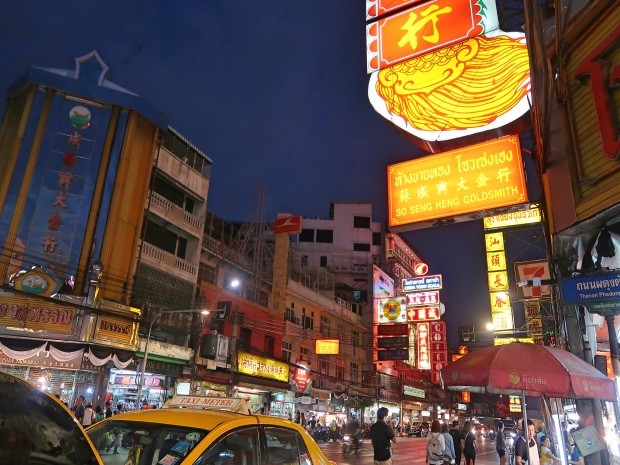 As you walk down the busy street, you'll come across an intersection where there are a crowd of people queuing up on both sides. One side for the red stall, Lek & Rut, and one side for the green, T&K Seafood. We ended up going for Lek & Rut, and this definitely was the type of street-food experience I was looking for: a no-frill, delicious meal whilst people-watching from the roadside.
A good-sized fish that had been fried with garlic and chilli to give an irresistibly crunchy skin and flavourful bite. It was a simple, straightforward dish but I couldn't believe just how good the fish was. It was fresh, flaky, and the accompanying dressing made with garlic, chilli, lemongrass, and lime, was an outstanding dipping accompaniment. The house chilli sauces varied in heat and were great for also dunking the fish into.
Unfortunately, we had made this a quick meal so did not order more, but make sure you opt for the grilled prawns, steamed fish, and tom yum soup to really get a feel of how good the food is.
If you're on the hunt for authentic Thai but don't fancy going completely street, there are many small local cafes found around the city, particularly near the temples, that serve up great food. I'm not sure how tourist-trapping they are, but we generally tried to avoid the numerous Italian-Thai fusions and found a cute Thai cafe next to the Wat Pho temple.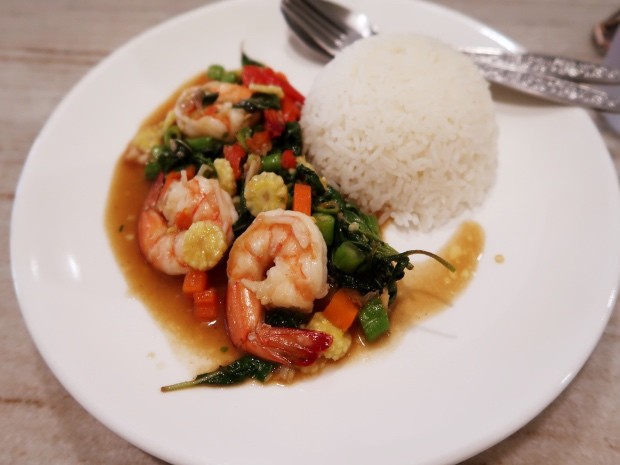 I opted for the prawns with chilli, garlic, and holy basil, but cooked to a medium spicy as I wasn't ready to destroy my tastebuds just yet. Simple yet ridiculously good, but beware of those cheeky mini Thai chillies!
BW ordered the vegetarian green curry which had cubes of tofu cooked in, and I believe you not, he stated this was the best Thai green curry he had eaten. The total bill for this meal came to 170BHS so approximately £4.50, including drinks!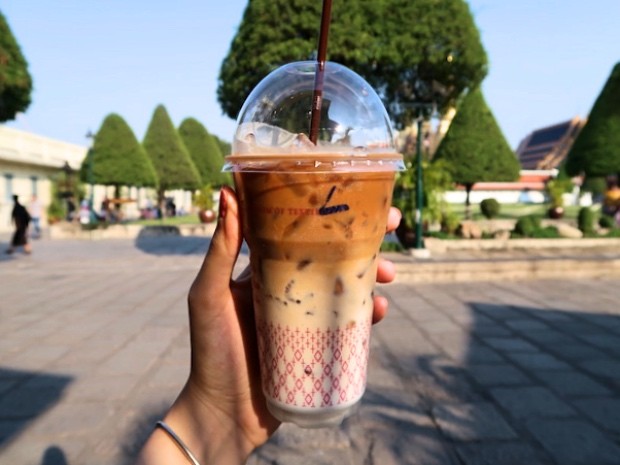 I was under the impression that there would be a lot of halal options in Bangkok, and there are, but they aren't obvious and require some research. As I mentioned earlier, finding halal street food stalls amongst other vendors is quite difficult and asking about "halal" or even "Muslim" will be met with a blank stare. But don't you worry, I've done the hard work for you and have found several halal eateries that are listed below.
If you want to get a feel of the street food, head over to Ramakhamheang where there is a high population of Muslims. The night market, which runs from 5pm onwards, and the surrounding streets have up to 100 halal street food vendors so you will be spoilt for choice with the likes of buryani, noodle soups, and chicken hotdogs!
You will also find various clusters of halal eateries located in certain areas around the city. One location that came up frequently in recommendations was Little Arabia on Sukhumvit Soi 3; a stretch of halal Middle Eastern eateries, shisha, and numerous little shops selling ornaments and clothes. Another similar suggestion for halal food was Little India a.k.a Phahurat Market, and is just a short walk from Chinatown.
It is also worth asking beforehand if your hotel serves halal meat and if not, would they be able to do so for the duration of your visit. We were pleasantly surprised to find that not only do the St Regis serve halal, but many of the high-end hotels around the city have halal meat on their premises with certification readily available. Of course, I made the most of the halal options at breakfast.
For those looking for somewhere a little fancy or maybe celebrating a special occasion, that other half of yours will definitely be thanking you later at night 😉 with two of the top 50 restaurants in the world to chose from located in Bangkok, and both are halal. The first is Gaggan (no 27. and Asia's no1), a modern Indian establishment, that has outstanding reviews but sadly, was fully booked until March. And Nahm (no. 37), a classic Thai restaurant, where I was able to snag a booking for dinner – it seemed like a great meal but you'll have to read about it tomorrow!
And of course, you can't not have a dessert whilst you're out there.
Mango and sticky rice is an absolute MUST. Deliciously delectable mango chunks served with a sticky rice that has been cooked with sweet coconut milk, and then drizzled in a coconut cream – this was something I'll always remember from my trip.
One I got from the old ladies at the floating market. Coconut ice-cream made using the milk from the coconut, and had been topped with a green pandan sticky rice, red beans, and crunchy peanuts. Another Thai staple that cannot be missed.
If you're looking for something healthier, there are plenty of fruit street stalls dotted around Bangkok serving up fresh juices, fruit bags, and gigantic coconut waters.
And for those brave eaters, the infamous duryani out there is fantastic; creamy, mild, and doesn't smell at all. A little hesitant to try it at first, BW finally caved into my peer pressure and was pleasantly surprised!
Alas, our short trip to Bangkok came to an end. Perhaps we could have stayed a couple more days to really explore what this vibrant, buzzing city has to offer, but I feel we had a good taster of the Big Mango. Plus, this was just the beginning of our fun Thai adventure and I cannot wait to tell you guys about our next stop, Chiang Mai, so stay tuned!
TIPS FOR BKK 
Book your trip at least three months in advance to make the most of their early-bird specials. We got 20-40% off all our hotels in Thailand.
The BTS is incredibly easy and cheap (from 15BH per person) to use, which is great for when you want to avoid the heavy traffic at rush hour.
If possible, I would avoid the Christmas period as hotel prices are inflated and the crowds are big!
Be sure to haggle when shopping; they're happy to drop the price up to 40% off.
Take a photocopy of your passport with you to any landmark you visit as the security is high and will want to see a form of id.
Wear respectable clothing when visiting the temples. Men will have to wear long shorts and t-shirts, whilst women cannot show their shoulders or knees. You can rent a cover-up at the temple if need be. Also wear easy slip-on shoes are advisable as you will have to take them off when entering the temple.
Make sure your hotel gives you a card with directions to the hotel in Thai when you leave their premises. This will avoid any confusion when catching a taxi or tuk-tuk back.
Research the prices of attractions beforehand so you do not get ripped off like we did, or alternatively go with a tour group.
HOTELS in BKK 
—> St, Regis – 5* – Halal food available
—> Shangri La –  5* – Halal food available
—> Grand Sukhumvit – 5* – Halal food available in this hotel and is located near Bangkok's Arab Quarter
—> Al Meroz – 4* – Very halal friendly hotel with no alcohol on their premises and segregated leisure facilities.
–> Nuovo City Hotel – 3*- Halal food available.
MOSQUES in BKK
–> Darul Aman
–> Bangkok Mosque
–> Tonson Mosque
–> Haroon Mosque
FOOD AREAS/MARKETS in BKK
–> Little India – Phahurat Market – Halal Indian food
–> Chinatown – Yaorawat – Great for seafood
–> Little Arabia – Soi 3 – Good for Middle Eastern and shisha
–> Petchaburi Road – Soi 7 – Plenty of halal street food stalls to be found here
–> Ramakhamheang – – Lots of halal street food stalls
–> MBK International Food Court – 444 Thanon Phaya Thai – Several halal eateries over here
–> Chaktuchak Weekend Market – Chatuchak – Halal stalls available
NON HALAL in BKK 
–>Lek & Rut – Yaorawat (Chinatown) – £ – Great for seafood
–> T & K Seafood – Yaorawat (Chinatown) – £ – Good for seafood
–> The Commons –  335 Soi Thonglor 17 – ££ – Various western cuisines and really cool place to hang out
–> L'Atelier Joel Robuchon – £££ – MahaNakhon CUBE – French Fusion
–> Zuma – £££ – St Regis hotel – Japanese
Previous Post
Next Post