HGAT Guide to Barcelona
Growing up, I was never really enticed by Europe. I could only recall a school trip to Amsterdam, and an occasional visit to Brussels with family friends when I was younger, and never seemed interested. BW, on the other hand, grew up visiting Europe every summer. Whilst I was taken to Disneyland, he would go on family roadtrips down the coast of Italy, eat paella in Spain, and visit the numerous galleries in France. Needless to say, he was a little shocked at my lack of enthusiasm when it came to Europe, and has made it a point to be my tour guide.
It has only been a couple of years since I've started to appreciate and explore Europe, and I love it!  It's the perfect holiday destination with beaches, skiing, and city, and only a short train/plane journey away. Last summer, BW decided to whisk me away to Barcelona for my first taste of Spain.
GETTING THERE
Getting to Barcelona is only a short 3 hour flight away, meaning we still had an entire day if we left London in the morning.
It was our first time flying with EasyJet and needless to say, that was an experience in itself. Having just made it past check in and security at Gatwick airport, we glanced at our tickets to find that we only had FIVE minutes until our flight closed!! Um, there was no way Halal Girl was going to miss her holiday, so I gave BW the bags and we both ran for our lives to the gate to find that our flight was still there and no one had boarded yet. Phew!
WHAT TO SEE
Landing in Barcelona's El Prat airport, I was in awe. It was so pretty, and the view of the port from our hotel room was magnificent!
Changing into appropriate summer attire, we headed off to explore the beautiful city, and our first stop was Las Ramblas.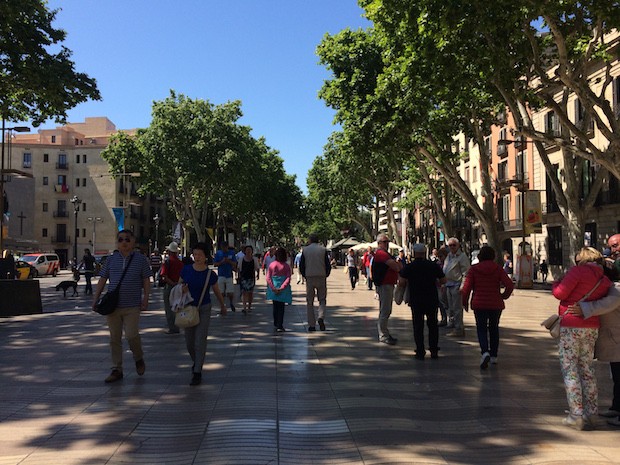 A lovely and buzzing boulevard located right in the city centre, lined with restaurants, market stalls, and tourist shops. And hidden amongst the buildings on Las Ramblas is a popular food market known as La Boqueria.
It is an absolute paradise for foodies with tapas bars, freshly caught fish, candy stalls, and lots of cheeeese. Every morning, we would stop by and grab a fresh fruit smoothie from the colourful stand to start our day.
Walking further up, we finally made it to placa de Catalunya, a huge square in the city centre that is surrounded by retail shops and a really fancy department store called El Corte Ingles.
Over the next couple of days, we decided to be a little cultural and appreciate the beautiful architecture seen around Barcelona, especially the works of Gaudi. Unfortunately, we couldn't visit all the famous landmarks due to long queues (lesson learnt: book tour tickets beforehand) and lack of time, but we managed to cover the Gothic Quarter, Casa Mila, Casa Batlo, Sagrada Familia and Park Guell.
We decided to put our feet up at the beach on the last day.
WHAT TO EAT
Feeling like the ultimate tourists, we couldn't help but visit a Spanish tapas establishment, La Barca del Salamanca,  on our first night. Patatas bravas, padron peppers, paella, we had it all!
Even more tapas at El Nacional, which is situated inside a large glasshouse and is the perfect place for groups of friends. They have four different sections according to what you're in the mood; meat, tapas, fish, and coffee, and the surroundings are so pretty!
We mistakenly stumbled across Brown 33 after some serious shopping. It was located right on the corner of Passieg de Gracia and served some of the best pizza we've had. Unfortunately it has closed down now.
After a few days of hotel breakfasts, I had decided that I wanted traditional brunch. Pancakes, waffles, poached eggs, the works. Some googling later, we managed to find The Benedict cafe which was only a short walk away from our hotel and decided to brave the queues. An hour later, we were seated and ready to order.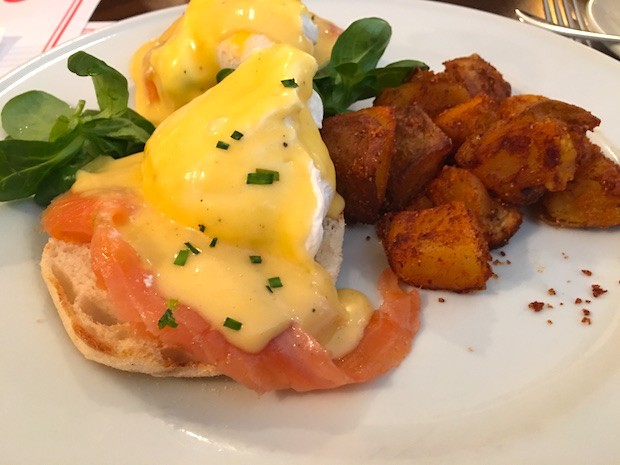 This place was worth the wait!
Another great find, Creperie del Mar, in El Raval, that serves up deliciously huge crepes and substantial salads for lunch.
And of course, finish off with some traditional Spanish churros and hot chocolate. Admittedly, I  prefer the less authentic, more cinnamon-sugary version, but it's worth a try.
Every holiday we go on, we'll always splurge a little on one nice dinner. This time, we decided on the rooftop restaurant, Arola, at Hotel Arts. You can opt to have your dinner on the terrace where you have a great view across the city, but mind you, it can get a little chilly so take a sweater.
Fresh pan con tomate being made at the table. The waiter will gracefully rub the garlic across the crusty toasted bread, followed by the sweetest juicy tomato. Delicious!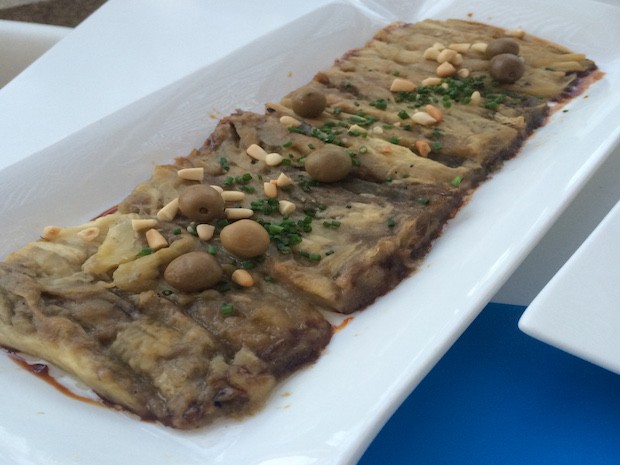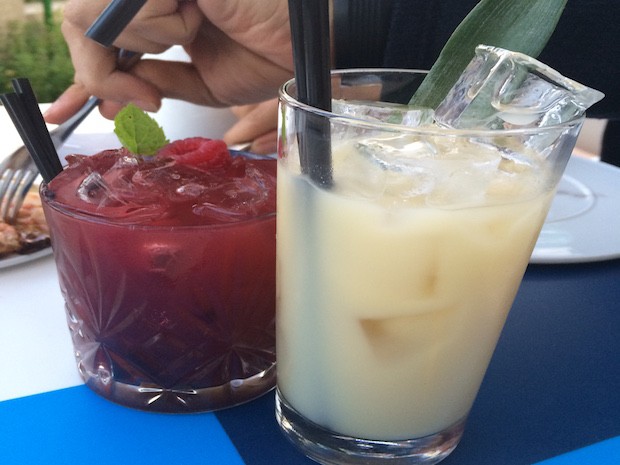 A good meal, but not a dinner that was suuuuper memorable.
If you're on the hunt for halal, there isn't a huge variety available, BUT they have a few Indian/Pakistani and kebab shops scattered across the city. We were not looking specifically for halal until we started to walk along Passeig de Joan de Borbo, which was a long strip in La Barceloneta and home to several halal restaurants – jackpot!
I'm not sure if BW's Indian radar started to ping, but we all of a sudden found ourselves waiting for a table at Rangoli, a small Indian eatery located in La Barceloneta. As it was noon, they were serving lunchtime thalis at a bargain price so we opted for one to share.
It was not bad at all, and would be a restaurant I would recommend to my parents if they were to visit Barcelona. The chicken curry was full of spices, and the chicken was lovely and soft. The peas and potato curry was a nice touch and perhaps could have done with a little heat, but was perfectly adequate for a thali. It just about hit the spot, and I was sad to have found so many halal options on our last day.
Alas, our short and sweet trip had come to an end. Our feets were aching, my nose was sunburnt, and our waistlines had doubled in size, but I was sad to leave and wished we could have had a couple more days. However, we did manage to cover good ground when it came to seeing the top sights around Barcelona, and I was lucky to visit again this year with friends.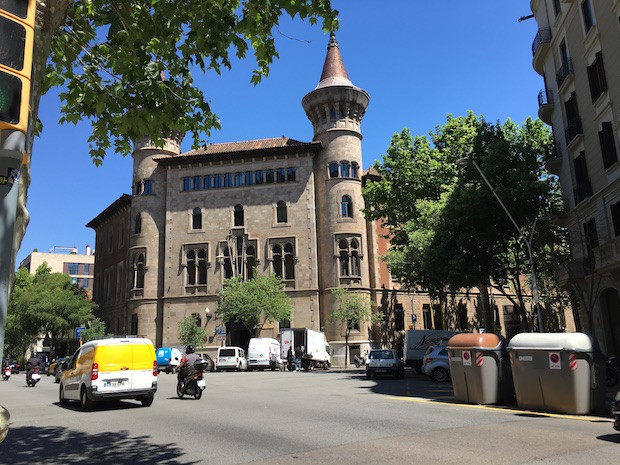 Barcelona is the perfect destination for a quick getaway. Not only is the weather great, but you have both city and beach, plus a few halal options in the mix. Don't just focus on eating halal food as the fresh seafood and vegetarian dishes really are delicious. You can't go wrong with authentic pan con tomate, garlic buttery gambas, or a hearty bowl of seafood paella.
Tips for Barcelona
→ Barcelona are known for their pickpockets, so keep your valuables at home and be extra careful of your belongings.
→ Book tickets for tours beforehand so you do not have to wait in the queues. This may be compulsory for some places (e.g. Sagrada)
→ Leave the heels at home girls, as Barca is the place to walk, so pack a comfortable pair of shoes.
→ Or if walking isn't for you, take the metro around.
→ Plan your visit around the beginning or end of summer so you avoid the crowds, whilst still managing to catch the great weather!
Restaurants in Barcelona
→ Rangoli – Halal – Indian – Passeig Joan de Borbo 78, 08039 Barcelona
→ Delhi Darbar – Halal – Indian – Passatge de Josep Llovera, 11 08021 Barcelona
→ Swad – Halal – Indian – Carrer de Sancho de Ávila, 167 08018 Barcelona
→ Spoonik – Halal – Various – Carrer de Bertran, 28 08023 Barcelona
→ Restaurant Bali – Halal – Indonesian – Carrer de Laforja, 8, 08006 Barcelona
→ Lal Qila Barcelona – Halal – Pakistani – Carrer de Roger de Llúria, s/n, 08009 Barcelona
→ Askadinya – Halal – Palestinian – Carrer de Verdi, 28, 08012 Barcelona
→ Can Borno – Halal – Spanish – PS. Joan de Borbo 50-51, 08003 Barcelona
→ Restaurant Voramar – Halal – Spanish – Carrer del  Mar, 29, 08003 Barcelona
→ Wild Beef (of course, I found a halal burger restaurant) – Halal – Burgers – Carrer de la Diputació, 214, 08011 Barcelona
→ Pop in – Questionable halal – Burgers and Hot dogs – Avinguda del Marquès de l'Argentera, 1B, 08003 Barcelona (Barcelona)
→ La Barca del Salamanca – Not halal – Tapas – La Fonda del Port Olímpic, Calle Moll de Gregal, 7-10, 08005 Barcelona
→ Arola Restaurant – Not halal – Hotel Arts Barcelona, Marina 19–21, 08005 Barcelona,
→ Benedict Cafe (great for brunch!)  – Not halal – Carrer Gignàs, 23, 08002 Barcelona
→ El Nacional(pretty tapas place!) – Not halal – Carrer de Joan Pallarès, 31-33, 08901 L'Hospitalet de Llobregat, Barcelona
→ Ginos – Not halal – Italian – Via Laietana, 71, 08003 Barcelona
→ Creperie del Mar – Not halal – European (great crepes and salads) – Ronda de la Universitat, 12, 08007 Barcelona
Hotel in Barcelona
→ Grand Eurostar – Moll de Barcelona, s/n, 08039 Barcelona, Spain  
→ W Barcelona –  Plaça de la Rosa dels Vents, 1, 08039 Barcelona, Spain  
Mosques in Barcelona
→ Mezquita Tariq Bin Ziyad – Calle San Rafael, 10, 08001 Barcelona
Please double check the halal status on any of the restaurants I have listed above as the suppliers could change.
Previous Post
Next Post