Maldives, Part 2
DAY FOUR
This was one of the busiest days we had on our Maldives honeymoon considering we were supposed to be relaxing, but what's the fun in staying in your room the whole day when you have paradise right at your feet ;). I'm not the type to sit on the beach all day long whilst burning to a crisp, but instead, I like to get out there and explore what's around me! Which is why when BW's friends surprised us by booking us in for a scuba diving and spa session as a wedding present, I was over the moon.
Having had a light breakfast of fruits super early in the morning, we were absolutely starved by the time we had come back from our massages, so we gave room service a little ring. As they still had our fish from the previous day's fishing adventure, we decided to go for some tacos.
They arrived with a fish taco feast – four fish tacos with a huge portion of crispy fries each!!!!! The soft tacos were more like white rotis, and had hot, chargrilled white fish with chunky guacamole inside. I managed about half the serving and grabbed the fresh coconut to head to the beach!

Dinner For Two
As part of their Maldives honeymoon package, the Four Seasons offered us a romantic candle lit dinner for two*wiggles eyebrows*. We had a choice of two menus, from which we decided to go for the meatier option, seeing as we had fish the day before. Once seated, we ordered our mocktails and got ready to be all "romantic". So here is what they came up with…
Tuna Carpaccio with Caviar

Thinly sliced raw tuna topped with slivers of onions and caviar. I'm normally a raw fish lover but the combination of the tuna with the red fish eggs became a bit too fishy for my liking.
Veal Chop with Roasted Garlic and Vegetables

What was supposed to be a rib-eye steak (as stated on the menu) actually ended up being two portions of veal chop, but meat is meat and it wasn't worth making a fuss over so we dug in, and I'm glad we did. The veal chop (which i ordered medium) was a big and juicy hunk of meat on the bone, with a thick and melting layer of fat attached to it – definitely my kinda meat. There was no need for any additional sauce and the roasted garlic gave even more flavour to the chop when rubbed on top. I'm still drooling as I write this!
Strawberry Cheesecake
And of course, theres nothing more perfect than to end a meal with dessert, especially cheesecake. A slice of creamy, biscuit cheesecake topped with sweet strawberries and a swish of mango puree underneath, and all served with a generous scoop of strawberry ice cream. Look how pretty it was!

DAY FIVE
After another early start and morning spent on the shark safari excursion, I was ready to put my feet up. We decided to head over to the Sunset Lounge for lunch, some shisha and readied ourselves for a lazy afternoon.
Snapper Ceviche w/ Tortilla Crisps

A glass of cold lemon-infused water arrived with small chunks of snapper, coriander, and sliced cucumbers. I grabbed a crunchy tortilla crisp and topped it with a spoonful of the refreshing ceviche, and creamy guacamole.
Club Sandwich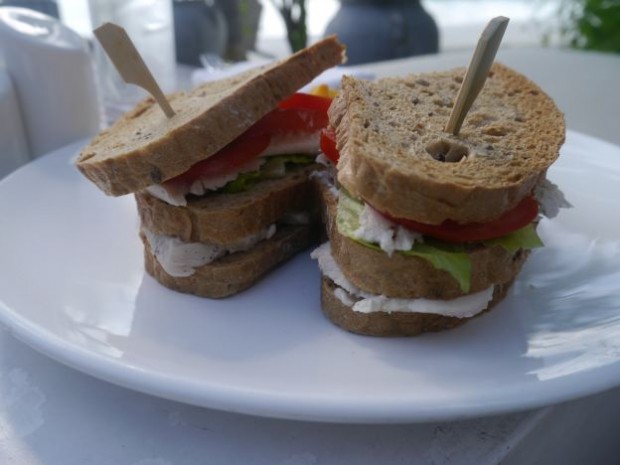 Thickly-cut, toasted bread topped with a chargrilled chicken steak, and layers of tomatoes, and lettuce inside. The chicken steak, although being large, was succulent and lightly seasoned.
Kung Fu Panda

A creamy oreo milkshake made of rice milk, vanilla ice cream, and oreos.
That same evening, knowing what romantic really is, BW organised a dinner for the two of us by the pool in our beach villa, under the stars. The room service staff kindly set up a table and surrounded the place with special mood lighting. This was one of the best nights of the honeymoon!
Spaghetti Bolognese

Long strands of spaghetti mixed in with a chunky meat sauce with diced tomatoes, chopped parsley and sliced basil. Although the description sounds divine, the Bolognese sauce itself could have done with a little more flavour.
Bay Shrimp Linguine

A mountainlful of spaghetti cooked with garlic, crushed chillies, and plump prawns scattered on the pasta. Though sounding basic, the simplicity of the flavours worked together really well. This dish is also usually cooked with white wine however we had requested them to remove the alcohol.
Vanilla Orange Creme brulee

The dessert, a favourite of mine, was expertly cooked with a soft creamy base and hard, crunchy sugar layer on the top however the orange citrusy flavour of the cream below was too overpowering and so the taste of vanilla was not present.
DAY SIX
As a surprise for me, BW had organised for us to stay our remaining nights in a sunset water villa – basically a hut lying in the middle of the ocean! So after a morning of jet skiing around the island, we said goodbye to our amazing beach villa and settled into our even more amazing water villa. The view was absolutely stunning as when you woke up, all you could see was the crystal clear water and clear horizon.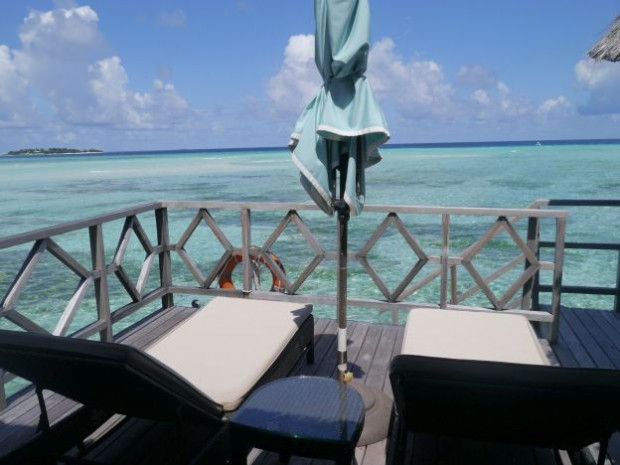 After taking hours to settle in and get over the excitement of seeing sharks right below me, BW finally managed to drag me to dinner. We were both feeling a little homesick, maybe even a little bit Indian-y so chose the resort's Indian restaurant, Baarabaru, for the night.
Tandoori Phool

Large florets of broccoli and cauliflower were smothered in a bright red tandoori sauce. The sauce had a slight tang and was evenly covered the soft vegetables. We both really enjoyed this dish.
Seekh Kebab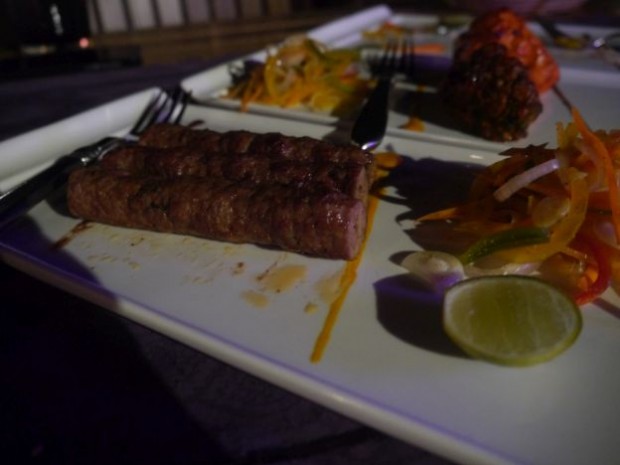 Long, juicy kebabs made of lamb mince and coriander flakes. They had been cooked in such a way that it had that mouth-watering chargrill taste on the surface.
Tandoori Murgh

Tender chicken thighs with a dollop of that finger licking, tandoori sauce.
Karavalli Jhinga  Curry a.k.a $52 Prawn curry

I will not take any responsibility for the fact that one of us (BW!) ordered a $52 prawn curry which we discovered came with around 8 tiny prawns – the curry sauce was heavy, and seriously needed a big kick from any form of spice really (it really wasn't worth the ludicrous price tag).
Black Dahl

The black dahl comes as an accompaniment to the prawn curry and is generally one of my favourite dishes. It was more flavourful, smooth and creamy however lacked salt.
Indian Sampler – Gulab Jamun, Carrot Halwa, and Fig Kulfi

The juicy gulab jamun that burst with syrup every bite was the best out of the trio.
Hotel Information: Click here for the Four Seasons Kuda Huraa website
Here is part one and part three of my Maldives honeymoon!
If you're looking for more honeymoon destinations, read below:
HGAT Guide to Galle Sri Lanka
Previous Post
Next Post