Guide to Iftar and Suhoor in London 2021
Unfortunately many of our favourite halal restaurants are still closed this Ramadan due to the current rules so finding a place for iftar isn't the easiest thing at the moment! Many have turned to meal kits just for Ramadan whilst others are offering drive-thrus and a few lucky ones that are able to open are doing late openings. We've put together a list of restaurants that are running special Ramadan offers this month
A Guide to Iftar and Suhoor in London 2021
Ramadan Meals You Can Order Home
Burger UK
BUK, aka Burger UK London, have launched their burger DIY kits just for Ramadan and you'll be able to get your hands on the classic BUK burger as well as the Chef Special Fried Chicken burger (a personal favourite). And if that's not enough, you can get 10% off your order using the code HGATBUK. 
Halal Status: All meats served are halal
Website: https://www.bukburger.com/order-online
Deliveroo
Fine, this isn't a restaurant as such but Deliveroo have partnered up with hundreds of halal restaurants in the country to offer 20% off during iftar time for the whole of Ramadan. You just need to search Ramadan on the Deliveroo app to find the whole selection of restaurants that are local to you and offering the 20%!
Read more about it here.
That Fat Cow
That Fat Cow is a new online butcher concept that specialises in high end steaks cuts (think Japanese wagyu, USDA Black Angus etc). They have teamed up with the Shahid Afridi foundation to bring you all a special Ramadan iftar box featuring, well, steaks – one wagyu sirloin and one dry-aged British native breed T-bone! And that's not all, the box includes chocolate covered dates, skin on fries, a herb butter for the steaks and chocolate fondants. All profits made from these Ramadan boxes will be donated to the "Food For Food" programme in which a family of 5 will be fed for 15 days plus a contribution to the building of water pumps!
You can read more about That Fat Cow here.
Halal Status: All meats served are halal
Website: https://www.thatfatcow.co.uk/products/ramadan-box
By Charred
By Charred have launched a special 3-course menu for Ramadan with beef brisket croquettes and a smoked aubergine galette for starters, a large Moroccan-spiced lamb shank with cumin rice for mains and gooey chocolate chip cookies with chai for dessert. The meals are delivered weekly.
Halal Status: All meats served are halal
Website: https://www.by-charred.com/ramadanmenu/iftar-package
Spice Village
Spice Village are offering humongous hampers for iftar filled with dates, aloo papri chaat, pakoras, biryani and lots more. You can adjust the hamper according to your family size whether that is 5, 10 or 20 people. These are available from the Croydon and Southall branches.
Halal Status: All meats served are halal.
Website: https://www.spicevillagerestaurants.co.uk/
To order your hamper, please call Croydon: 020 3908 7071 or Southall: 0208 574 2275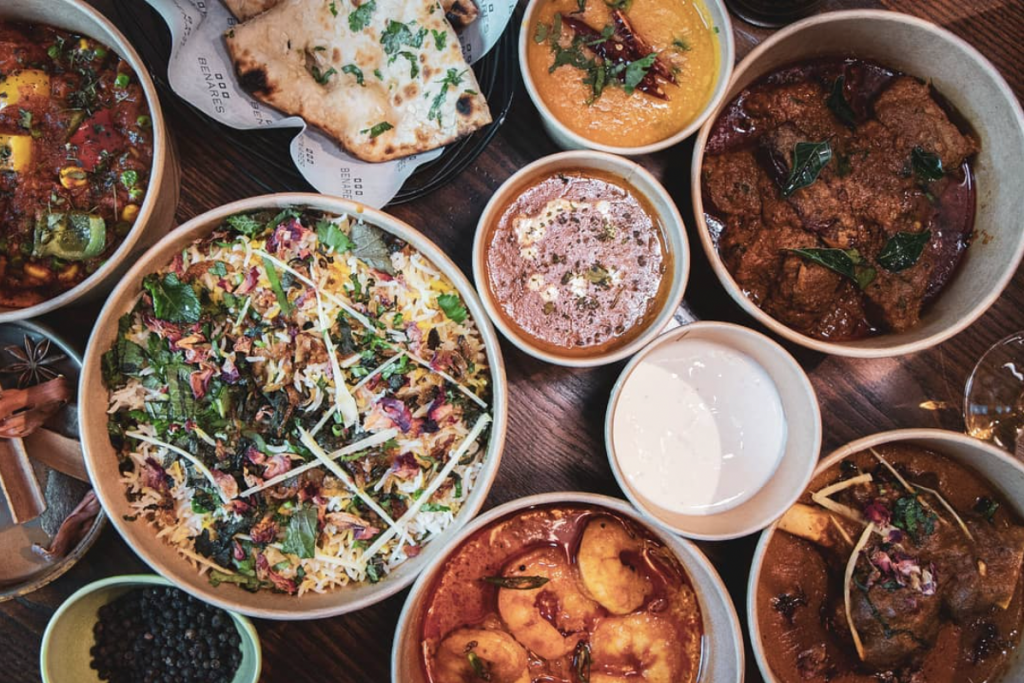 Benares
Feeling particular fancy? How about a Michlein-starred iftar menu from Benares! You'll be treated to a box of dates, shammi kebab, samosa chaat, rogan josh, chicken tikka, biryani, gulab jamun and plenty more. The box is suitable for 4 people.
Halal Status: Chicken and lamb is halal
Website: https://www.benaresrestaurant.com/order-online/
Sapnas At Home
Sapnas have created a Ramadan At Home box that is packed with all of your Sapna's favourites like a large aloo papdi chaat, meat samosas, shami kebab, korma, chicken karahi and plenty more. You can choose from either a box for 2-4 people or 4-6 people.
Halal Status: All meats served are halal
Website: https://www.sapnas.co.uk/
Sambal Shiok
Sambal Shiok are doing a Ramadan special for one month only and selling a beef rendang Nasi Ambeng via Pezu. The plate comes packed with a fragrant turmeric rice, beef rendang, lemongrass vegetable curry, kerabu salad and prawn floss. It is also served with potato curry puffs and a cardamom chocolate cake.
Halal Status: All meats served are halal
Website: https://www.pezu.com/collections/sambal-shiok/products/beef-rendang-nasi-ambeng
Mooshies
Take a break from all the meat this Ramadan and opt for a vegan burger kit from Mooshies who have just launched a Ramadan meal kit for 4 people. In the box, you'll receive a box of medjool dates, the What's-Your-Beef burger patties with buns and trimmings, a non-alcoholic chardonnay, skin on fries, cheese sticks, nachos and sweets – wow!
Halal Status: All the food served at Mooshies is vegan
Website: https://www.veganburger.org/shop/p/special-ramadan-meal-kit-for-4
Cue Point
You've had birria tacos but what about birria nacos? Yup, Cue Point have just dropped a new DIY kit that is ready to be shipped nationwide to the masses. In the kit, you'll recieve nacos, birria made with beef, zaatar smashed potatoes (yes please) and all the trimmings. Now that is what you call a great iftar!
Halal Status: All food served at Cue Point is halal
Website: https://www.cue-point.co.uk/all-products/birria-naco-meal-kit-with-herby-coleslaw-zaatar-potatoes
Mei Mei London
Mei Mei is a Singaporean restaurant based in Borough Market which you probably walked past and had a good whiff of their Hainanese chicken and rice. They have launched a duck and rice kit to make at home and boy, are we excited for this!
Halal Status: Chicken and duck is halal
Website: https://mei-mei-london.myshopify.com/collections/meal-kits/products/mothers-day-meal-kit
For more at home meal kits that would be great for iftar, please see this post on halal DIY kits in the UK.
---
Eating Iftar Out
Cue Point
Like we mentioned here, Cue Point are doing the first halal bbq drive thru in the UK. You'll need to book a slot beforehand but food will be ready as soon as you show up so will make for the perfect iftar. Each tray comes loaded with brisket, lamb barbacoa, buttermilk chicken wings and all the trimmings: hush puppies, pit beans, chips and slaw. And of course you can't miss out on the date cookies with ice cream!
Halal Status: All meats served are halal
Website: https://www.cue-point.co.uk/drive-thru-bbq-page
Address: Chiswick Pavilion, Riverside Dr, Chiswick, London W4 2SP
Spice Village
Yes, Spice Village are on the list again but this time for their drive-thru meals which would make for an awesome iftar. They'll attach a humongous tray going across the front seats of your car, from window to window, and your meal will be served on top of this sturdy tray. The menu is not limited either!
Halal Status: All meats served are halal
Website: https://spicevillage.co.uk/
Dhuwan Desi Cuisine
Dhuwan Desi Cuisine is a delivery kitchen run by two friends who have a knack for Pakistani food. Whilst they recommend their shammi kebabs and Yakhni pulao, they are also doing Ramadan iftar specials that feature dahi barra, chana chaat and chicken patties. This is ideal if you've been missing mum's food over lockdown!
Halal Status: All meats served are halal
Website: https://www.instagram.com/dhuwan.cuisine/
Address: They are based in Leytonstone
Smoke and Bones
Fancy some good ol' bbq food for iftar or perhaps even sehri then don't you worry as Smoke and Bones are open from 7pm until 1am so you can get your fix just in time for fajr! Just be sure to order online before you get there so your food will be ready!
Halal Status: All meats served are halal
Website: https://smoke-and-bones.com/
Address: 1 Dye House Lane, E3 2TB
The Lebanese Bakery
The Lebanese Bakery are offering a special iftar menu for £25 in which you can get a drink, soup, salad, dip, rolled manousheh and a dessert! You'll have a choice in each of these categories e.g. ayran or lemonade, beef shawarma or chicken with romaine pickle manoushes etc.
Available for collection and delivery.
Halal Status: All meats served are halal
Website: https://thelebanesebakery.com/london
Holy Smoke And Burgers
Holy Smoke and Burgers are doing some of the best halal burgers and humongous ribs in town so it would be a crime to miss out on their late opening hours this Ramadan. A smashburger for sehri? Yes please! They will be open until 2:00am for the duration of Ramadan.
Halal Status: All meats served are halal
Website: https://www.instagram.com/holysmokeandburgers/
Address: Queen's Yard, White Post Lane, Hackney Wick, London, E9 5EN
---
Birria Tacos
Birria tacos will always be the perfect dish for Ramadan; meaty, cheesy and oh so delicious. Birria Tacos's kitchen will be open until 10pm so that you can squeeze in a couple or ten tacos in time for iftar.
Halal Status: All meats served are halal
Website: https://birriataco.square.site/
Address: Ventures Hotel, 12 – 20 Sussex Gardens, London, W2 1UL
---
Desserts
The Baklava Company
Have that post iftar sweet craving but not sure what is open? The Baklava Company have opened up a store on Whitechapel road where they will be selling their goodies from 4pm until 12am – ample time to squeeze in a baklava or two. These aren't regular baklavas, you can find oreo, nutella, raffaello and biscoff flavoured baklava. They also have Turkish milk cakes too.
Address: 47 Cavell St, Stepney, E1 2BP
Website: https://thebaklavaco.com/
Floozie Cookies
Floozie Cookies specialise in vegan stuffed cookies and is run by ex-Claridge's Pastry Chef Kimberly Lin. As well as adapting their opening hours so that you can pre-order a cookie in time for iftar, they're also running a few cookie specials. They have a Pecan Pie flavour with a butterscotch dough stuffed with a silky soft date caramel and stuffed with toasted pecans, as well as the usual Cinnamon Crunch, Celebration Cake, PB&J, Chocolate Chunk and a rotating monthly special!
Address: 5 James street, Covent Garden, WC2E 8BH
Website: https://www.flooziecookie.com/our-menu
Chouxru London
Chouxru London are doing a weekly Ramadan menu for their desserts and you can expect to see their popular choux buns with syringes, mini choux, a mixed treat box, puddings and more on the menu! Sadly, it is collection only so lucky you if you live close by, otherwise you can opt for a nationwide delivery from them! Collection is available between 12-6pm.
Address: Goodmayes, London (IG3)
Website: https://chouxru.co.uk/
Previous Post
Next Post