Iftar in London 2018
For most of us, tomorrow marks the first day of Ramadan. The first few days are undoubtedly hard; you're grumpy, tired, and hungry. You won't dare look at your social media which, of course, will be full of food – sorry! Over the month, you'll become more accustomed to this new routine and will start venturing out for a few delicious Iftars. So I've compiled a guide to Iftar in London 2018 for you guys, featuring a couple of discount codes that are too good to miss! Also, be sure to keep an eye out on my HGAT Instagram page for weekly giveaways that includes plenty of cakes, eclairs and lots of other goodies too!
Iftar in London 2018
BURGER UK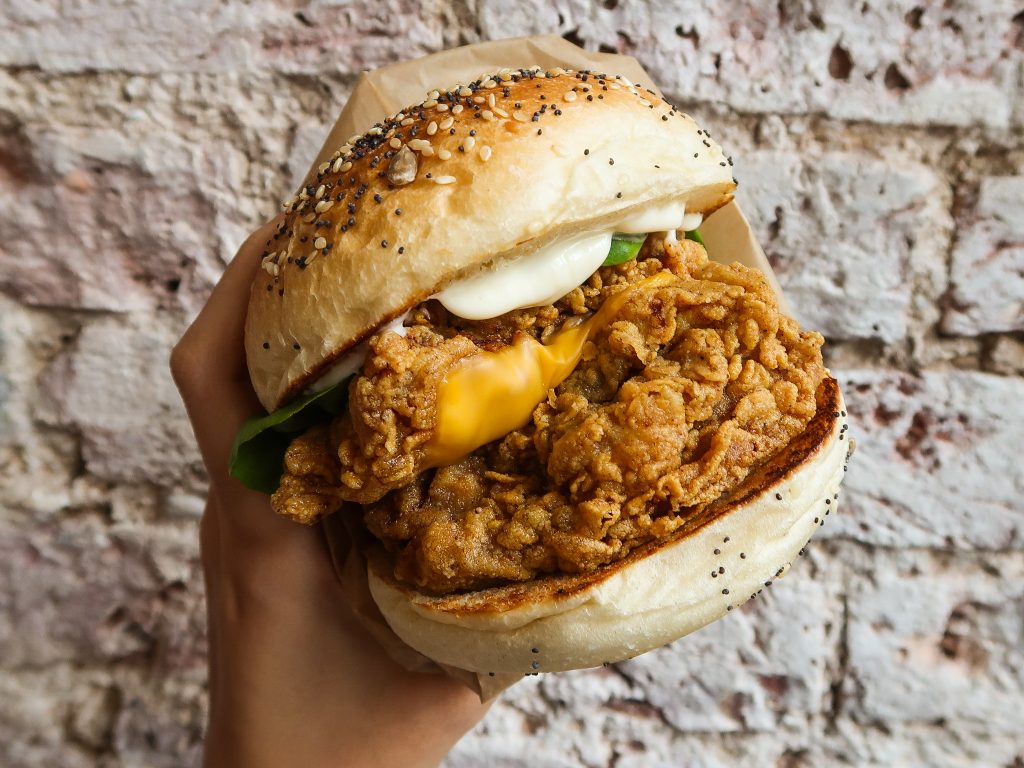 What:Burger UK serve some of the best halal chicken burgers in London. Crispy, juicy with a healthy amount of cheese – just what you look for for Iftar! I have teamed up with Burger UK to give all HGAT Instagram followers 10% off their bill for Iftar; all you need to do is show that you are following HGAT on instagram when paying.
Where: 8 Ferdinand St, London NW1 8ER
When: For the duration of Ramadan.
MANGO TREE
What: If you're feeling particularly fancy this Ramadan and want to treat yourself (and perhaps the other half!) to a nice meal, Mango Tree in Belgravia may be your answer. I have teamed up with them to offer all HGAT readers a 10% discount off their food bill during the month of Ramadan. Please  quote MThalal_girl when booking for this discount to be applicable.
Where: 46 Grosvenor Pl, Belgravia, London SW1X 7EQ
When: 15th May until 14th June 2018 until 11pm. Booking is required. Please qupte MThalal_girl when booking for this discount to be applicable!
RED IRON
What: As Iftar is so close to sehri in these summer months, you end up eating one or the other most of the time. Why not combine the two and try out Red Iron's BREAK FAST burger complete with hashbrowns, eggs, baked beans, and more. This will be served from 19th May onwards.
Where: 280 High St, Uxbridge UB8 1LQ
When: Will be served from Saturday 19th May for the duration of Ramadan.
Prayer facilities available.
GREAT CHASE
What: The Great Chase has taken the London halal food scene by storm in the last year and they are now offering a £26pp three course Iftar featuring beef croquettes and a lamb shank during Ramadan.
Where:  316 St John St, Clerkenwell, London EC1V 4NT
When: Available from 16th May. Booking is essential.
Prayer facilities available.
TALLI JOE
What: As part of the Curry for Change initiative, Talli Joe will be running a special Iftar meal throughout Ramadan. As fast breaks, you will be given dates and water, followed by a large sharing platter of different dishes (Chicken 21, Kale Chaat, Bohri Chicken etc) and free flowing masala chai. Finish the evening off with their famous black gajar ka halwa. Truffle naan? I'm there!
Where: 152-156 Shaftesbury Ave, London WC2H 8HL
When: From the 15th of May to 14th of June, Monday-Saturday. Booking is required!
BOONDOCKS
What: Treat yourself after a long day of fasting with an American Iftar at Boondocks.  Each ticket will include starters, a main, side, dessert, and a drink, all for £21.00
Where: 205 City Rd, Hoxton, London EC1V 1JN
When: from Tuesday 15th May until Thursday 14th June, 20:30-22:30
Prayer facilities available.
BRIOCHE BURGER
What: Brioche Burger have always served up a tasty brunch menu (think: fluffy pancakes!) that they'll now be serving for sehri until 1:30am.
Where: 154 Hoe St, Walthamstow, London E17 4QH
When: This will be running on Friday and Saturday throughout Ramadan until 1:30am.
Prayer facilities available.
DISHOOM
What: Every year, Dishoom throws a special Iftar celebration for everyone with part of the proceeds going to charity. The proceeds from the ticket sales will be going to the Akshaya Patra charity which serves school lunches to over 1.7 million children in India. Charity and good food? Count me in! If you are unable to make it to the event, the restaurant will be giving out dates and nimbu pani to any fasting diners at their restaurant just before iftar.
Where: West Handyside Canopy in King's Cross
When: 30th May from 8-11pm
Purchase your tickets here.
Prayer facilities available.
RAMADAN TENT PROJECT
What: One of the main components of Ramadan is giving charity and helping those in need, so why not attend The Ramadan Tent Project one evening this month. Both the homeless and public are invited to break fast together, as well as helping individuals rebuild their confidence and social connections
Where: Malet Street Gardens, Bloomsbury, WC1E 6DP
When: Every night during Ramadan
For more information, click here.
Prayer facilities available.
MOTU INDIAN
What: From the geniuses behind Gymkhana and Hoppers, Motu Indian have joined forces with Deliveroo to deliver Iftar across London. You can opt for their £20 feast which includes nihari, pilau, naan, raita, dahl, annnd samosa chaat – perfect for when you're missing mum's cooking!
Where: Various locations across London.
When: Throughout the month of Ramadan.
For more information and to see if they deliver to you, click here. 
CAFE LOREN
What: A popular Middle Eastern cafe located in the heart of Camden Market, Cafe Loren specialises in several types of shakshukas. They will be staying open until 11pm so that those who are fasting don't miss out!
Where: 5-6, The Stables Market, Chalk Farm Rd, Camden Town, London NW1 8AH
When: Everyday until 11pm for the month of Ramadan.
ABD EL WAHAB
What: For £35 per person, Abd El Wahab, one of the newest Lebanese establishments to open in London, is offering a set iftar menu featuring the likes of soups, shish taouks, and exotic desserts.
Where: 3 Pont Street, London SW1X 9EL
When: Throughout the month of Ramadan, 8pm-12am – booking is essential.
GUANABANA
What: Roast for Ramadan! Guanabana, one of London's favourite halal Caribbean joints, have started serving their popular Sunday roasts every day during Ramadan. You can opt for either jerk chicken or roast beef served with a delicious jerk gravy and crisp potatoes.
Where: 85 Kentish Town Rd, London NW1 8NY
When: Everyday through the month of Ramadan, until 10pm.
ETLES UHYGHUR
What: This restaurant is a tiny little gem located in Walthamstow. You can expect delicious dumplings, lamb cumin skewers, and fantastic noodles. They are offering a 10% discount for diners in a group of 4 or more for Iftar, plus later opening hours! 
Where: 235 Hoe St, Walthamstow, London E17 9PP
When: Throughout the month of Ramadan, until 10:30pm
And there you have it, a guide to Iftar in London 2018! I will be adding more restaurants to this list as Ramadan continues – if I have missed any out, do let me know!
Also, do be sure to check out my Instagram for weekly giveaways during Ramadan!
Previous Post
Next Post