Kadiris
Wedding planning. You either dislike it or you absolutely hate it – I have yet to come across someone who has loved it. Boys, well we know their stance on it, and girls – for those of you who love it, please tell me your secret. I knew wedding planning during my final and graduating year of uni, whilst running a food blog, was a little ambitious. In actual fact, it has been just downright awful. Well except the food tasting that is.
Food tasting must be my favourite part. It's like a series of mini feasts of all sorts of different foods. An excuse to eat unhealthy food when you're supposed to be on a wedding diet. And don't even get me started on cake tasting!
Having visited the Kadiris stall at the Asiana bridal show, we decided to give them a try for our registry lunch. Kadiris is not just a catering company but also has a restaurant situated in sunny Willesden Green so  any foods featured below will definitely be available on the restaurant menu!
Lamb Sliders
I am Halal Girl; a real halal burger enthusiast so when I can access burgers at my wedding, I'm all in. These weren't the usual beef burgers but lamb instead which made an interesting change and they absolutely yummy!
Chicken 65
Chicken tenders fried to a slight crisp with a spicy kick. These bite size goodies were delicious.
Hara Bara Kebab

Vegetarian kebabs made with spinach,potatoes and beans. This was my least favourite out of the bunch because firstly, I am a bit of a carnivore, and secondly, it lacked flavour.
Paneer Tikka

I love me some paneer tikka. Big, squidgy cubes of cottage cheese smothered in a generous amount of sweet and spicy sauce that glazed the paneer, and served with thick cuts of peppers. seeing as no one else wanted this, I took the honour upon myself of finishing the dish!
Aloo papri chaat

You can't go wrong with some good ol' papri chaat. Soft chick peas smothered in coriander chutney, topped with cooling yoghurt and crispy puris! There was an element of sweetness from the ambli which balanced out the spice from the green chutney.
Prawn Tempura
Small, plump shrimp dipped in batter and then fried. Slightly too greasy for my own liking but these little bites burst with flavour.
Steak and Cucumber
Mini lamb steaks that were so tender and complemented the crunchy and cold cucumbers well.
Masala Chips

The chips were too fat and as a result the masala taste was overpowered by the potato.
Lamb Biryani

Hot pot of biryani came to the table with chunks of lamb underneath the yellow and white rice. It was then topped with sprinkles of saffron. The masala itself was great and tasted authentic however the lamb was a bit fatty.
Chicken Tikka Masala

Upon your first bite, you are hit by the sudden sweetness of the curry. This was definitely not the usual type of chicken tikka that I'm familiar with but I surprisingly enjoyed the sweet after taste. However I seemed to be in the minority who actually liked the dish; the others found it too sweet.
Butter Chicken

Instead of the usual creamy buttery sauce, the sauce was drier with a lot more masala. Although it was tasty, I think I prefer the former.
Chicken Korma

A standard chicken curry that didn't stand out from the rest of the curries they had provided. It was just okay.
Spicy Mutton Gosht

I personally found this to be the best curry out of the bunch. It wasn't mild but had a spicy after taste, although not overbearing.
A hot, fluffy lump of red velvet cake arrived with melting chocolate chips and drizzles of cream cheese. In terms of serving this as dessert canapés, it wouldn't have worked as it was a far too large portion for one individual however if you're in the restaurant, this is a definite order.
All the goodness of a banoffee pie smushed into a wonderful jar. Crunchy graham biscuit later, topped with sweet banana cream, delicious toffee sauce, even more cream annnnnd chocolate covered popping candy (amazing!). Every bite was a spoonful of heaven; well the spoonfuls that I managed to scrape out from the tiny jar.
I'm not really a fan of Indian desserts; I think probably due to every wedding having the same choices: gulab jamun, ras malai, kulfi etc. So these little balls of sugar and syrup were unfortunately not my cup of tea and were slightly too sweet.
This was a decent take on the classic dessert but sadly, didn't really stand out from the other desserts. The ice cream they served could have also been different; maybe a creamier choice would have fared better.
Creme brûlée
Creme brûlée is one of my all time favourites. Sugar upon sugar, what's there not to love especially that crunchy layer on top – it gets me every time. So you can imagine my delight when I was able to crack the brûlée with my spoon but the cream inside needed more vanilla.
Overall, we had enjoyed what they had served us. The presentation was extraordinary, maybe slightly fiddly with some dishes, but the staff were accommodating to our requests and were willing to make changes. With regards to them as a catering company, expect out of the norm. As a restaurant, it is definitely worth a visit. The food reminded me almost of my mums cooking; homely, warm and comforting.
As for using them for my registry lunch, they were given the go ahead instantly – they won me at the mini burgers!
Halal status verified by the restaurant and Muslim owners. 
Address: 26 High Rd, London NW10 2QD
Telephone: 020 8459 0936
Website: http://www.kadiris.com/
Nearest Parking: Available on side streets
Closest Station: Dollis Hill or Kilburn underground stations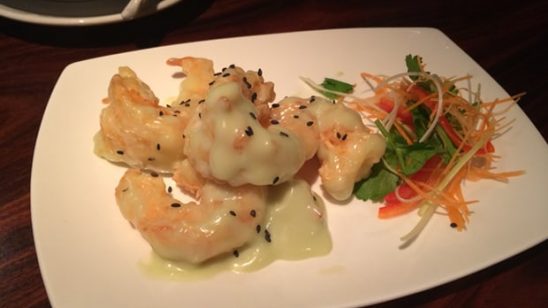 Previous Post
Next Post