Le Chef Masgouf
Do you guys ever have that one restaurant which you can just revisit over and over again without ever getting fed up of it? Let's say revisit about 3 times in the space of a week and still be perfectly okay. Or maybe, you know, make it a weekly ritual and look forward to each visit. Well, that's what has happened to me and a restaurant called Le Chef Masgouf.
It all started the first week we got back from our honeymoon. BW and I had been invited out to lunch with FIL, MIL and one of their couple friends, and we had stumbled upon a tiny Iraqi place just down the road from home. Little did I know that this hole in the wall would dish out some of the best chops I've eaten.
The very first time we visited, we had ordered an absolute feast with lamb shanks, a variety of dips and starters, and several meats. However, because of my great intellect, I ended up destroying my SD card and lost allllll my photos. How sad!
Anyways, let's get to the exciting part.
So I thought I would start with the best because this is what brings us back every single week. Small but deliciously meaty lamb chops that have been chargrilled so perfectly that when you take a bite, the meat instantly pulls away from the bone, and bursts with juices and melted fat. The flavour of the meat is very simple but it works, especially when paired with the crusty charcoaly char on the bones. Beautiful!
Our usual order at Masgouf is two plates of these succulent chops but sometimes, just sometimes, do we like to be a little different and leave our comfort zone, especially when we have guests.
A creamy hummus arrived with a splash of oil and sprinkles of chick peas. Although good, it was very much the usual hummus you order from any Iranian/Lebanese restaurant.
An aubergine based dip which is also known as baba ganoush. It consists of baked and pureed aubergine that has been mixed in with seasame oil and tahini to give it a slightly lumpy texture.
A creamy yoghurt sauce infused with garlic.
Again like the chops, these tiny wings have been chargrilled so that the skin has a nice crunch when you take a bite. The chicken was really hot and tender on the inside.
Four thick and fried slices of salty halloumi cheese. The cheese had been cooked well but I only managed a few bites as I generally find halloumi a little too salty to enjoy.
Heavily spiced minced lamb meat mixed in with coriander and chopped onions, covered in breadcrumbs/wheat, and deep fried to a delicious, crispy, meaty goodness. A perfect accompaniment to dunk into the hummus.
We ordered both bourag versions in which came a plate of cripsy filo pastry wrapped up into a tight cylinder and either contained meat or cheese. The meat bourags were very good and consisted of minced lamb mixed in with various herbs and finely chopped onions. The cheese bourag contained, what I think is, crumbled cottage cheese and was rich in cheesy goodness!
A chunky salad of tomato slices and tangy onion chunks.
A refreshing mixture of parsley, tomatoes, and a small amount of bulgar wheat.
A large plate of fluffy rice and two long minced lamb kebabs. The kebab had been expertly grilled so that all the oils were drained out yet there was still a good amount of juiciness and spice in every bite. It wasn't as amazing as Alounak but definitely a good contender.
A dish that consisted of both a lamb kebab and a skewer of tikka chicken. The tikka chicken is boneless pieces of chicken that had been marinated in yoghurt and garlic so that the meat became nice and juicy
Ordered from the Iraqi specialties section, we thought this would be a vegetarian stew. Well, it was a stew with vegetables in it but also huge chunks of lamb mixed in. A hearty dish with a slight tomato tang but I found the lamb chunk to not have enough seasoning to cover up the "meatiness".
Other mentionable dishes are the kouzi, fatoush salad, sausage, and the patata chap. The kouzi is what every local goes here for; I personally found it way too meaty but its huge lamb knuckles placed upon a platter of rice mixed with raisins and pine nuts. The sausage is exactly like sujuk that is seen in many Turkish restaurants and had that similar garlic undertone to it – this is another one of BW's favourite dishes. The patata chap is a ball of potato that contains minced lamb and is then deep fried.
They end the meal by giving you a complimentary milk dessert, which has a very similar texture to faloodah minus the rose syrup, and is further topped with crushed pistachios. This is my absolute favourite and I become distraught when they don't have any left!
Masgouf is a breath of fresh air from all those similar Lebanese restaurants (we really don't need about 5-7 Maroush all on one street!) that are seen all over Edgware road. Away from all the busyness and noisiness of Edgware Road, Masgouf is situated just steps away on Connaught Street which is clean, pretty, and quaint. Although most of the dishes are quite similar to other Middle Eastern restaurants and are in no way out of the ordinary, the lamb chops really are the best!
I'm afraid I won't be able to give you a final total because of the lost SD incident (oops) but I will say that the above meal was more than enough for six people (we ordered two of some of the starters) and it worked out to approximately £25 each, including service.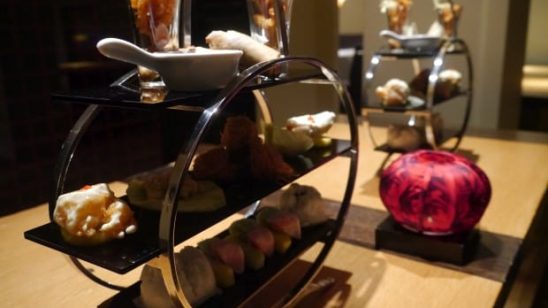 Previous Post
Next Post