Loco Mexicano
BW and I (well me) decided to celebrate valentines day over two days. He would take over the Friday celebrations while I had to organise Saturday night. Naturally, his evening went great. He decided to cook dinner at home for the both of us and delegated me the role of making a mouth watering… salad. Yes I was given the salad to make. Obviously his dish turned out amazing and mine, well, it remained untouched for the rest of the evening.
Saturday night came and it was my turn to shine. Due to my lack of cooking skills, I decided we would go out to eat and now was the task of choosing somewhere quiet, intimate and romantic. Instead I chose Loco Mexicano – a loud, fun, Mexican restaurant!!!
There's two floors to the restaurant. The basement has a live Mexican band, parties with maracas and sombreros, salsa-ing and a bar, and the upstairs is a lot more calmer with no live band, dancing etc.
There was no need to book and we waltzed straight in. The upper floor was absolutely packed and we got lucky that it was just the two of us! However, just as we got comfortable, we were asked to move so that they could make our table for three – this could have been possible before we had sat down.
We ordered a bunch of dishes, some mock tails and sat ready in anticipation. After my last Mexican review, I was quietly praying that this would be, at the least, decent.
Virgin Piña Colada
Exotic Smoothie

Classic Nachos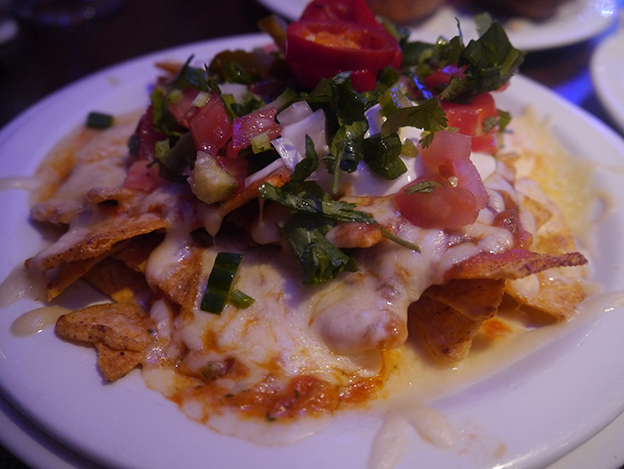 Crunchy tortilla chips smothered in stringy, melted cheese and topped with dollops of sour cream, salsa, guacamole and Pico de gallo. It was a fail safe option and I couldn't have enough of it !
Buffalo Wings

My version and Loco Mexicano's version are completely different. Whilst I'm use to the spicy kick of American buffalo sauce, Loco Mexicano do theirs instead with sweet, tangy barbecue sauce which was a shock to my taste buds. It was both our least favourite dish of the night as it was sickly sweet and the chicken was not marinated in it, rather it was just dipped in the sauce.
Loaded Potato Skins with Chilli and Sour Cream

These potato skins came piled high with beef mince infused with onions and spices in which you put a dollop of sour cream. The dish could have done with a bit more flavour but was otherwise tasty
Spicy Beef Tacos

Sadly, these weren't the soft tacos that are my favourite but instead the hard, corn tortillas. The spicy beef concoction were shreds of beef mixed with a tomato based sauce and peppers. From what I managed to eat of it (BW enjoyed the dish so much he polished it clean!), It tasted good, especially with spoonfuls of sour cream, guacamole and Pico de gallo, and topped with handfuls of shredded cheddar.
Sliced Ribeye Fajitas

The ribeye came on a hot plate to the table mixed with red and yellow peppers, and onions. By this point, my stomach could only handle a little bit more so I could only manage one fajita topped with ALL the goodies. The meat was soft and tender with the contrasting slight crunch from the vegetables.
The service was friendly and efficient except the time they forgot BW's drink. The food arrived exceptionally fast and tasted good for a Mexican restaurant in which the beef, chicken and lamb is halal. It's certainly a kick start for the London food scene to start picking up on some good halal Mexican.
The total bill amounted to £45 between two people which is great considering the location, the taste and the amount of food we ordered!
As for a valentines day date, it made a refreshing change to the usual types of restaurants we visit – we weren't required to be on our best behaviour but instead, we rolled up our sleeves and dug in. Both levels of the restaurant serve the same food and are equally fun ! It's great for a fun date, family dinners and birthday parties. BW and myself definitely enjoyed our meal (in terms of food, service and atmosphere) surprisingly enough to want to visit this place again just for a casual Saturday night!
Halal status on beef, chicken and lamb verified by the restaurant
Address: 107 Westbourne Grove, Bayswater, London
Telephone: 020 7243 1499
Nearest Station: Queensway or Bayswater station
Parking: Free parking in surrounding areas after 6:30pm or pay and display
Previous Post
Next Post