London's Best Doughnuts
About the Author: Eutonne runs one of our favourite halal instagram pages: @etfoodvoyage. She's always creating the most mouth-watering dishes, finding the best desserts and rounding up secret halal gems around the city. You can visit her website here: https://www.etfoodvoyage.com/
---
It is impossible to not love doughnuts. No matter for breakfast, dessert, or snack, these little fluffy balls of joy are just an irresistible treat. Whether you prefer glazed doughnut rings or pillowy stuffed doughnuts with the sugary coating, or perhaps you're looking for unique flavours or a different doughnut base, London has a galore of options for you to choose from. Check out our favourite picks for the best doughnuts in London in this article!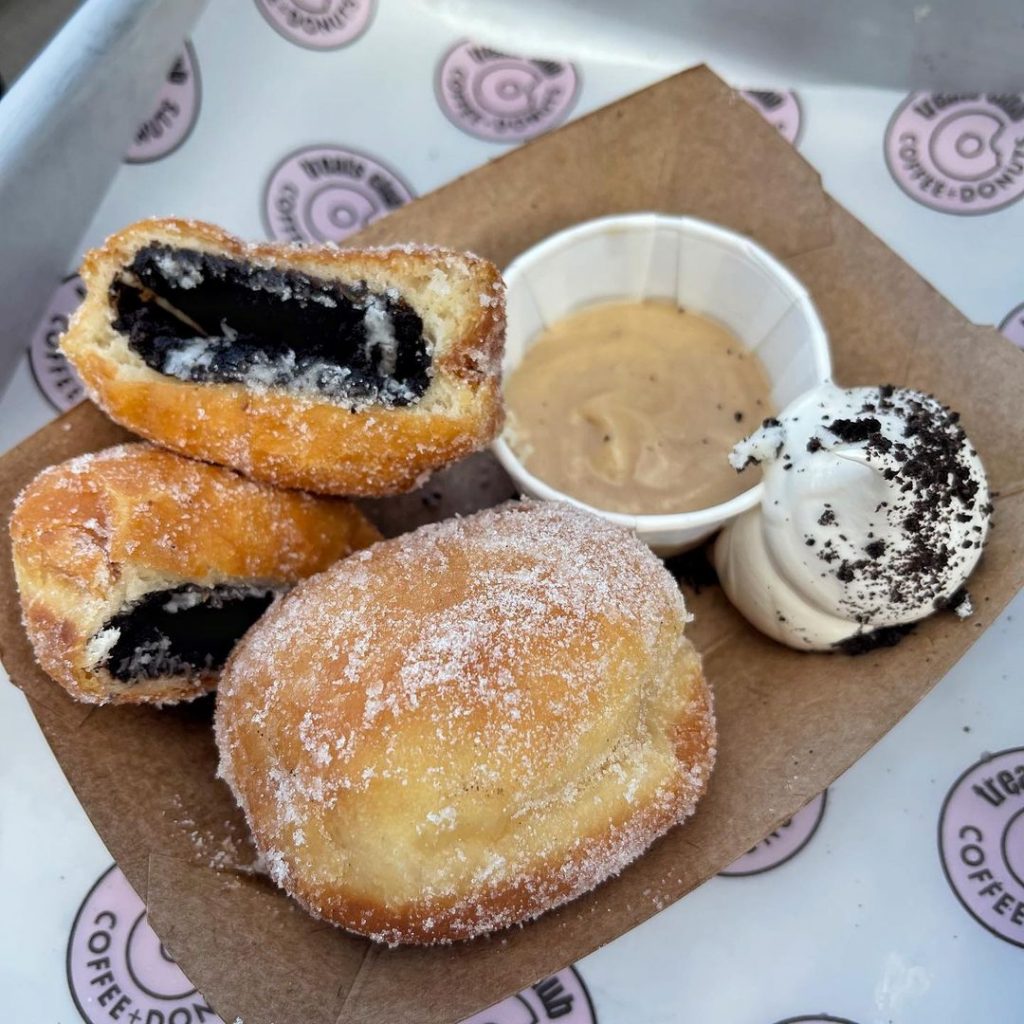 The Treats Club, Selfridges
The Treats Club is a must for any doughnut lover. Started out in Hackney, The Treats Club has been wining hearts of all of East London and beyond. Expect freshly made hot doughnuts, ultra crispy on the outside and perfectly fluffy & pillowy on the inside. The menu features all sort of decadent and indulging flavours and, as an extra bonus, their marshmallow is halal!
Location: Xmas Pop Up at Selfridges
Website: https://thetreatsclub.com/
Bread Ahead Bakery, Borough Market and Carnaby
The Borough Market staple, Bread Ahead Bakery, has always been known to offer one of the best doughnuts in London. They even had a pop-up spot at the Expo2020 in Dubai! Their caramel & honeycomb doughnuts are a real treat, or the vanilla custard doughnuts are also a popular pick. Keep an eye on their socials for any special flavours as well.
Location: Borough Market / Carnaby
Website: https://www.breadahead.com/
Santa Nata, Covent Garden
Santa Nata, no doubt, serves the best pastel de nata in London. But did you know that they have recently launched pasteis de nata doughnuts as well? Only for the weekends (Friday-Sunday), you can get your hands on these absolutely delicious doughnuts in store. Visit early before they sell out!
Location: Covent Garden
Website: https://santanata.com/
Mamasons Dirty Ice Cream, Various Locations
You can count on Mamasons Dirty Ice Cream to always deliver the best of ube treats, including Ube Doughnuts! The doughnuts are available across all three branches and you can find other flavours as well including the Leche Flan and Milo.
Location: Kentish Town / Chinatown / Westfield White City
Website: https://www.dirtyicecream.co.uk/
Matcha Sundays
I love all doughnuts, but if I had to pick, mochi doughnuts might just have an extra edge! Matcha Sundays specialises in traditional Japanese snacks and makes some fantastic mochi. Choose from matcha or chocolate mochi doughnut base, and then pick between matcha or hojicha icing for your order. Freshly handmade per order and available for nationwide delivery.
Order online: https://matchasundays.co.uk/
Long Boys, Various Locations
Tired of round-shaped doughnuts (if that's ever possible)? Then why not go for these long-shaped finger doughnuts from Long Boys! Shape aside, these doughnuts are lighter to taste as they make their doughnuts with a brioche base, emphasises on using fresh ingredients, and reducing sugar where possible without compromising on flavours.
Location: Covent Garden / Wembley / Kings Cross / Camden
Website: https://longboys.co.uk/
Crosstown Doughnuts, Various Locations
Crosstown Doughnuts offers a galore of flavours for their award-wining sourdough doughnuts. You can pick up these doughnuts from various locations across London as well as the likes of Wholefoods, Ocado Zoom, Farmdrop, etc. They have also launched in Cambridge and offer nationwide delivery services.
Location: Various Locations
Website: https://www.crosstown.co.uk/
Doughnut Time, Various Locations
The Australian sensation has set quite a frenzy when they first arrived in London and have continued to be a popular spot for a doughnut fix. Doughnut Time now has plenty of branches across London, serving up their gigantic and indulgent doughnuts. As if their regular doughnuts aren't huge enough, they also have XXL doughnut creations.
Location: Various Locations
Website: https://doughnuttime.co.uk/
Happy Donuts, Notting Hill
Doughnuts make you happy, and that's exactly what Happy Donuts deliver! Situated on the famous Portobello Market, Happy Donuts have everything you can imagine on the menu to satisfy your cravings. From the likes of Ferraro Rocher, Crème Brulee, Banoffee, and many more flavours, as well as ring donuts and cronuts – it would be hard not to be happy at Happy Donuts!
Location: Notting Hill
Website: http://www.happydonuts.co.uk/
St. John Bakery, Maltby St Market
The flavours may be simple, but St. John Bakery is here to show how it's done with these classic flavours with their top-notch doughnuts. Their strawberry jam classic is no doubt a local favourite and are widely recognised as London's best jam doughnuts. Keep an eye on any seasonal flavours as well including peach, apple compote, rhubarb, apricot, raspberry, etc.!
Location: Maltby Street Market (weekends only)
Website: https://stjohnrestaurant.com/a/restaurants/bakery-arch
Rinkoff Bakery, Stepney Green and Whitechapel
You know what's a combo that can do no wrong? Croissant and doughnuts. We know the creation of cronus is synonymous with the name Dominique Ansel. But before Dominique Ansel's short stint in London, there is Rinkoff Bakery who's been serving the London market with crodough before the American name crossed the pond. You have all the golden fried glory of a doughnut but with the flaky laminated texture of a croissant, filled with decadent stuffing. Your guilty pleasure couldn't get better than this!
Location: Stepney Green / Whitechapel
Website: https://www.rinkoffbakery.co.uk/
Previous Post