Mamak Don
Although there are plenty of halal restaurants to be discovered, I always find myself going back to the same old places. These establishments are ones that I know I can rely on for having a good meal, visit after visit. Sadly, this list of mine has slowly dwindled down from numerous restaurants to perhaps three, and after a disastrous meal at one of my favourite Malaysians, Satay House, it now stands at two. I guess I would have to now find a new Malaysian to add to the list so I decided to check out Mamak Don.
Mamak Don is a relatively new restaurant located in Camden. We decided to visit with a couple of friends during Ramadan and upon walking in, the place was heaving with people waiting for Iftar. The service was a little scattered, which I'll put on the Ramadan rush, but the food arrived speedily!
The Food at Mamak Don
Skewers of chargrilled chicken that was served with an assortment of fruit and vegetables, plus in-house satay sauce. Unfortunately, this was not the best satay I have had with both the chicken and the sauce falling flat in flavour.
Tofu that had been dipped in batter, before being fried, halved, and stuffed with vegetables. This was finished off with the house satay sauce. Considering tofu is generally bland, the house satay sauce (which tasted better with the tofu as opposed to the satay) really added some depth to this flavourless protein and the crispy outer layer added a nice textural change to the squishy inside. 
Chicken marinated in a turmeric, lemongrass, coconut, and cumin, before being placed on a hot grill to cook. The chicken was incredibly succulent however, the skin was very, very soft and the flavours of the marinade were not strong enough to penetrate the meat.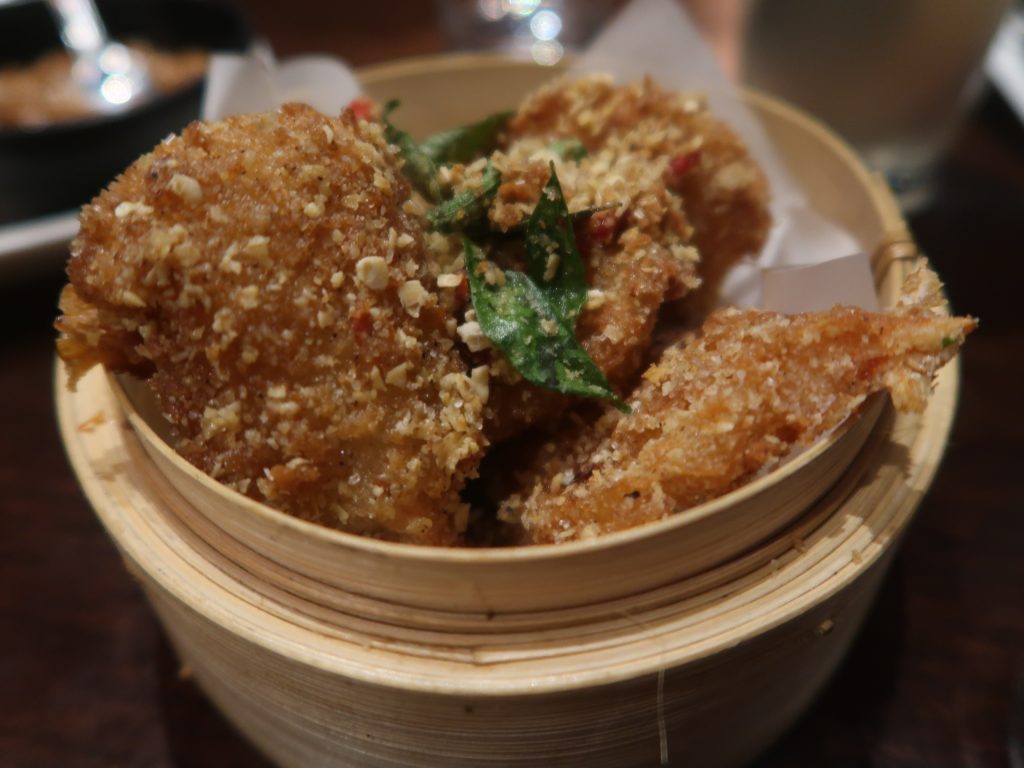 Butterfly prawns that had been coated in a chilli, oats, curry leaves, and butter. This was our favourite starter of the night, and perhaps, the best dish out of them all. The oats had been fried with garlic, chillies, and curry leaves to give a fragrant cereal that coated the deep-fried prawns. Each bite consisted of a delicious sweet, savoury, and crunchy, aromatic tone.
The roti is freshly made to order, however I like my rotis like I like my paratha, buttery with numerous flaky layers. Mamak Don's was quite flat and wasn't as soft as I had anticipated it to have been. The accompanying chicken curry was great; heavy on the chilli but not too overbearing, and a good richness from the coconut milk.
Hunks of beef that had been slow cooked in a coconut, chilli, and lemongrass sauce. The beef was ridiculously soft and mouth-melting, however I felt that the accompanying rendang curry sauce was quite thin and lacked any immense flavour from all the aromatic spices supposedly used.
Prawns that had been tossed with a sambal sauce. Unfortunately, despite the prawns being well cooked, the sauce was extremely fish and too heavy on the shrimp paste to enjoy.
For those of you watching the waistline, I suggest just scrolling to the end of this post. The dish ayam butter cheese is exactly what it says it is, fried chicken in a butter and cheese sauce. I could feel every bite lifting my cholesterol higher and higher, but it was just so good. The butter cheese sauce was incredibly creamy with a heavy note of garlic, and it appeared to be more runny than I had expected, but still good nevertheless. 
Your ordinary run-of-the-mill noodles with chicken.
The total bill amounted to £92.05 for four people, including drinks and service, so around £23 each. Some of the dishes were great, most notably the curried oat flake prawns and the ayam butter cheese, whilst other dishes weren't so great like the prawn sambal and the roti. Mamak Don sadly didn't make it on to my list, but it was a decent Malaysian to have when you're in the area.
For Mamak Don's Facebook page, please click here.
For other Malaysian restaurants in London, see below:
Previous Post
Next Post