Ma'Plucker
Every once in a while, we all go through a rough patch. Nothing seems to be going right, and you just can't catch a break. It happens to the best of us, including my dearest and littlest husband. Maybe it's just me, but comfort food seems to do the trick in cheering everyone up, plus I really needed to write a blog post, so I took him along for some good ol' friiiied chicken.
Ma'Plucker is a fairly new restaurant that opened up in Soho, serving three styles of chicken plus a variety of sides and mini-doughnuts (omg). We did go when they first opened, however silly Halal Girl lost her phone and alas, no write up. Oh well, it meant we got to visit again!
Cute little glass bottles arrived filled with chipotle chilli sauce, kansas bbq, herb dressing, chicken skin gravy, and maple chilli glaze. A good selection especially for dunking your chips in or when pairing with the chicken wings. The best of the bunch was the maple chilli glaze – sweet, spicy, and everything in between – and my least favourite was the chicken skin gravy. It seemed to be quite flat and needed some more fat to add extra body to the sauce.
I was a little disheartened to see that these were double-jointed, but was pleasantly surprised to find that they had been fried until a lovely golden colour and had a nice crunch to them. As enjoyable as these were on their own, they just needed a little oomph in terms of flavour but you can order them as a main with sauce on the side, so keep that in mind for when you visit.
BW decided to be a little different and go for exactly the same thing he got last time. Oh, and the same maple chilli glaze sauce too. The maple waffle had a good balance so that it had enough sweetness to offset the savoury chicken without being overbearing. The chicken breasts were enjoyable with a dark brown crispy layer that had been spiked with various spices, but again could have done with some more flavour. The maple chili glaze finished off the dish nicely.
Thankfully, I opted for the smallest (150g) portion of the pulled chicken, because check out this behemoth of a sandwich – goodness. A generous helping of slow-cooked  pulled chicken came sandwiched between a squidy brioche bun, with a bottle of chicken skin gravy on the side. The chicken was mouth-meltingly soft and had been cooked with a sweet and smoky barbeque sauce, but after a while, it began to get a little dry and monotonous, even with the accompanying sauces. It needed something sharp to cut through the sweetness and help add some moisture – perhaps I'll opt for the chipotle or herb dressing for this next time.
Ordinary fries.
I don't really know how else to explain this to you guys other than deep-fried mac and cheese a.k.a a cholesterol bomb. As promising as it looked and sounded, I was disappointed to see that the macaroni did not ooze out when I cut into it and it had become a little dry because it had been deep-fried. A cool idea but perhaps needs some improvement in the execution.
The total bill amounted to £31.50 for two, including drinks, so approx £16 each. This wasn't bad at all considering the amount we had ordered, plus we had no space at all for dessert! I wasn't as blown away by the food as I had expected to have been, but it's a decent option should you be in the area and in the mood for some comfort food.
Disclaimer: I was invited to review this restaurant
Previous Post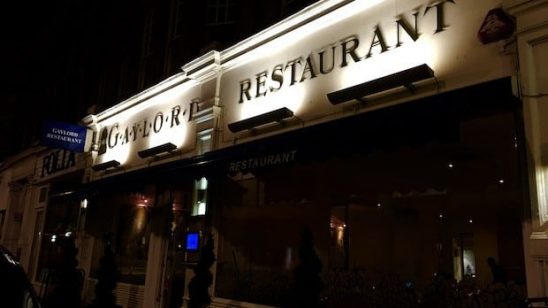 Next Post