MeLove Sushi – CLOSED
For a long time I believed that "sushi" meant fish, raw fish!!!! But recently I learned that it has joyous connotations.  To me, sushi is love love love!  When I feel down I always turn to the delights of one of my favourite Japanese haunts from my youth.
Me Love never fails to send a warm tingling sensation of sweet satisfaction with each dish.  From mouth-watering succulent beef to crispy sweet shrimp tempura, this isn't just all about sushi.
The simple yet chic décor provides a warm and private dining experience while the ambience is perfect for a catch up with friends or even a special dinner with that special person.
You have a choice of two locations: Edgware and Swiss Cottage. On a lazy night delivery service is just what you need, but this option is sadly only available to those who live nearby. 🙁
I dolled up and headed straight for Me Love in search of sushi love!
Beef Kushiyaki and Chicken & Pineapple Kushiyaki
To be honest, I am not a chicken fan, however the chicken and pineapple kushiyaki definitely blew all negative thoughts out of mind.  I could not help but demolish the sweet and tender chicken sprinkled with crispy pineapple chunks.  I knew the beef kushiyaki would not fail me, but after a single bite – that was dripping in a hot and delicious teriyaki sauce, I was in heaven!!  Mmmm…this dish is definitely one of my favourite dishes in the menu.
Chicken Katsu Curry with Sticky Rice, a side salad and sesame dressing.
The chicken, crispy to the bite was drowned in a sea of hot Japanese curry sauce.  For some it was tangy and tasty but it was not enough to tickle my taste buds and order it again.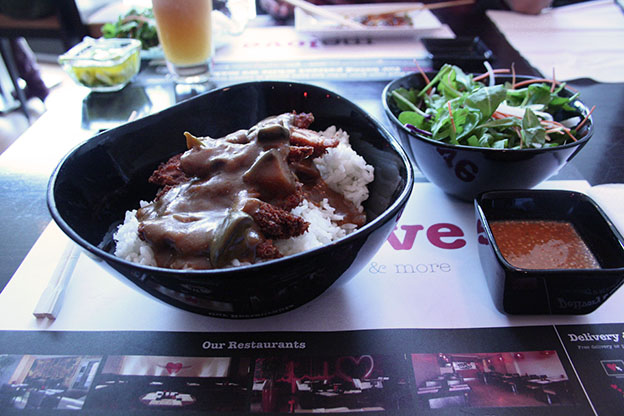 Spicy Beef & Garlic with Sticky Rice.
I made sure I left my favourite to last, the spicy beef and garlic dish served with sticky rice and extra garlic served on the side. This is why I keep coming back here. The beef was juicy, flavourful, an explosion and then it just melts away in the mouth. Yum! you could just sit here all day feasting on this amazing dish!
Although it is not pictured here, I recommend ordering the monstrous shrimp tempura as these are to die for.
The meal totalled to £37.50 for two with plenty of leftovers so if you decide to pass by, share.
The two downsides I have to Me Love is that the service was fast however it lagged at times with the restaurant floor being completely empty at one point and that it serves alcohol.
If you are looking for a casual yet chic night out for some delicious Japanese food, then MeLove is the place for you.
Halal status has been verified by the restaurant except the chicken gyoza and the duck which is not halal.
Address:
Swiss Cottage: 100 Avenue Road, Swiss Cottage, London, NW3 3HF
Edgware: 307 Hale Lane, Edgware, Middlesex, HA8 7AX
Telephone:08448 55 22 55
Website: www.melovesushi.com
Nearest Station:
Swiss Cottage: Swiss Cottage station
Edgware: Edgware Station
Parking:
Swiss Cottage: Free parking around the restaurant after 6:30pm otherwise pay and display
Edgware: Free Parking outside and around the restaurant after 6:30pm otherwise pay and display
Previous Post