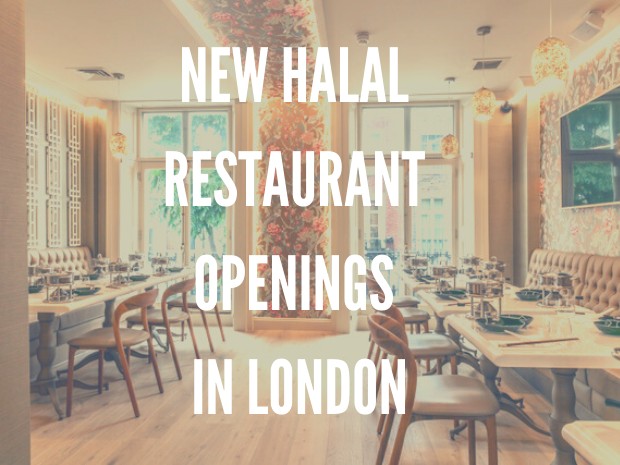 New Halal Restaurants in London
Every year, hundreds of restaurants open up across the capital; from Uyghur to Nigerian cuisines, London has a home for them all. Out of all of these openings, only a handful are halal and some are so under the radar that finding them is near impossible! So, we've made life a little easier for you and done the research. Here is a list of all the new halal restaurants in London. Be sure to bookmark this page as it will be updated continuously.
Have we missed a new opening that you think deserves to be on this list? Shoot an email to info@halalgirlabouttown.com and we will feature them!
PLEASE DOUBLE CHECK THE HALAL STATUS OF ANY RESTAURANT ON THIS LIST BEFORE YOU VISIT AS THE SUPPLIERS AND COOKING METHODS MAY HAVE CHANGED SINCE THIS POST WAS PUBLISHED.
---
JUNE '21
Well, well, well, with restaurants reopening up again, it only makes sense to show you what new restaurants have opened up in the last few months, in case you missed a few! Have to say, it's good to be back! 
PLATTER LONDON, KENSINGTON
Remember Jardin du Jasmin in Great Portland Street? Unfortunately, they had to close down but in doing so, have released a few food concepts under their company: Platter. They're still tweaking a few things here and there but you can still try two of their concepts – Orphalese who offer Lebanese food and Rolling Cloves specialise in Middle Eastern food bowls.
Halal Status: All meats served are halal.
Address: 1 Holland St, London, W8 4NA
Website: https://www.platterlondon.co.uk/
PANADERA BAKERY, KENTISH TOWN
As if the Maginahawa group are not busy enough, they've just added a new addition to their ever growing portfolio on Kentish Town Road – Panadera Bakery. This Filipino bakery sells loaded sandos (think corned beef hash sando and an egg one too), Spanish bread, calamansi tarts and fantastic drinks too. Just be sure to get there early as they tend to sell out quite quickly.
Halal Status: All meats served are halal
Address: 83 Kentish Town Road, London NW1 8NY
Website: https://www.panaderabakery.com/menu 
UZUMAKI, ST PAUL'S
Are you an anime fan or perhaps just fancy some ramen? Why not check out the new Uzumaki restaurant next to St Paul's. This tiny little place is perhaps the most colourful on the street and has a menu that is packed with ramens (including a build your own), sushi and lots of bubble teas.
Halal Status: Halal items clearly marked on the menu
Address: 6 Holborn Viaduct, London, EC1A 2AE
Website: https://www.uzumakilondon.com/menu
WING WING, CHARING CROSS
Wing Wing have just opened up their new branch in Chinatown and you can expect to find the usual suspects, fried chicken drumstick and wings with a choice of sauce to brush on: hot, soy garlic and liquorice.
Halal Status: All chicken served here is halal. 
Address: 47-49 Charing Cross Road, West End, WC2H 0AN
Website: http://www.wingwing.co.uk/ 
ADORA PIZZA
Adora pizza opened around August last year and this undercover halal gem has been serving up some of the best halal pizza in London. This isn't your regular deep pan halal chicken tikka pizza, we're talking Neapolitan style pizza with spicy Italian beef salami, beef n'duja, halal mortadella and pancetta too.
Halal status: All meats served are halal 
Address: 62 Kensington High St, London W8 4PE
Website: https://www.adorapizza.com/our-menu 
DARJEELING EXPRESS
Darjeeling made the move from Carnaby to a beautiful spot in Covent Garden last year and during lockdown, opened up a lovely deli to sell small plates like their keema toastie and masala chai. They are now offering thalis for both lunch and dinner so you can have a taster of everything and also their a la carte menu too.
Halal Status: All meats served are halal
Address: 2a Garrick Street, London WC2E 9BH
Website: https://www.darjeeling-express.com/ 
IMAD'S SYRIAN KITCHEN
Imad Alaranab is a Syrian refugee who owned a successful line of restaurants and juice shops in Damascus before his businesses were destroyed by the war. After coming to London in 2015 and working a few jobs here and there, he has finally opened up his restaurant: Imad's Syrian Kitchen. You can find them in Kingly Court in Carnaby serving classics like fattet macdous, falafels and mtafayt bamyeh. 
Halal Status: All meats served are halal. 
Address: Top Floor, Kingly Court, Carnaby St, London W1B 5PW
Website: https://www.imadssyriankitchen.co.uk/menu
---
FEBRUARY
SHAWARMA & MORE, MARYLEBONE
The first thing to pop into our minds when it comes to shawarma is a late night wrap from Cafe Helen on Edgware Road. Let's face it, it is a gooooood shawarma. But if you're looking for something cleaner, especially at lunch, why not check out Shawarma & More on Baker Street. They have rice boxes as well as wraps and a shawarma Caesar salad too!
Halal Status: All meats served here is halal. No pork or alcohol present.
Address: 123 Baker St, Marylebone, London W1U 6RZ
THE HUNGRY COW, WHITECHAPEL
For some reason, the halal food scene in London has exploded with McDonalds and Burger King copies. Whilst some may see this as a step back for halal in London, others are rejoicing as they can finally get their hands on a Big (insert faux brand here), the halal version of a Big Mac! The Hungry Cow is the latest restaurant to join the line up and are serving cheeseburgers from a tiny £1.50.
Halal Status: All meat served here is halal. No pork or alcohol present. 
Website: www.instagram.com/thehungrycowlondon
Address: 111A Commercial Road, Whitechapel, London, E1 1RD
HOPPERS, KINGS CROSS
When Hoppers first opened in a tiny spot in Soho, they blew London away with their Sri Lankan hoppers, karis, and seafood dishes, however the queues were almost 2-hours long. The Marylebone branch came second, fitting into the area aesthetically well and with a bonus reservation system – woohoo. They are now opening up their third spot in King's Cross with bookings!
Halal Status: Lamb and chicken is halal. Pork and alcohol present.
Website: https://www.hopperslondon.com/
Address: Unit 3, 4 Pancras Square, King's Cross, London, N1C 4AG
---
JANUARY
HALO BURGER, SHOREDITCH
An opening fit for Veganuary, Halo Burger is the new vegan burger joint opening up in Shoreditch; their second place after the first in Pop Brixton. But it isn't your typical vegan burger over here, Halo are serving Beyond Meat's "bleeding" burger – a patty that oozes beetroot juice during the cooking (like a normal meat burger). Like Time Out London said, "this is vegan junk food at its junkiest".
Halal Status: No meat served here. Alcohol present.
Website: https://haloburger.co.uk
Address: 105 Great Eastern St, London, EC2A 3JD

RAJ OF ISLINGTON, HOLLOWAY ROAD
Opening up first in Kensington in 2016, Raj of Islington have now acquired a second spot on Holloway Road. The menu will be the same, from their clay oven specialities like the Lucknow murgh tikka and Peshawar Barra Lamb Kebab, to their regional dishes such as the classic Delhi Butter Chicken and the Khyber Pass Raan.
Halal Status: All meat served here is halal. No pork but alcohol present.
Website: https://rajofislington.com/
Address: 359 Holloway Road, London, N7 0RN
PATRI, EALING BROADWAY
Meaning train track in Urdu, it is no surprise that the items on Patri's menu are based on the rail side snacks you would find at the railway stations in India. There is boyfriend chaat here as well as New Delhi pani puri bombs and Galawati shammi kebabs. They have just opened up their third branch in Ealing Broadway.
Halal Status: All meat served here is halal. No pork but alcohol present.
Website: https://patri.co.uk/
Address: 29 Bond Street, Ealing, W5 5AS
BIRD, BRIXTON
Bird were perhaps one of the first halal "gourmet" fried chicken shops to hit the London halal food scene and have been popping up all across London. The fifth shop has just opened up in Brixton where they will be selling their classics like the waffle burger (a fried chicken patty with a waffle bun!) and their fried chicken skillets. Bonus: their fried chicken is made without gluten!
Halal Status: Chicken is halal. Pork and alcohol present.
Website: https://birdrestaurants.com
Address: 34-36 Electric Avenue, London, SW9 8JT
BARAKA, LIVERPOOL STREET
Baraka is a new Antolian restaurant that has found a home in Liverpool Street and are using their open flame Mangal to serve up goods from their all-day menu. From a breakfast of poached eggs with lean topside beef to the classic iskender, this is hearty Turkish cooking at it's finest. The restaurant also boasts a beautiful terrace lined with olive trees making Baraka the perfect halal alfresco option come summer time.
Halal Status: All meat served here is halal. No pork but alcohol present.
Website: https://www.barakarestaurant.co.uk/a-la-carte/
Address: 1 Finsbury Avenue, Unit 4, London EC2M 2PF

---
DECEMBER
TURPAN, BLOOMSBURY
We're actually unsure when exactly this quaint Uyghur restaurant opened up in Bloomsbury, but a good friend, Feroz, who writes for Eater London, pointed me in the right direction! Their menu consists of the classics; da pan ji (big plate chicken), tugur (lamb dumplings), and plenty of hand-pulled noodles. A great option after a visit to the British Museum.
Halal Status: All meat served here is halal. No pork or alcohol present.
Website: turpan.co.uk
Address: 108 Great Russell Street, Bloomsbury, WC1B 3NA
ETLES UYGHUR, FINCHLEY ROAD
You've probably read the name Etles Uyghur 100 times across all of the HGAT platforms, but I just can't resist good food. So you can imagine how I felt when I heard that they had opened up their second branch on Finchley Road – woohoo! They are still serving up their classics like the laghman noodles, lamb skewers, and tugur with black vinegar and chilli oil, but in a larger and more modern environment. Karvon, who were there previously, sadly closed their doors but are looking to open up in Hackney soon.
Halal Status: All meat served here is halal. No pork or alcohol present.
Website: https://www.etles-restaurant.com/
Address: 424 Finchley Rd, Childs Hill, London NW2 2HY
OTHER SIDE FRIED, BRIXTON
With their humongous, killer fried chicken sandwiches filling up your instagram feed, it was only a short time before they opened up a permanent spot in Brixton, where they started! The garlic butter sandwich is akin to eating a chicken kiev between a bun and their honey butter sandwich (without the bacon) is just as good with a delicious touch of smoked honey butter. Be sure to ask them to change gloves when preparing your sandwich as they do serve non-halal products too.
Halal Status: Chicken is halal. Pork and alcohol served.
Website: http://othersidefried.com
Address: 3 Atlantic Road, Brixton, SW9 8HX
MR JI, SOHO
If you follow a gluten-free diet, seeing any fried chicken places on HGAT may make you have a little FOMO. Not to worry, Mr Ji is a Taiwanese fried chicken joint that is HALAL and GLUTEN FREE. Yes, crunchy gluten free fried chicken with a variety of seasonings to dust all over like Korean bbq and tom yum. Just be sure to avoid the bao as this is not gluten free!
Halal Status: All meat served is halal. No pork but alcohol present.
Website: http://mrji.co.uk
Address: 72 Old Compton St, Soho, London W1D 4UN
View this post on Instagram
BARBOUN, SHOREDITCH
Yosma sadly closed their doors on Baker Street last year. Fortunately, the same team have opened up Barboun in Shoreditch. Serving dishes like lamb rump, girolle flatbread with truffle and keysar cheese, and seabass with fermented yoghurt and saffron cream, it would be a crime not to pop in.
Halal Status: Lamb and chicken is halal. No pork but alcohol present.
Website: https://www.barboun.com
Address: 61-67 Great Eastern Street, London, EC2A 3HU
View this post on Instagram
MEI MEI BOROUGH KITCHEN, SOUTHWARK
Working in Southwark and skipped breakfast? Not to worry, there is halal Singaporean stand calling your name. Mei Mei, in the new Borough Market Kitchen, have a breakfast menu that will have you oozing with comfort with the likes of kaya toast (toast with a THICK slab of butter and sweet coconut jam) or poached chicken with rice. If your arteries are managing, opt for the fried chicken with rice instead and make this into breakfast, lunch, and dinner!
Halal Status: Chicken is halal. No pork or alcohol present.
Website: https://www.meimei.uk
Address: Mei Mei, Unit 52, Borough Market Kitchen, Jubilee Place, London, SE1 9AG
---
NOVEMBER
KARAMAY UYGHUR, HACKNEY
Another Uyghur restaurant is hitting London this weekend and is the second branch of their popular outpost in Leicester. You'll be able to order typical Uyghur dishes like big plate chicken and those juicy, mouthwatering lamb skewers, but also deep-fried crispy lamb ribs with chillies and onion, and aromatic duck too. They'll be opening on 23rd November.
The halal: All meats served are halal. No alcohol present.

Website: karamay.co.uk
Address: 151 Homerton High Street, London, E9 6AS
View this post on Instagram
MARKET HALL WEST END, OXFORD STREET
After the popularity of Victoria and Fulham market hall, they decided to take it one step further and open a humongous space on Oxford street. You can find the usual suspects like Gopal's Corner (same people behind Roti King) and Hotbox (smoked barbeque goods), plus other fun ventures like Goodbird (both fried and rotisserie chicken) and Cookdaily (vegan). It is perfect for when you're shopping till you're dropping and need a pick me up.
Halal Status: Gopal's corner and Goodbirds serve a full halal menu. Hotbox serves halal brisket and chicken. Cookdaily has a fully vegan menu. Alcohol is present on the premises.
Website: markethalls.co.uk
Address: 9 Holles Street, London, W1G 0BN
SIMPLICITY BURGER, BRICK LANE
If you're thinking of cutting down your meat consumption but still want to indulge in good food, the new vegan/vegetarian Simplicity Burger on Brick Lane is where you need to go. Neil Rankin, who is behind several meaty joints like Temper and Pitt Cue, is the mastermind behind Simplicity Burger and takes a no-waste stance, so he'll be using the 'seconds' from Natoora, a worldwide produce supplier, and compostable plates too.
Halal Status: No meats served at it is fully vegetarian/vegan. Alcohol is present.

Website: simplicityburger.london
Address: 202 Brick Lane, London E1 6SA
View this post on Instagram
BOROUGH MARKET KITCHEN, SOUTHWARK
Borough Market is introducing a new open-air food court concept – the Borough Market Kitchen – with up to 25 food traders and a large communal dining area for up to 200 covers. Every dish on each of the traders' menus must incorporate at least 30% of the seasonal produce supplied at the market and to keep it even more sustainable, they're banning single-use plastic. From Singaporean to Middle Eastern, there is an abundance and variety of food options to keep everyone in your group happy.
Halal Status: Kubbeh by Juma Kitchen will have a full halal menu. MeiMei does serve halal but changes supplier so best to check on the day what is halal. Gujarati Rasoi and Horn OK Please are both fully vegetarian stands. Alcohol is present on the premises.

Website: borough market.org.uk
Address: Borough Market, 8 Southwark Street, London, SE1 1TL
CHARRED FOOD TRUCK, SPITALFIELDS
If you work around Liverpool Street and are fed up with the usual Pret, Itsu, and Costa Coffee options, add some jazz to your life and find the Charred food truck in Spitalfields. The barbecue focused menu consists of fresh 14-hour smoked brisket or chicken served with naan or lentil and pearl barley, plus sauces of your choice. There is also an aubergine option for any vegetarians out there. Technically, they've been open since September but we only came across them now!
Halal Status: All meats served are halal. No alcohol served.
Website: @charredfoodtruck
Address: Old Spitalfields Market, 16 Horner Square, London, E1 6EW
View this post on Instagram
---
OCTOBER
MOI MOI ISLAND, KENTISH TOWN
Moi Moi is the new Caribbean kid in town from the inventive team behind Guanabana, Bintang, and Mamasons. They'll be serving up platters of hot jerk chicken or tender beef suya over rice, fully loaded chickpea roti wraps, plus crunchy chicken wings too. Don't forget to add the dynamite hot sauce to really make it a Moi Moi experience! Although Moi Moi isn't strictly a sit-down restaurant, they have a couple of tables where you can have a quick meal – the perfect pick up after hanging out at Camden Market.
Halal Status: All meats are halal. No pork or alcohol served.
Website: instagram.com/moimoiisland
Address: 81 Kentish Town Road, Camden, London, NW1 8NY
COPPER CHIMNEY, WESTFIELD LONDON
Copper Chimney has been serving delicious North Indian delicacies to their lucky patrons in India since 1972. Now, we're in for a treat as they have just opened up their first UK branch in Westfield London last week! Pack mum and dad in the car, and head on over there to indulge in classics like butter chicken, Amritsari shrimp, and crunchy Delhi-style fried chicken. The bonus is that they are working with Action against Hunger and have already helped 51 villages in India fight malnutrition.
Halal Status: All meats are halal. No pork but alcohol served.
Website: copperchimney.uk/
Address: Copper Chimney, Unit 1028 – Southern Terrace, Westfield London, Ariel Way, Shepherds Bush, London – W12 7GA
BAO KITCHEN, HARRODS
Feeling particularly boujee this weekend? Head on down to Bao Kitchen in Harrods for a quick Asian street food experience, where you can tuck into wagyu beef bao buns and prawn and truffle dumplings after a bout of luxury shopping. Just be sure to head there early as their last order is 8:30pm Monday to Saturdays and 5:30pm on a Sunday!
Halal Status: All meats are halal. Pork and alcohol served.
Website: harrods.com
Address: Fourth Floor, Harrods, 87-135 Brompton Rd, Knightsbridge, London SW1X 7XL
ARMA, SOHO
Move over Cafe Helen, there is a new shawarma joint on the scene. Arma are serving up good quality, free range shawarmas to the masses on Dean Street. What makes them stand out? Think rib-eye beef shawarmas, freshly made falafels, salad bowls, and everything is made fresh on site every morning, meaning no frozen goods!
Halal Status: All meat served here are halal. No pork or alcohol served.
Website: arma.uk/
Address: 33 Dean St, Soho, London W1D 4PW
SWEETCHICK, FITZROVIA
If you are familiar with Nas's song "Fried Chicken", then you'll know he's a big fan of fried chicken and has even endorsed a chain of fried chicken shops called Sweet Chick. After it's roaring popularity in the states, they've brought Sweet Chick to London and found a cosy home for it in Fitzrovia. The waffles here are lovely and fluffy, with a nice crisp, and are probably the best halal chicken and waffles you will find in London. Opt for the Nashville style chicken and waffles or even the buffalo, and you're good to go.
Halal status: Chicken is halal. Pork and alcohol served.
Website: sweetchick.com/
Address: 8 Market Place, Fitzrovia, London W1W 8AG
ARABICA KX, KINGS CROSS
Last month, Arabica Bar and Kitchen opened up their new sister restaurant, Arabic KX, in, well, King's Cross. The beef shish is shockingly good – every bit as juicy as it looks – crunchy falafel salad, the creamy truffle and mushroom manousheh, and the beef and bone marrow arayes are worth ordering to share too! They will also be serving brunch every weekend featuring buckwheat pancakes and an Arabica fry up using their own house-cured lamb bacon. Please note, just the Arabica in King's Cross serves halal meat on their lunch and dinner menus, and the brunch is halal in both branches.
Halal Status: Beef and lamb is halal. No pork but alcohol served.
Website: arabicalondon.com
Address: Arabica KX, 7 Lewis Cubitt Walk, King's Cross, London, N1C 4AD
Previous Post
Next Post