Orange Chicken
Orange Chicken is an American-Chinese recipe that you can find at halal Panda Express and PF Changs around the world. It's akin to a sweet and sour chicken but this version is much better, especially that little after zing from the orange flavour.
I decided to air fry the chicken as I fancied a little bit of a crunch factor and I'm not sure my waist circumference will be forgiving of anymore deep fried items. Let me just tell you, I think using an air fryer has changed my life. No more oil splatters, no more cholesterol heavy meals, no more waiting forever for stuff to cook in the oven. You can make everything in the air fryer!
If you fancy more of a crunch factor, you can deep fry the chicken pieces in a deep pan or wok. Alternatively, you can oven bake the chicken pieces until they get to that nice golden crisp.
Most recipes online call for double the amount of sugar that is in this recipe but if you're using sweet oranges, you shouldn't need to add more than the amount stated in the recipe. Plus, it cuts down on the amount of calories you're consuming. Just be sure to taste the sauce once you've finished cooking so that you can add in any sugar or chillies if need be.
The use of fresh oranges really makes that orange flavour pop out in comparison to using a carton of concentrated orange juice. The juice from a freshly squeezed orange adds a lovely and natural sweetness to the sauce, without being too overbearingly sweet which may happen if you use concentrate. The zest adds a little tang at the end to break up the subtle sweetness. Long story short, use fresh oranges!
Equipment I used in this recipe:
AIR-FRIED ORANGE CHICKEN RECIPE
INGREDIENTS
500g chicken thighs or breasts, diced
100g cornflour
2 eggs, beaten
1 tsp salt, divided into two
1 tsp white pepper, divided into two
1 tbsp neutral oil
½ tsp red chilli flakes
5 small cloves of garlic, chopped finely
2 inch ginger, chopped finely
25g white sugar
25g brown sugar
60ml freshly squeezed orange juice
2 tbsp white vinegar
2 tbsp soy sauce
1 tbsp cornflour mixed with 1 tbsp of water to make slurry
Zest from one orange
1 tbsp sesame oil
To garnish: sesame seeds and spring onions
METHOD
Beat the eggs with ½ tsp salt and ½ tsp white pepper. Mix the cornflour with the remaining ½ tsp salt and ½ tsp white pepper. Dip the chicken in the egg mixture and then the cornflour mixture.

Line an air fryer with parchment paper and spray with oil. Add the chicken pieces in one layer, spray lightly with the cooking oil, and cook until the chicken is fully cooked. I cooked mine for 20 minutes on 170C but check with your Air Fryer manual as settings may differ.

In a non-stick pan or cast iron pan, add 1tbsp of oil followed by the chilli flakes, ginger, and garlic. Stir for 1-2 minutes until it becomes fragrant.

Add in the brown and white sugar, followed by the orange juice. Mix well to ensure the sugar is fully dissolved in the pan.

Stir in the white vinegar and soy sauce. If the sauce is runny, add in the half the cornflour slurry, mixing well to incorporate. Add in the rest of the slurry if the sauce still hasn't thickened – the sauce should be lightly sticking to your spoon.

Remove the pan from the heat and stir in the orange zest.

Add the crispy chicken pieces into the pan and stir gently, ensuring all pieces are coated in the sticky sauce. Lightly drizzle the sesame oil on the chicken and mix.

Sprinkle with sesame seeds and chopped spring onions. Serve immediately with egg fried rice and steamed vegetables.
Previous Post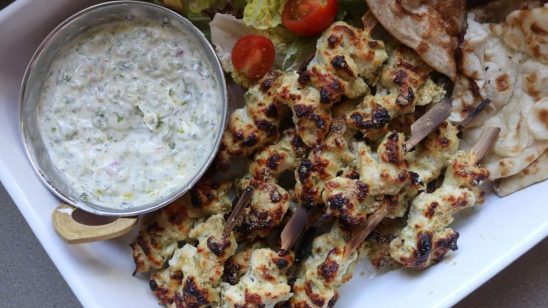 Next Post