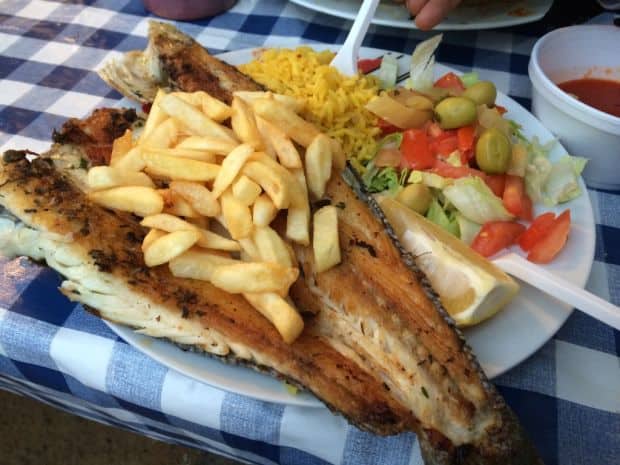 Portobello Market
Despite the windy and wet weather of London (typical!), BW and my wonderful self decided to make the most of the day by going for a stroll. BW suggested Notting Hill and I was feeling hungry, as usual, so it only made sense to go somewhere where there was plenty of food available!
Please be kind – my camera battery had died so I had to make do with an iPhone and Blackberry camera!
If you're planning a visit, you would want to start at Ladbroke Grove and make your way up the market until you reach Golborne Road, which is a long walk indeed! Colourful stalls bursting with bags, belts, jewellery and everything you can imagine line the road all the way up Portobello Road and then the best bit starts – the food!
Jamon Jamon is a Spanish stall serving up hot and steaming bowls of delicious paella to their cold and wet customers. Paella is a rice dish that can be mixed in with either seafood, meat, vegetables or all of them together!
Yesterday, the stall was serving halal chicken or vegetarian paella to their hungry customers. We decided to skip the paella because of the queue and ventured further into the market to see what else was available for us to eat!
As we were walking up the market, several people were chowing down on supersized hotdogs with dollops of mustard and ketchup. Obviously these were not halal – or were they? As we walked past the Rollover stand serving these monstrous size hot dogs in soft pillowy buns, I saw the word "halal" on the menu and smacked BW on the arm – halal hot dogs! We stood in the line waiting for our turn, only for the vendor to say that he had run out of all the halal hot dogs that day – oh, the disappointment but that wasn't the stall I was there for.
After you've strolled down a couple of stalls, you'll come across Acklam Village on the right, which is full of food stands ranging from Mexican to Chinese. Sadly, only about a handful of stands are halal.
The first one being an East African stall called Mandola which serves up delicious lamb, chicken or falafel wraps.
Only the chicken is halal so we opted for the chicken wrap which consisted of soft and sweet peppers and onions, humous, chilli sauce and of course juicy chicken chunks. The wrap was delicious and warmed us up right away!
If you're in the mood for Asian, there's a Thai restaurant called Oriental Bite that serves up classics such as green curry or pad thai, or you could head over to Win & Lily, a Chinese stand that dishes out Coconut chicken and dim sum. Both of these also only serve halal chicken.
Marakesh Kitchen was the only fully halal stand and was serving lamb or chicken kofte wraps fresh from the grill! It smelt absolutely delicious and I promised myself to come back just to try the lunch box deal they were offering!
But these weren't the stalls I was looking for… I was here for the one and only, Moroccan Fish Stall! Yes, I skipped out the majority of the meat options just for fish (even BW was shocked) but it just reminded me of the white, sandy beaches of sunny Mauritius where they cook the fish fresh in front of you – a much needed memory when you're stuck in London weather!
The stall is located on Golborne Road which is way towards the end of the market depending what way you started but isn't hard to miss due to number of people waiting by the stall. They serve several types of fish – seabass, prawns, cod, calamari, tuna etc – with all the trimmings of rice, chips, bread and salad for £7.
I opted for the seabass option and watched on, from the sideline, how the guy placed a large fish – my fish – onto the grill.
He then brushed on some magical sauce and flipped the fish over to brown on the other side.
Once the fish was done, BW and I sat down on the surrounding chairs and dug in. The fish was piping hot and crunchy with a soft and flaky inside that fell apart as soon as you placed it in your mouth. The rice was well seasoned and complemented the fish, as were the chips when dunked into the tomato sauce that they provide. The only downside was that it was quite fiddly to eat with plastic cutlery especially when there are several small fish bones involved -this is pure and proper street food!
I left happy, full and content with the meal that I had been looking forward to the whole day. Well, almost happy because there's no sweeter end to a meal than the dessert! I grabbed BW towards one of the several pastry and doughnut stands, and insisted on buying two doughnuts – one chocolate filled and one cream & strawberry jam filled. I took a bite into the chocolate doughnut and never saw it again once BW (the dessert-phobe) got his hands on it. From what I had tasted, this was a proper and traditional sugared doughnut stuffed with milky-dark chocolate sauce.
But the second choice was something else; a monstrously sized doughnut consisting of fresh whipped cream and a dollop of sweet strawberry jam on the top. It was a sweet and creamy combination of sugary goodness and I ended up eating it to the last crumb.
Although we didn't end up eating much, we found that the majority of the stalls served halal chicken albeit not being advertised. Sadly we could not find any stalls that served halal burgers. The market is huge and takes several hours to cover especially if you're planning on just gorging on all the food options they have available.  If you're deciding on a halal adventure of your own to Portobello Market, please double check with the stalls again to see if they are serving halal chicken that day as suppliers may change and don't forget your brolly!
Previous Post
Next Post