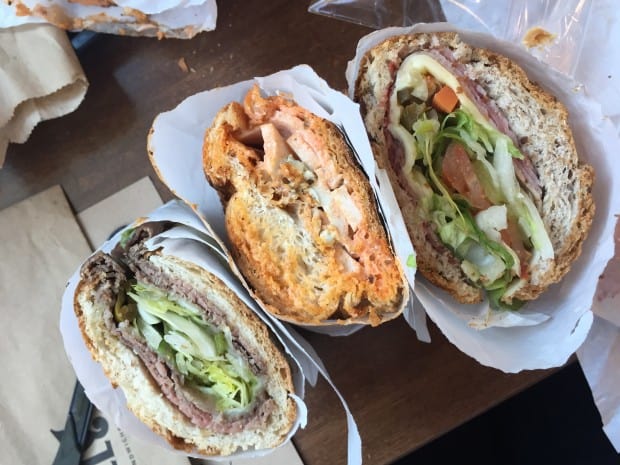 Potbelly
You ever had one of those days at work where you look at your lunchbox and sigh? I think I've been like this every day since primary school. I would look at the other kid's lunchboxes in envy; nutella in crusty bread, choc dips, pizza! I would look down at my own and see a butter and jam sandwich, an apple, and a capri sun – every single day. Growing up, wasn't any better and I'm sure I'm not the only one in this predicament. Work lunches consist of your generic tuna and sweetcorn or cheese ploughman sandwiches whilst your fellow coworkers are chowing down on anything their little hearts desire. But woe not, my fellow Halalarians! Halal Girl has the answer and that my friends is Potbelly.
Potbelly is a well-known establishment based in the States, originally Chicago. Funfact: It started out as an antique shop in 1977, and later started to serve sandwiches to their lunch time customers, only later to become a world famous sandwich shop. Although popular for their sandwiches, their cookies and shakes have a giant cult following. So when the Potbelly store opened in Westfield Stratford and was labelled as fully halal, I dropped my sad sandwich and made my way East!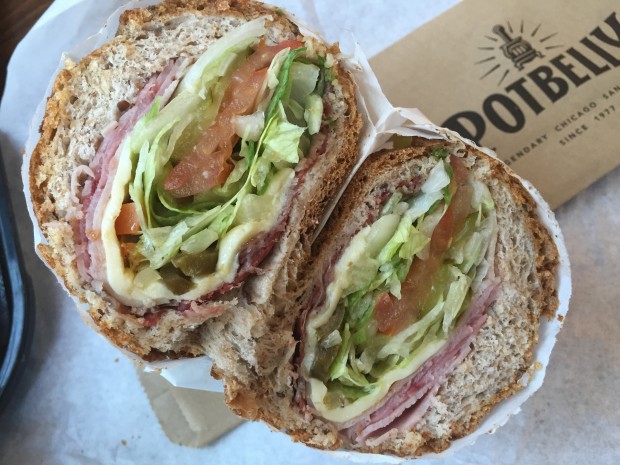 Known as one of the "legends' at Potbelly and the most popular in the States, I just had to go for this meat heaven sandwich: A Wreck. A multigrain roll (or white – it's up to you) piled high with beef salami, turkey breast, black angus beef slices, and turkey ham, followed by swiss cheese, and I opted to add even moreee: hot peppers, lettuce, and pickles, just for a little pizzaz! The sandwich was warm, toasted, and slightly crunchy with gooey melty cheese, however this was my least favourite of the bunch as it was a little too meaty (shock horror!) for me. The hot peppers and pickles added a slight zing but was a subtle touch, and it just needed some extra kick to balance out the meatiness.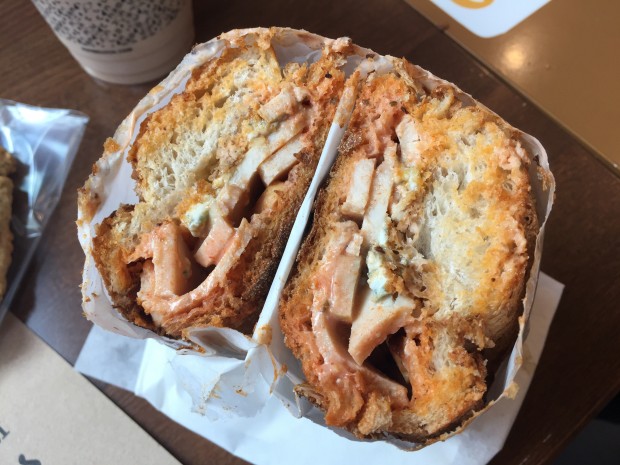 A pretty cool idea for a sandwich, and if you're a sucker for buffalo wings, then this one is for you. Roast chicken that had been topped with hot buffalo sauce, blue cheese crumbles, and ranch dressing. The tanginess from the Franks hot sauce bonded well with the creamy, strong blue cheese, and gave the chicken a little oomph. Yum!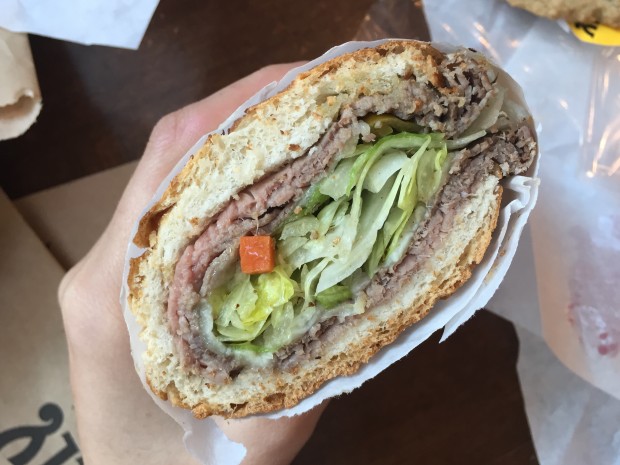 The roast beef was by far my favourite. Everything about it was exactly what I was looking for in a sandwich – simple, straight forward, and utterly delicious. The slightly peppery black angus beef slices were of great quality, and made a mouth-watering fantastic sandwich when paired with the sharp provolone cheese and a squirt of mustard.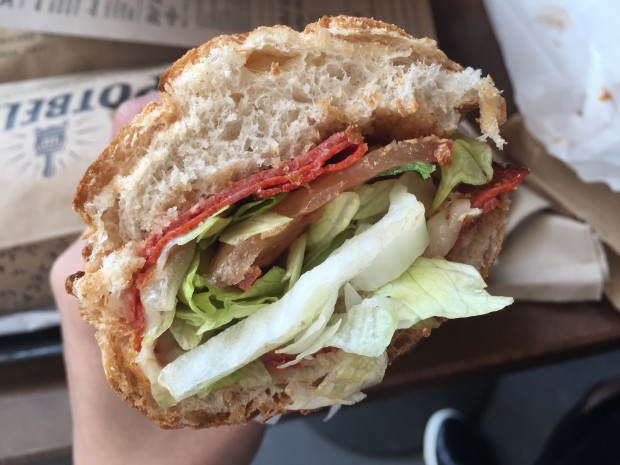 A very meaty combination of smoked turkey salami, beef salami, beef & turkey pepperoni, spicy beef salami, and a few slices of provolone cheese – phew, that's a lot of meat! Although this was definitely a more carnivorous sandwich than the Wreck, I preferred the Italian due to the spiciness of both the beef and turkey pepperoni, plus the spicy beef salami, which cut through the meatiness. The provolone cheese was creamy and quite piquant, not mellow, so it would stand out in the sandwich. Another great sandwich that I found difficult to put down!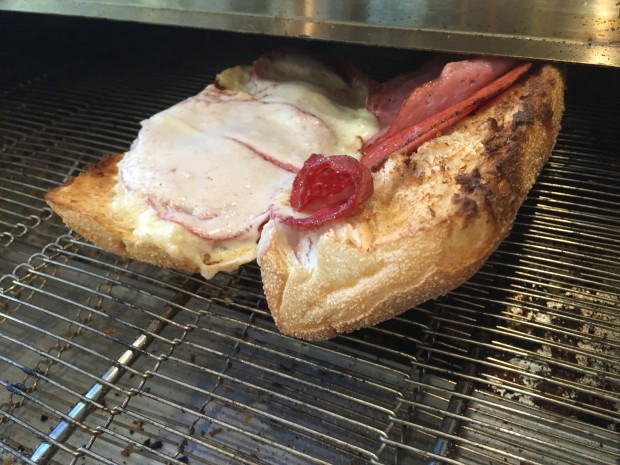 A classic combination of creamy Skippy's peanut butter with a healthy dollop of Welcher's Grape jelly (because you can't have it any other way!) all smothered inside a small toasted white bun. I found the bun to filling ratio to be a little on the starchy side but swapping out the white bun for the cinnamon bagel made it even more delectable and added a little spice. Add in some turkey bacon, banana slices, and *drools*.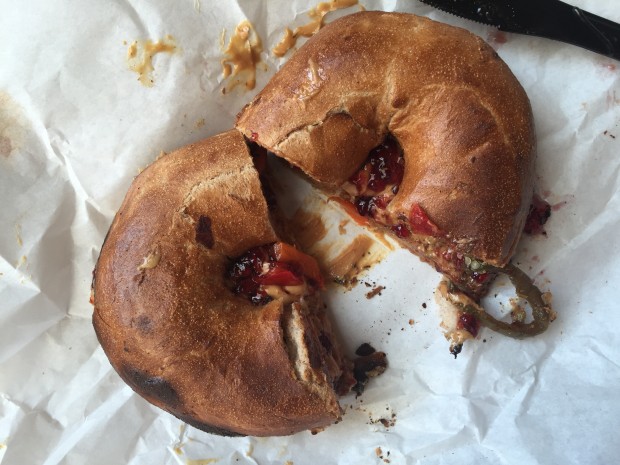 Arriving piping hot in a cinnamon bagel, the peanut butter and grape jelly had an extra little kick added: chillies! Although not sounding like the greatest combination, it really isn't bad – just think of a normal pb&j sandwich with a little something to tickle your tastebuds as the chillies are quite subtle.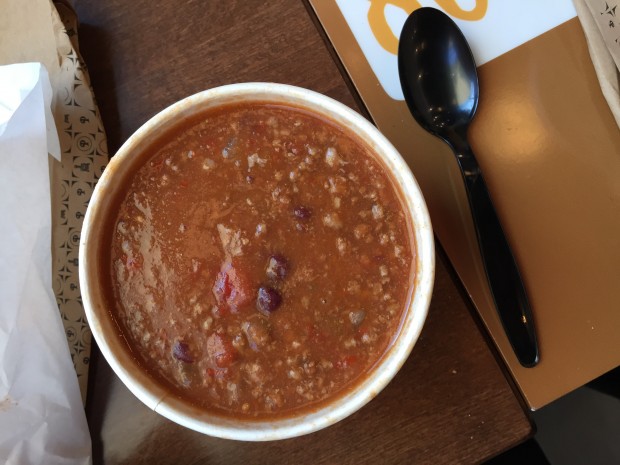 A beef chilli filled with tomatoes, spices, and kidney beans.I feel the chilli was a little watery and could have done with some extra flavouring from more tomatoes.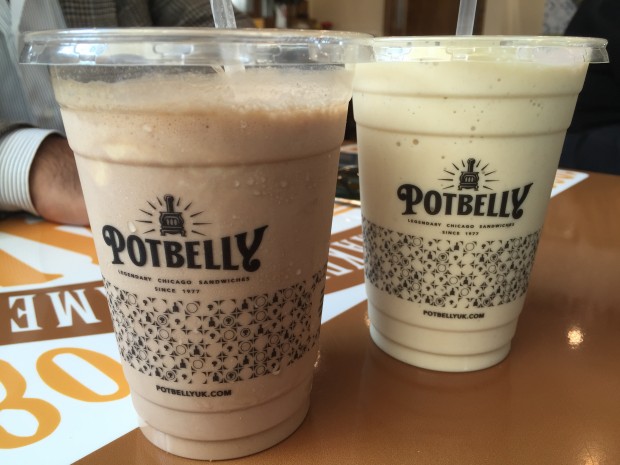 Of course, I couldn't resist the peanut butter and chocolate milkshake [£4.00]. It was a good milkshake; not too runny or too thick but just the right consistency. However, I was then brought an even better milkshake: the banana shake [£3.80]! It was frothy and refreshing; you wouldn't expect anything less when being made from scratch using fresh bananas and vanilla ice cream.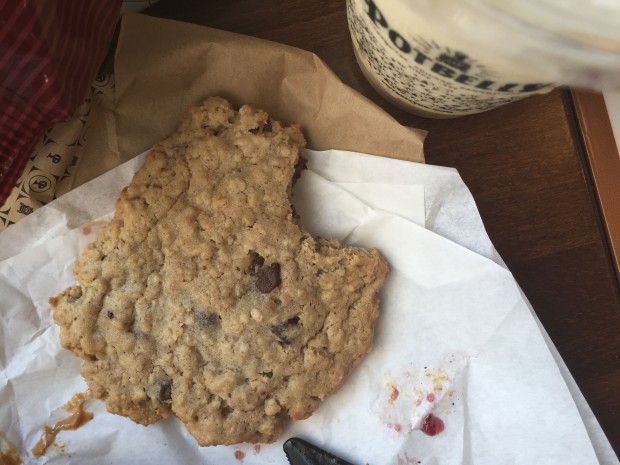 The oatmeal chocolate chip cookie was really soft, gooey, and everything you dream of a cookie being.
It's a shame that Potbelly is situated so far away in Westfield Stratford but they have future plans to open 10 more sites starting in the City – perfect for a work-lunch treat. If you missed your cereal in the morning, Potbelly also offer breakfast items until 11am such as sausage and egg bagels, and porridge to warm you right up for those approaching cold mornings.
I really like Potbelly. I like the entire halal concept that they have brought to London. As you can tell from the accompanying prices, Potbelly offer an affordable, delicious, and halal lunchtime option. The meat that they use is of great quality, and sliced daily every morning – none of the packaged mystery meat is served over here. The fruits that they use in their milkshakes are not from frozen, and the cookies are freshly baked and packaged every morning. The owners are really passionate about making sure that every small detail is ironed to perfection and that the customers are happy. And that is what makes Potbelly such a great establishment not just in London, but across the globe with chains in the States and Middle East!  
P.S Don't forget to ask about the underground menu when you order!
Disclaimer: I was invited to review this restaurant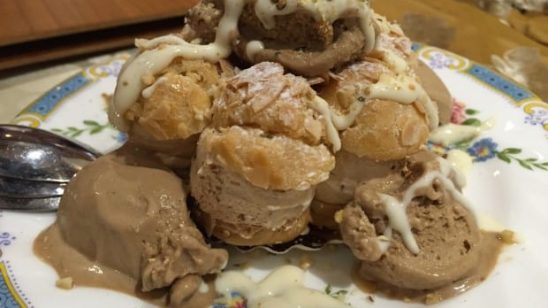 Previous Post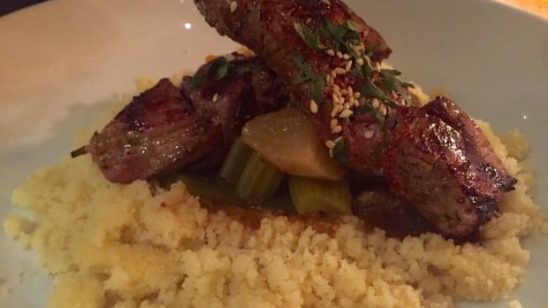 Next Post