Product Review: Love Yourself Healthy Meals
I'm always harping on about how I'm trying to shift the post-pregnancy weight and given Aadam is now 2 years old, I'm not so sure I can blame it on being "baby weight" anymore. Sigh. So when Love Yourself saw my struggles, they decided to send me over their healthy and halal pre-made meals straight to my door. Psst, there's a discount code you can use for your first order, be sure to scroll to the bottom!
Love Yourself is a calorie controlled, healthy meal delivery service and the brains behind the company is Michael Snela who has worked in a Michelin kitchen. Love Yourself has two halal menus available for us:
The Halal Power Performance plan – if you're all about the gym gains aka muscle growth and repair, this is a great option. This plan has been developed with a performance nutritionist and is made up of 40% protein, 40% carbs, and 20% fat,  
The Halal Balanced Diet –  if you're looking for a more balanced diet (aka more carbs), this meal plan is ideal for you. It is made up of 50% healthy carbs, 30% protein, and 20% fats.
The best part? Each meal is freshly made and requires no prep whatsoever so no cleaning or cooking on your part! 
HOW IT WORKS 
Use the Love Yourself's calorie calculator to figure out how many calories you need to eat in a day to reach your goals, whether that is weight loss or gain.

Choose the meal plan that suits you best and add to your basket. Just don't forget to select from the halal or vegetarian meal plan options. 




 

Slap on the HGAT15 discount code during check out to receive 15% off your first order!

Wait for the knock on your door with your delicious set of prepared halal meals!
You'll receive 5 meals a day: breakfast, lunch, dinner, and morning and afternoon snacks. Meals for the day are delivered every evening e.g. Tuesday's full day of meals will be delivered on Monday evening so you'll need to make sure yourself or someone is at home to receive the food. 
WHY IT WORKS 
When it comes to losing or gaining weight, it all boils down to the food and exercise that we do in a day. And as much as we hate to say it, it really is 80% diet and 20% exercise so if you're running 5km everyday and eating a whole KFC bucket for dinner, it probably explains why the scales aren't budging. 
CICO (calories in, calories out) is the basis of every weight loss diet (keto, atkins etc) and states that:
If you are eating more calories than you burn in a day, you will gain weight i.e. calories in > calories out

If you are burning more calories than you eat in a day, you will lose weight i.e. calories out > calories in.
Of course, all bodies  are different and depending on your height, age, weight, etc, you will have  your own calorie quota. E.g. I am a 5"3 female who weighs 62kg so in order to lose weight, I need to have 1200 calories a day. Abbas is a 5"9 male so he needs 2244 calories a day to gain weight. 
To calculate your calorie allowance, you can use an online calorie calculator (Love Yourself has one on their site). Here's an example below:
You can amend the fields to suit you so I've selected I want to lose 5kg in 3 months.
These are my results:
Once you've calculated your calorie allowance, you'll want to make sure your daily meals fit into the quota and you can do this using a calorie counter like My Fitness Pal. It may seem complicated but it really works. Love Yourself is a complete saviour as they have done all the food weighing, calorie calculating, cooking, and cleaning up for you. All you need to do is eat it!
You can calculate your calorie needs here: https://www.loveyourself.co.uk/pages/calorie-calculator 

THE MEALS 
The menu changes on a weekly basis so there is a very slim chance you'll be bored of the meals. Here are a few examples of the meals that I received during the week: 
BREAKFAST 
Peas and turkey frittata with mango salad
Homemade baked beans with turkey and wholemeal bread
Chocolate overnight oats with raspberries 
SNACKS
Carrot sticks with beetroot hummus
Pina colada smoothies
Green pea and broccoli mash with carrots
LUNCH
Turkey kebab with lentils and satay sauce
Cauliflower cheese and paprika spiced chicken
Beef meatballs with baked polenta and parmesan
DINNER
Green asparagus with boiled eggs, capers, parmesan, and borlotti beans
Tuna salad with miso dressing
Pear and cheddar chicory salad
The standout dishes for me were the paprika chicken with cauliflower cheese, turkey kebab with satay sauce, and the oat and buckwheat cake. The portion sizes may seem small upon first impression but there were all incredibly filling and satiating. 

PREPARATION 
Each meal comes with a label on the front indicating how to prepare the meal – either a quick blitz in the microwave or to eat it as it is. The label also includes a summary of the nutritional value of each meal plus a barcode so you can scan it straight into My Fitness Pal.
PRICING
For a 5 day meal plan, the price for both the balanced and power performance diet is £115. If you opt for the subscribe and save option, you save 5% and will pay £109.25.  
Don't forget, you can receive 15% off your first order by using the discount code: HGAT15 ! 
THE NEGATIVES
Of course, not everything is peachy and this is a review after all! 
Unless you have planned your week ahead of time, you may not be able to go out for a spontaneous dinner with friends as you'll have one of the Love Yourself meals ready at home.  However given the current lockdown and closure of restaurants, this may actually work out. You could also save the meal for another day when you're not on the plan.

The meals are delivered every evening so if you live on your own or everyone is out, you may miss the delivery! They do provide you with a delivery time window so you can make your plans around this or alternatively request they leave it with a neighbour or in a safe place. Just be sure to put it straight in the fridge when you get it! 
SUMMARY
Love Yourself is a healthy meal delivery service that offers 2 halal meal plans: the balanced diet or the power performance diet. 

Each meal plan caters to your daily caloric needs so aids you in your weight loss or gain programme. 

The dishes are varied and there is a 0 chance of receiving the same meal in a month. 

The price for a 5 day meal plan is £115 and if you go for the subscribe and save option, you will pay £109.25. 

You can use the code HGAT15 during checkout to receive 15% off your first order. 
The Love Yourself website: https://www.loveyourself.co.uk/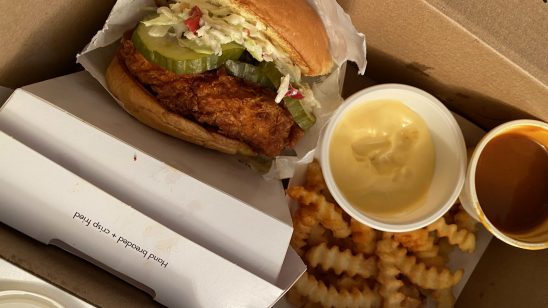 Previous Post
Next Post