Rodizio Rico
*THIS RESTAURANT IS NOW CLOSED*
*The comments section of this post have been closed*
One day, BW and I were out and about, strolling along the streets of Bayswater, when he noticed something out of the corner of his eyes. He stopped in his tracks, leaving me to carry on walking and talking to myself. When I was frustrated that he wasn't responding to me, I turned around to find that firstly, I had been talking to myself for the last five minutes and, secondly, I caught him with his eyes peeled to this one particular restaurant that we always walk past. I saw that his eyes were fixed upon a particular hijabi sitting in the restaurant, innocently, enjoying her meal. A smack round his arm snapped him out of it and he began to explain that this restaurant must be halal because he had just seen a Muslim couple dining there. One phone call later, with the inclusion of me giving him grief, and it turned out he had discovered Rodizio Rico. Rodizio is a Brazillian barbecue restaurant serving all sorts of cuts of meat such as beef ribs, chicken legs, etc. The majority of the meats served are halal with the exception of the pork dishes and two cuts of beef.
The concept is simple. You are each given a disc with a green side – meaning keep the meat coming – and a red side – I have the meat sweats right now so no more for me. Waiters will be walking around with different skewers of every type of meat imaginable. They stop at your table, they carve the meat and you simply take as much as you desire – simple!
Salad Bar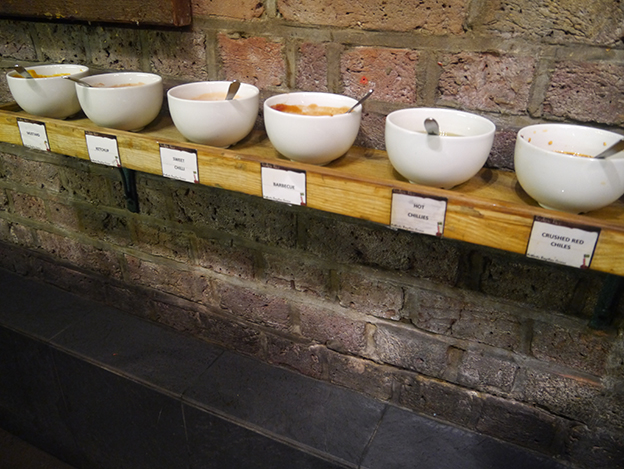 Believe me when I say that this isn't your ordinary kind of salad bar. Forget the limp lettuce leaves and watery dressing, this was a full on feast in itself. From creamy potato salads and cheesy beef lasagne to fried bananas and velvety fish pie, this would be considered as an actual meal. Well not by me, obviously, but the variety of dishes they had was outstanding. Perfect for the poor vegetarian friend you decided to drag with you! Rump Steak
The steak was served piping hot and was sliced quite thickly. It was cooked so well that every bite you took was followed by a burst of juice. An absolute hit for the table. Beef Shish Kebab
Beef steak pieces served on a skewer with colourful peppers. I couldn't distinguish what cut of beef this was but it was decent – nothing that stood out from the meat crowd. Skirt Steak
This was really, really meaty. I do love red meat, don't get me wrong, but this was so beefy, I could manage only a mouthful. It was also very chewy considering it's known to be a very tender cut. Oxtail
My favourite of the night just because it was the most succulent of them all. Every mouthful was just full of flavour and I would have gone for round two, however from seeing the vast amount of skewers hovering around, it meant I had to pass and save space for more! Lamb fillet
Cooked excellently however was slightly bland meaning the taste of lamb was prevalent. Leg of Lamb
I'm surprised the skewer could hold this monster up. One huge leg of lamb, dripping in juices and cooked to a great pink colour. In comparison to the fillet, this cut of meat had more flavour. Chicken wings
These meaty chicken wings were grilled to a crisp and marinated in a delicious spicy and tangy sauce. Chicken legs Fat little legs that were very meaty however lacked in flavour especially after eating the wings. Chicken sausage
Firm and crispy skin with a chewy yet moist texture on the inside – the way a sausage should be barbequed. This delectable sausage won nods of approval from all the diners! Chicken Heart
I think this was the one dish we were waiting the entire meal for. These little tiny chicken hearts had been cooked with a garlicky marinade and placed upon the huge open flame. Whilst BW opted to have ten of these placed in his plate, after the waiter said it was his favourite dish, the rest of us opted for 1 each. Here we go! At first, it's like a soft meat with a creamy, light texture but then all of a sudden, the familiar organy taste hits you. It wasn't offal (haha get it?) but it was, for sure, not my cup of tea. The rest of us felt the same except for the monstrous BW who carried on eating them like they were m+ms and at one point, even referred to himself as a giant monster eating tiny little people hearts. Oh dear.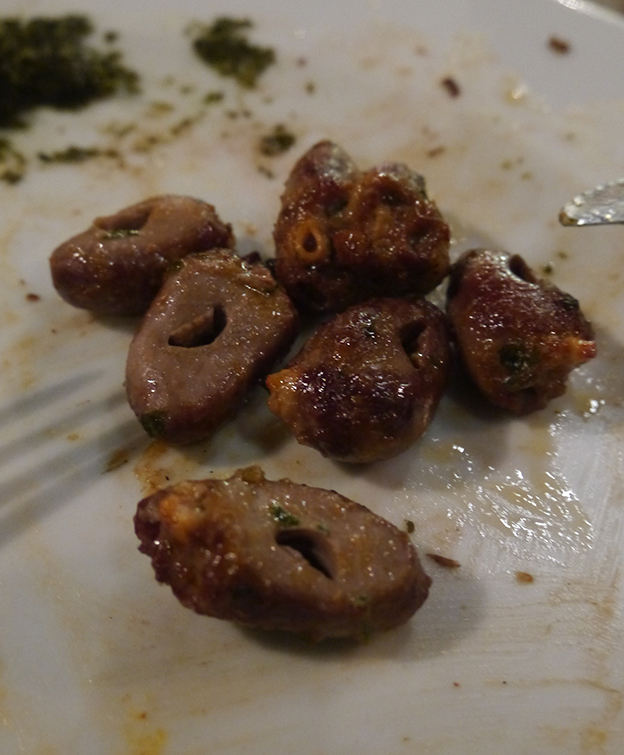 Garlic Bread
We finally had to surrender to the herd of skewers coming our way and groaningly flipped our discs over to red side. I was offaly full (last one, I promise) as were the rest of table and we, sadly, skipped out on dessert. These after dinner treats also came in a variety of options; however the only mentionable dessert I noticed was the banana or pineapple flambé, which I saw sitting on the open flame. The final bill amounted to £136.86 between the four of us, and included mocktails and service. Without the additional extras, the cost per person is £25 which is great value considering amount of meats that are available to our halal palates. Even though some of the cuts of beef are not halal, there are plenty of meats to try – some we didn't even try – and if you point out that you follow a halal diet, they will bring you the appropriate skewers. The restaurant assured us that the pork products were cooked separately from the rest of the meat as well so there is no chance of cross contamination occurring. The service was attentive; they explained the system to us and the waiters, who carved the meat, explained which types of meat they were serving. The restaurant was packed full of groups of friends, families and dates; we were lucky to be able to just walk in and grab a table for four! With regards to the food, don't get me wrong, any form of endless supply of meat is meatopia for me. However, with Rodizio Rico, there were only a handful of meats that were enjoyable such as the ox tail, rump steak and the chicken sausage; the rest were lacking on flavour or were a little too chewy for my liking. Nonetheless it was definitely a fun experience and is a must for those first-timers. These brazillian barbecues are slowly popping up all over London and if you fancy a full halal  (no pork) experience, try out Nabrasa in Wimbledon!
Halal status verified by the restaurant staff but ask them which cuts of beef are halal when you visit
Address: 111 Westbourne Grove, Notting Hill, London, W2 4UW
Telephone: 020 7792 4035
Website: http://www.rodiziorico.com/content/location/loc_nottinghill.php
Nearest Station: Basywater or Queensway
Parking: Pay and display on surrounding streets
Previous Post
Next Post