Taste of India
You guys remember my friend JP right? Well, for those new readers, she's just one best friend who is also a vegetarian. As you can tell this already puts a strain on our relationship, but getting to the point of the story, it was her birthday a couple of weeks back and she decided that she wanted to be different and stand out from the rest of us; she took us to Taste of India – the pure vegetarian version – dun dun dunnn (horror music, anyone?)
Obviously, JH, RG, and I were all over the place but a friend is a friend, so we pulled up our socks and bravely marched into Taste of India demanding their vegetarian menus.  If you aren't interested in reading about nature rather than animals then please stop here before you enter the green forest.
Between 5 girls, we ordered a hell of a lot. I'm not even joking, the food just kept on coming, plate after plate. But us 5, our stomachs are made of steel, so we unbuttoned our pants and dug right in.
Chilli Paneer

This was a plate full of crispy cubes of cottage cheese doused in chilli sauce. I figured I was a tough one, a pure chilli eating-Indian-want-to-be, but after a couple more chunks, more than a couple of glasses of water had to be filled and downed quick time.
Mushroom Manchurian
Each mushroom had a slight initial crisp with a soft mushroom centre, so I am assuming the mushrooms are fried before being dunked in sauce.  This was mild and delicious so JH decided to keep the plate next to her for the rest of the meal!
Paneer Tikka
This came hot and sizzling with big chunks of peppers and onions. The cheese was creamy and soft but had a strong tandoori flavour to it, which was much better than the one we had at Dishoom.
So far so good, we were settling in a new environment comfortably!

Idly
I ordered the idly because (here comes a small confession) I actually like idly. But this idly wasn't the idly I was looking for and I ended up being the sole eater of this delicacy. The idly itself was crumbly and not firm and springy, which to me meant it wasn't fresh.  With the necessary condiments included, it turned into a real spice fest, but I refused to soothe the flames with my cold frothy salted lassi and instead toughed it out like a real connoisseur.

Paneer Sheekh Kebab
This came presented in a completely different form to what we were expecting. We were expecting skewers of paneer and we received paneer spring rolls. This wasn't a hit with the whole table – there was no flavour and it was downright spicy. I had no choice but surrender to my cold salted lassi (which wasn't amazing) and cool down the flames, or perhaps it was just to wash down the somewhat disappointing paneer rolls.

Chana Bathura
Here's a favourite of mine! I just loved the humongous puri that perspired steam when ripped apart. It was greasy, doughy, and everything a puri is supposed to be!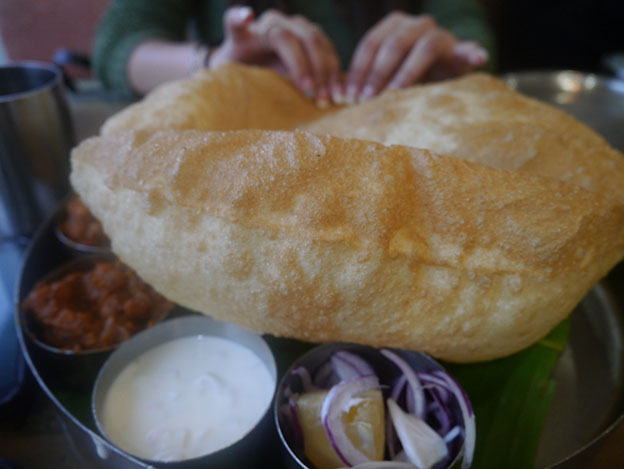 Szechuan Noodles
Now, keep in mind that this is the Indian take on noodles that were decent and mild. The noodles weren't fresh, but they were still tasty regardless of the peppers, onions and I think maybe ketchup, mixed into it.

Butter Paneer
I didn't actually taste this curry, so how would I know how it tastes? Well according to the girls, it was creamy and tasted exactly how butter chicken tastes. It had just the right amount of spices and tasted even better when eaten with the garlic butter naan
The service? Well considering the waiter was too busy rolling his eyes at us to take down our order properly, I would say it was less than average, but JP quickly assured us that it was just him and that she has never seen him work here before. Figures!
The damage? Well, not letting JP pay, we split £39.99 between 4 of us.  This was a bargain considering the amount of food that we had ordered plus two lassis! Guess vegetarian restaurants aren't that bad after all.
The food had its ups and downs, with some being absolutely delicious and others being just okay. But regardless, we left happy and only £10 lighter! I wouldn't go out of my way to eat there again, but if I was in the area with a vegetarian friend in tow, I may just have to pop in.  Looks like I survived this round but who's to say I'll last in the next pure vegetarian restaurant I visit!
For those who can't live without their meat, there's a meat friendly version of this store right across the road !
Previous Post
Next Post