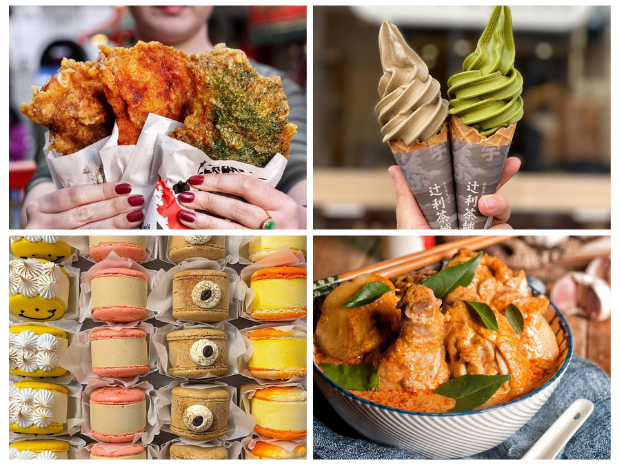 The Halal Food Guide To Chinatown
About the Author: Eutonne runs one of our favourite halal instagram pages: @etfoodvoyage. She's always creating the most mouth-watering dishes, finding the best desserts and rounding up secret halal gems around the city. You can visit her website here: https://www.etfoodvoyage.com/
---
Chinatown has plenty of food options and is no doubt a very popular hang-out spot in London. Halal options have been more on the limited end but there are still a couple of places around to check out. Here are some of our favourite spots in Chinatown and plenty of dessert places too!
Your Guide to Halal Friendly and Halal Restaurants in Chinatown
Monga Fried Chicken
From addictive crispy popcorn chicken to juicy fried chicken filets that are bigger than your face, Taiwanese street food-style fried chicken is a different ball game. Monga Fried Chicken brings a taste of Taipei into London's Chinatown. It offers various delicious seasonings to choose from, but one that stood out the most is the Chee' Z Signature, which consists of a humongous piece of fried chicken filet topped with tomato sauce and melted cheese.
Halal Status: All chicken served is halal
Address: 12 Macclesfield St, London W1D 5BP
Website: http://mongauk.com/ 

---
Rasa Sayang
Rasa Sayang is probably our favourite halal restaurant in Chinatown and we just have to include it on this list despite its Chinatown site is still closed for renovations. You can currently find them in Soho instead at Frith Street.
Rasa Sayang has been consistently a great spot for Singaporean & Malaysian food. Our favourite includes their beef rendang, Hainanese chicken rice, Singaporean chilli crab, and roti canai. For roast duck lovers, you can collect For Duck's Sake's halal marinated roast duck at the restaurant to bring home to cook!
Halal Status: All meats served are halal
Address: 15 Frith St, London W1D 4RE
Website: https://www.rasasayangfood.com/ 
---
Bun House
Oozy warm salted egg yolk custard buns are a Cantonese dim sum staple and a must-try signature at the Bun House. Whilst the meats are not halal, their vegetable buns (with mushrooms, Chinese chives, and water chestnuts) are also a great pick. You can also purchase frozen packs to take home for reheating.
Halal Status: Not halal but have good vegetarian and sweet options
Address: 26-27 Lisle St, London WC2H 7BA
Website: https://bun.house/ 
---
Mamasons Dirty Ice Cream
The popular Filipino dessert parlour needs no further introduction as Mamasons Dirty Ice Cream serves up all things Ube. Their Bilog, i.e toasted Pandesal ice cream sandwich, is a must-try, as well as the doughnuts and Ube brownies. There are plenty of unique ice cream flavours to choose from as well, including Ube, Calamansi, Black Buko, Queso, Milo, and Guyabano. If you're looking for a quencher, their Halo Halo is quite a hit, or grab yourself an Ube Latte or a refreshing Calamansi-ade.
Halal Status: All desserts are halal friendly
Address: 32 Newport Ct, London WC2H 7PQ
Website: https://www.dirtyicecream.co.uk/ 
---
Bunsik London
Korean corndogs seem to have completely taken over recently and Bunsik is the new hot spot in town. Unfortunately, the corndogs aren't halal but they do offer a halal Chicken Teriyaki Cupbap, which is essentially Korean glass noodles served in a cup/pot with various toppings. For the corndogs, you can still try out their vegetarian options, i.e. potato & mozzarella or just cheese. Technically, it's not exactly Chinatown but it's literally just at the opposite side of the road.
P.S. if you want to look for a halal Korean corndog, check out Uh K-Dogs n Juicy in Camden.
Halal Status: The chicken is halal.
Address: 62 Charing Cross Rd, London WC2H 0BB
Instagram: bunsik_london
---
Wing Wing
Wing Wing has launched their third site in London and have set foot in Chinatown this time. The Chinatown branch is their biggest site yet, spanning across three floors. Choose from soy garlic, hot, liquorice, or a mixed glaze over their signature crispy chicken, and don't forget to pair them with a side of some lip-smacking seaweed fries.
Halal Status: All chicken served is halal
Address: 47-49 Charing Cross Road, London, UK
Website: http://www.wingwing.co.uk/ 
---
Yolkin
Yolkin has been a mandatory dessert stop whenever we pop by Chinatown. The macaroon ice cream sandwiches always go down as a treat and its Far Eastern-inspired ice cream flavours are just irresistible. Our favourite flavours include HK Milk Tea, Vietnamese Coffee, Cookies & Cream, Pandan, and many more. Also keep an eye out for any seasonal creations!
Halal Status: Many halal friendly options
Address: 24 Rupert St, London W1D 6DQ
Instagram: yolkinmacice
---
Bake
The little Cantonese bakery, Bake, may seem unassuming but it's one of our favourite stops in Chinatown. Apart from the likes of HK-style Pineapple Buns, Pandan Chiffon Cake etc., their bestseller is definitely their Taiyaiki ice cream. If you aren't familiar with Taiyaki, it's a fish-shaped cake. But instead of a traditional custard filling, they serve it as an ice cream cone swirled with soft serve. Can't decide on vanilla or matcha soft serve? Get a double-flavoured swirl!
Halal Status: Many desserts here are halal friendly
Address: 9 Wardour St, London W1D 6PF
Website: https://chinatown.co.uk/en/restaurant/bake/ 
Sakurado
It's a mille crepe cake galore at Sakurado as they offer an extensive range of flavours that are halal-friendly. Our favourite flavours include the Tiramisu, Vanilla, and the Sea Salt Caramel mille crepe. Aside from mille crepe, their Burnt Basque Cheesecake is also our favourite and they also have plenty of other Japanese treats such as eclairs, roll cakes, cupcakes, etc.
Halal Status: Many halal friendly dessert options
Address: 66 Shaftesbury Ave, London W1D 6LX
Website: https://www.sakurado.co.uk/
---
Tsujiri
For matcha lovers, Tsujiri is a good spot to stop by in Chinatown for a matcha fix. Tsujiri serves up quality matcha treats, such as velvety matcha soft serve and sundaes, as well as matcha basque cheesecake slices. Plenty of matcha drinks are available as well.
Halal Status: Halal friendly desserts
Address: 3 Newport Ct, London WC2H 7PQ
Website: https://www.tsujiri.co.uk/ 
---
Yunique Tea
There are plenty of bubble tea spots around Chinatown and beyond these days. But if we're sticking within Chinatown, our favourite has been Yunique Tea. Their bubble teas have been consistently nice and our favourite is their dark sugar boba milk which was rich, velvety, and its tapioca sweet and al dente.
Address: 10 Little Newport St, London WC2H 7JJ
Instagram: yuniquetealondon
---
Bubblewrap
The hype for bubble waffles may have slowed down but a visit to Bubblewrap is always a very much welcomed treat. They may not be the first to introduce the traditional Hong Kong snack to London but are surely the one to start the hype. Their bubble waffles are properly made – light crisp on the outside, half-filled and pillowy on the inside. The toppings come in generous amounts too!

Halal Status: Halal friendly desserts
Address: 24 Wardour St, London W1D 6QJ
Website: https://www.bubblewraplondon.com/
---
Other halal friendly and halal restaurant options in Chinatown:
Good Friend Fried Chicken – another Taiwanese fried chicken spot
Nusa Dua – Indonesian cuisine
C&R Restaurant – Malaysian cuisine