The Kati Roll Company
With Ramadan coming to an end in a few days, I started to think (more like, dream) about all the delicious food I would get to indulge in again at normal hours of the day. My staple morning fried eggs with an array of seasoning (follow me on snapchat to see: Halal.Girl ), a nice fillet steak with all the buttery peppercorn sauce, a slice of sourdough toast topped with melty truffle brie; ah, my life is starting to come together again! As you guys will be getting back into the routine of lunch, I remembered a lovely little gem I discovered a while back and forgot to mention – The Kati Roll Company.
The Kati Roll Company is based in NY with several branches out there, but has brought a tiny little one over to Soho. It's known to be a popular option amongst businessmen on a quick lunch but they also provide a great breakfast on the go. I guess what really drew me here though was that it reminded me of home and how Mum would treat me to a roti spread with butter and sprinkled with sugar – delicious!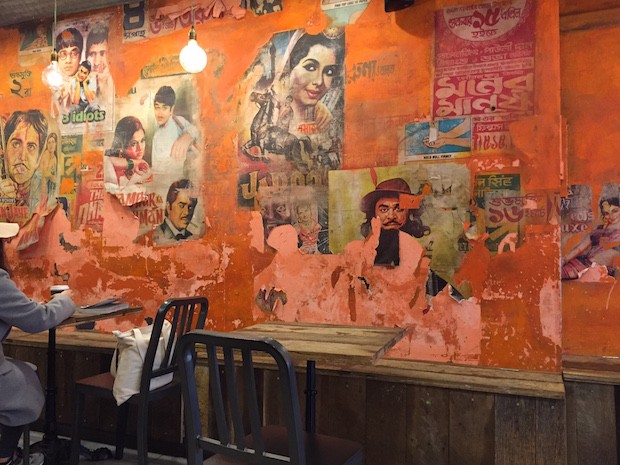 It's a simple, no-fuss concept. You're able to choose from a variety or filings that come wrapped up in a deliciously, buttery paratha, or whole wheat roti if you're watching the waistline. Perfect with a cup of masala chai.
I admit, the rolls didn't picture that great BUT you can use your imagination a little to help.
We decided on four options:
Gooey fried eggs and stringy melted cheese, all wrapped up in a whole-wheat roti. I can imagine this being a nice protein-packed way to start your morning, plus the accompanying green chutney was great for dipping.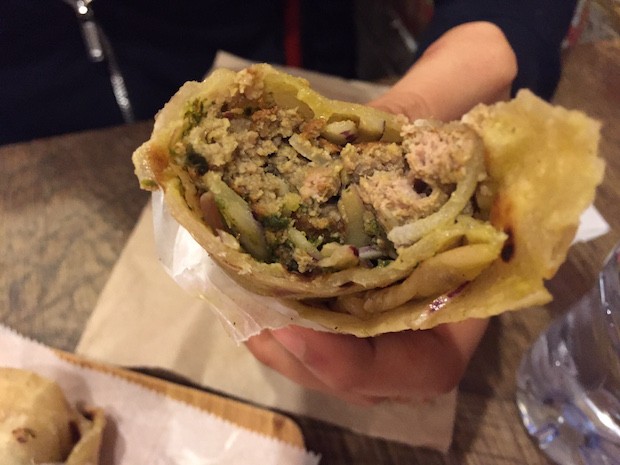 A soft patty made with spiced lamb and lentils had been smooshed into a roll and served piping hot. As an avid shami kebab lover, BW was a massive fan of this and thought it hit the spot.
Decent flavour but I felt like it was lacking a little in the spices you're familiar with, especially in chicken tikka. It had been cooked well though; succulent and juicy.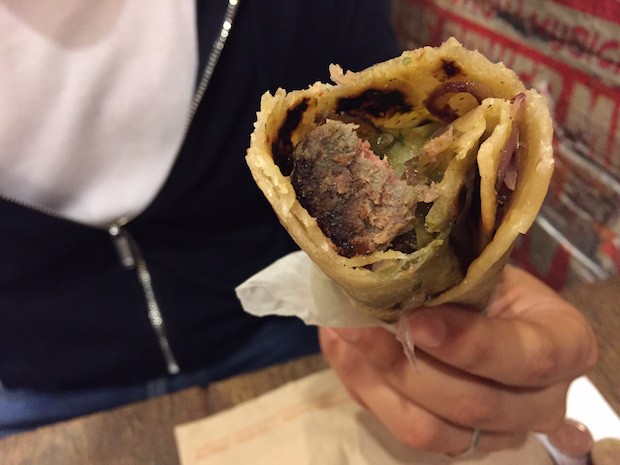 My favourite out of them all was the beef tikka roll; soft and tender beef pieces that had been smothered in chutney and rolled in a flaky paratha.
Overall, the bill amounted to £20 for two, so £10 each, but they have increased their prices since my last visit so keep this in mind when you visit. The Kati Roll Company is a good option for a quick bite when in the area. It's affordable, comforting, and can be healthy depending on your menu choice. It's literally a hidden gem – hidden amongst the streets of Soho – so keep your eyes peeled!
The Kati Roll Company's website: click here.
The Kati Roll Company also features on my 10 halal cheap eats under £10.
Previous Post
Next Post